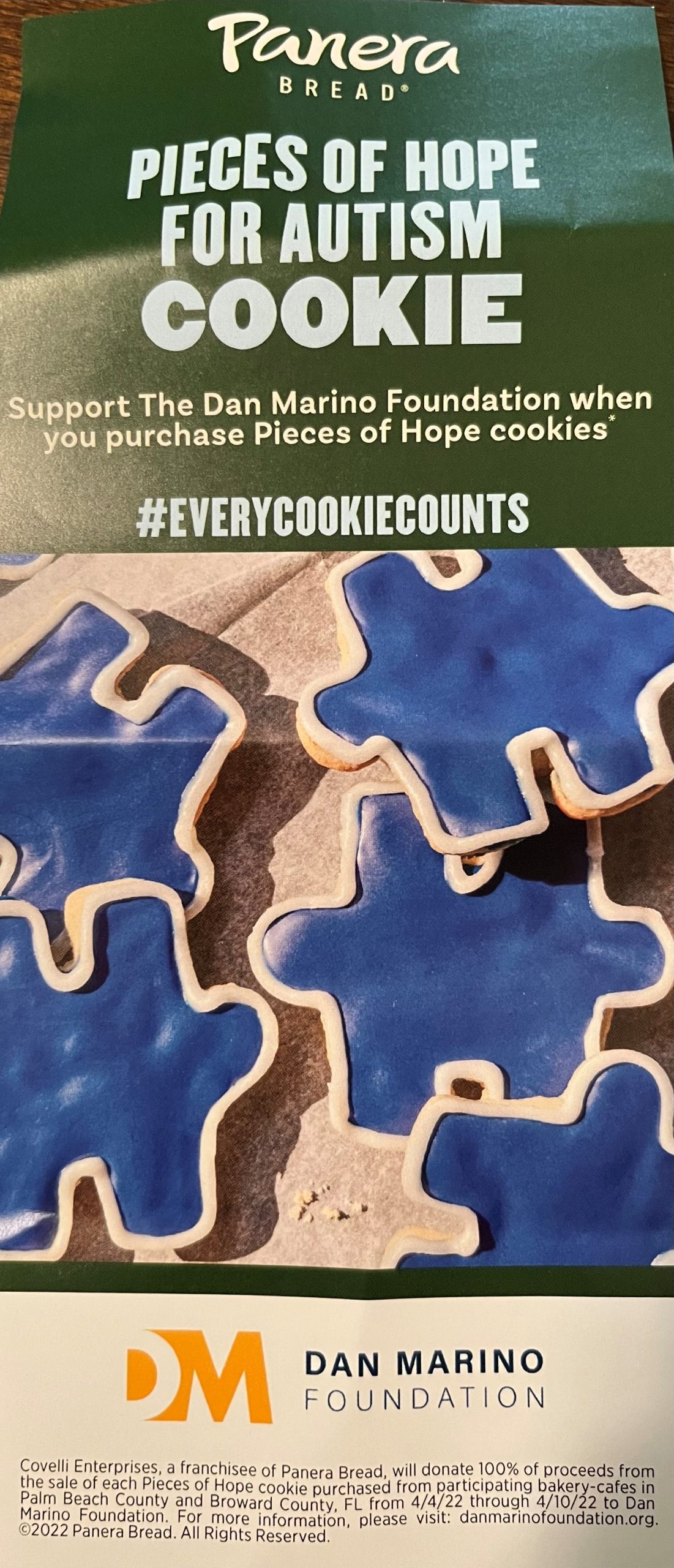 Dan Marino Foundation in Broward Partners With Panera Bread for Autism Cookie Campaign
Proceeds from the "Pieces of Hope for Autism" initiative will benefit the nonprofit organization in Broward
Covelli Enterprises, the largest franchisee of Panera Bread, is partnering with the Dan Marino Foundation for its 'Pieces of Hope for Autism' cookie campaign. From Monday, April 4 through Sunday, April 10, 100% of proceeds from all 'Pieces of Hope' cookie sales will be donated to the Dan Marino Foundation, a nonprofit organization dedicated to improving people's lives with autism and other developmental disabilities.
The puzzle piece cookie will be sold in all Panera Bread locations in Broward and Palm Beach Counties. Since 2010, Covelli Enterprises has donated more than $2 million to its local communities to support various autism organizations, schools and centers in providing services, scholarships, research, treatment, advocacy and resources for families. In South Florida, the company has partnered with the Dan Marino Foundation for 11 years, raising over $475,000 for the foundation.
"Even though the last two years have had their challenges, we are thankful and humbled to be able to continue giving back to our communities with programs like Pieces of Hope for Autism," Sam Covelli says, Owner/Operator of Covelli Enterprises. "This special cookie campaign allows us to make such a positive difference in our communities, which is what we aim to do every day through our products and our bakery-cafes."
The Dan Marino Foundation will also benefit from the company's Operation Dough-Nation program during the entire month of April. This program allows customers to make monetary donations in boxes located at the register in Panera Bread bakery-cafes. Cookies can be purchased online at Panerabread.com or on the Panera app for Rapid Pick-Up, Curbside, Delivery, and Catering. Panera Bread is encouraging 'Pieces of Hope' campaign supporters to share photos of their cookies on social media using #everycookiecounts.
"Claire and I are proud to be partnering with Panera Bread and the Pieces of Hope cookie campaign for the eleventh year," Dan Marino says, Chairman of the Dan Marino Foundation. "We appreciate Covelli Enterprises enduring commitment to the autism community. Every cookie purchased makes a difference in providing local programs and services. Just like the Panera Bread team, these cookies are the best."
The puzzle piece cookie is sold in Covelli-owned and operated Panera Bread cafés in South Florida (Broward and Palm Beach Counties). The cookie consists of Panera's famous shortbread shaped like a puzzle piece topped with sweet blue icing and is made entirely free of any artificial colors, flavors, additives or preservatives.