As Jackie Meretsky can attest, fashion isn't always about having options. Sometimes, choices are handed to you.
Like when NBC News hired the meteorologist to handle daytime weather segments on MSNBC in the mid-2000s. On one of her first days at work in New York City, someone from the network gave the Toronto native a storm jacket.
"I thought it was a welcome gift," Meretsky says. "I remember thanking them for being so nice. But, no, they wanted me to go cover Hurricane Wilma in Florida."
Though her storm-chasing days are in the rearview mirror, Meretsky's weather acumen is an influential thread running through her first entrepreneurial venture, an eco-responsible business that's all about fashion options for women—at least those who know their way around the court.
April marked the one-year anniversary of Jgame, the simple yet savvy line of tennis apparel designed and brought to life by the part-time resident of Key Biscayne (she splits her time between South Florida and Manhattan).
Already, Jgame has been spotted on the hallowed grass courts of Wimbledon (last year), thanks to Gabriela Dabrowski, one of the top-ranked doubles players in the world. It's no wonder Dabrowski, who only wears sustainable brands, has taken a liking to Jgame's tennis dresses, skirts and tops. The garments are created from fabrics that are 75% to 100% recycled polyester, a process that involves the melting down of single-use plastic water bottles into small chips that are converted into fabric.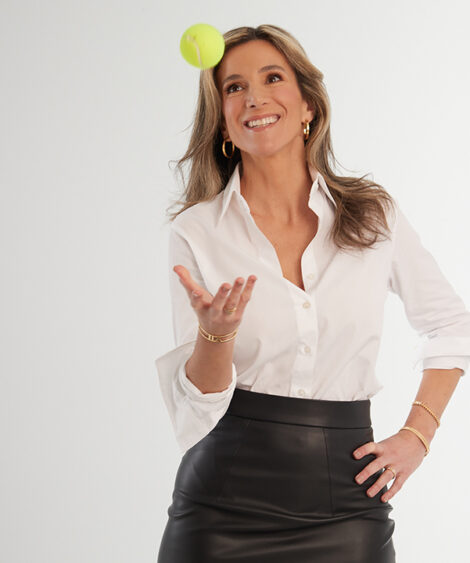 Meretsky spoke more about her direct-to-consumer online company (jgamenyc.com) and her business journey with Lifestyle.
You enjoyed a successful TV career with stops including the Weather Network in Toronto, NBC News and ABC's Good Morning America. What led you down an entrepreneurial path?
There was a point about a decade ago where I would have had to leave New York City and move to Atlanta [for her network job]. That didn't make sense for my family [Note: Meretsky and her husband have a son, now 14, and daughter, 11.]
Even though I'd always worked for corporations, I'm also a lone wolf, an alpha. I always wanted to do my own thing. Once the kids [were a little older], I felt the time was right.
When I was ready to start a business, it was an obvious choice to do something in tennis. I've been playing since I was 4. And I know the market. To this day, it's still my therapy. I've also found that I've made most of my best friends on the court. The sport has been such a positive experience for me.
Competition seems fierce in the sporting/exercise category of apparel. Did that give you pause?
Tennis clothing is not as crowded as other activewear. There are so many brands doing chic leggings and workout tops. So, there was room in the market. At the same time, I wanted to do something that differentiated myself. There were two [voids] I saw with tennis apparel: a sustainable brand and a brand that was made in the United States.
Sustainable is so expensive, but there have been benefits. I launched during COVID. Because I didn't manufacture overseas [her factory is in the Bronx], I didn't have to wait six to 18 months for everything to come over on container ships. So many retail shops and tennis stores are still getting boxes of merchandise that they ordered during COVID. I was so happy to have a local manufacturer.
Having a factory in New York also give me control over the process. I can see that we have ethical working conditions, and the people are happy. That's so important when you have kids, at least
for me, because they're watching everything. But I also need that to sleep at night. I need to know who's making my clothes and how it's done.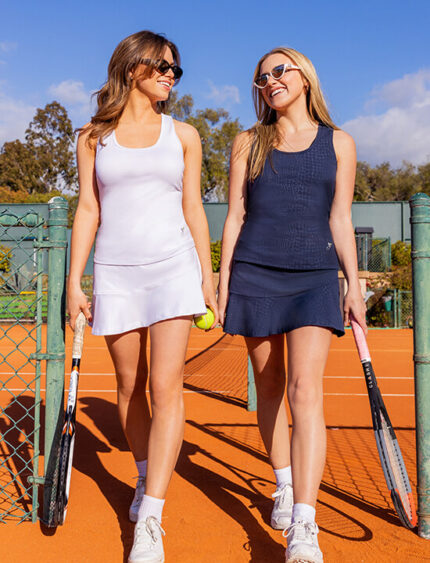 Have you been an advocate for environmental issues or were there factors, beyond the business strategy, that played into sustainability as a priority?
My background in atmospheric science allowed me to see, up close, the effects of global warming. I've covered hurricanes in Florida. Floods in Kansas. I've seen changes in the intensity of storms. The environment is in my DNA. I don't see how I could've done a brand any other way.
Having said that, there's not one active brand I know that's 100-percent sustainable—in large part because you need stretch. You have to be able to move. It's polyester that creates stretch, and polyester doesn't break down. Until someone comes up with an alternative, you have to work around it and be as sustainable as you can. It's a moving target.
What's important for brands like mine is to be transparent about everything you're doing. Pick pillars within [sustainability] that are reasonable to focus on through your brand.
Why was recycled polyester from plastic bottles the best fabric option for your lines (including the GlamSlam and 27 collections)?
With sustainable fabrics like hemp or bamboo, I feel like I sweat too much. The fabric doesn't breathe. Recycled polyester provides moisture wicking [the process by which fabric absorbs sweat] that tennis players need. More importantly, those water bottles are being spun into yarn and converted into fabric as opposed to just sitting in landfills.
How did your knowledge of tennis and your experiences with tennis apparel play into your designs?
I'm not reinventing the wheel in terms of tennis clothes, and it's not haute couture. I combine style with function and performance. They're equally important. The designs [which she sketches first on paper] are pretty simple, but they're sleek and they have flair.
I'm never going to do anything elaborate because I don't think it's sustainable. Anything in your wardrobe like that, you're probably only going to wear for one season. I want Jgame clothes to last. As long as the fabrics are high quality, you're more inclined to wear simpler clothes over and over again.