Retro Interiors
Category: Living space
Big picture:  Presented with a client's request to deliver a multifunctional living room that felt like a world-class vacation retreat—but with classical elements to give it character—the Retro team went to work, infusing this oceanfront space with subtle details and refined drama that hit all the right notes.
The details: On the subtle side, notice how the outdoors finds its way inside, thanks to the blue fabric hues. That, combined with light background colors, helps to create a soothing ambience.
"To ground the layout and add architectural detail, we created a coffered ceiling to draw the eye," says Jarett Beckman, director of operations for the boutique firm that debuted in 1994. "The coffer also allowed us to add lighting that otherwise would have been impossible."
In order to produce the desired classical effect, Retro chose clean-lined furnishings, bringing select wood pieces into the mix but without ornamentation. "Mixing skirted chairs in a relaxed, overscaled pattern sets the tone for an area of relaxation—while contrasting the more contemporary sofas," Beckman adds. "Overall, the play on natural light, the architectural detailing, and the soft contrasts of colors result in a sophisticated room that feels current yet timeless."   
Address: 2450 Wilton Drive, Wilton Manors
Contact: 954.561.1058; [email protected]
Website: retrointeriors.com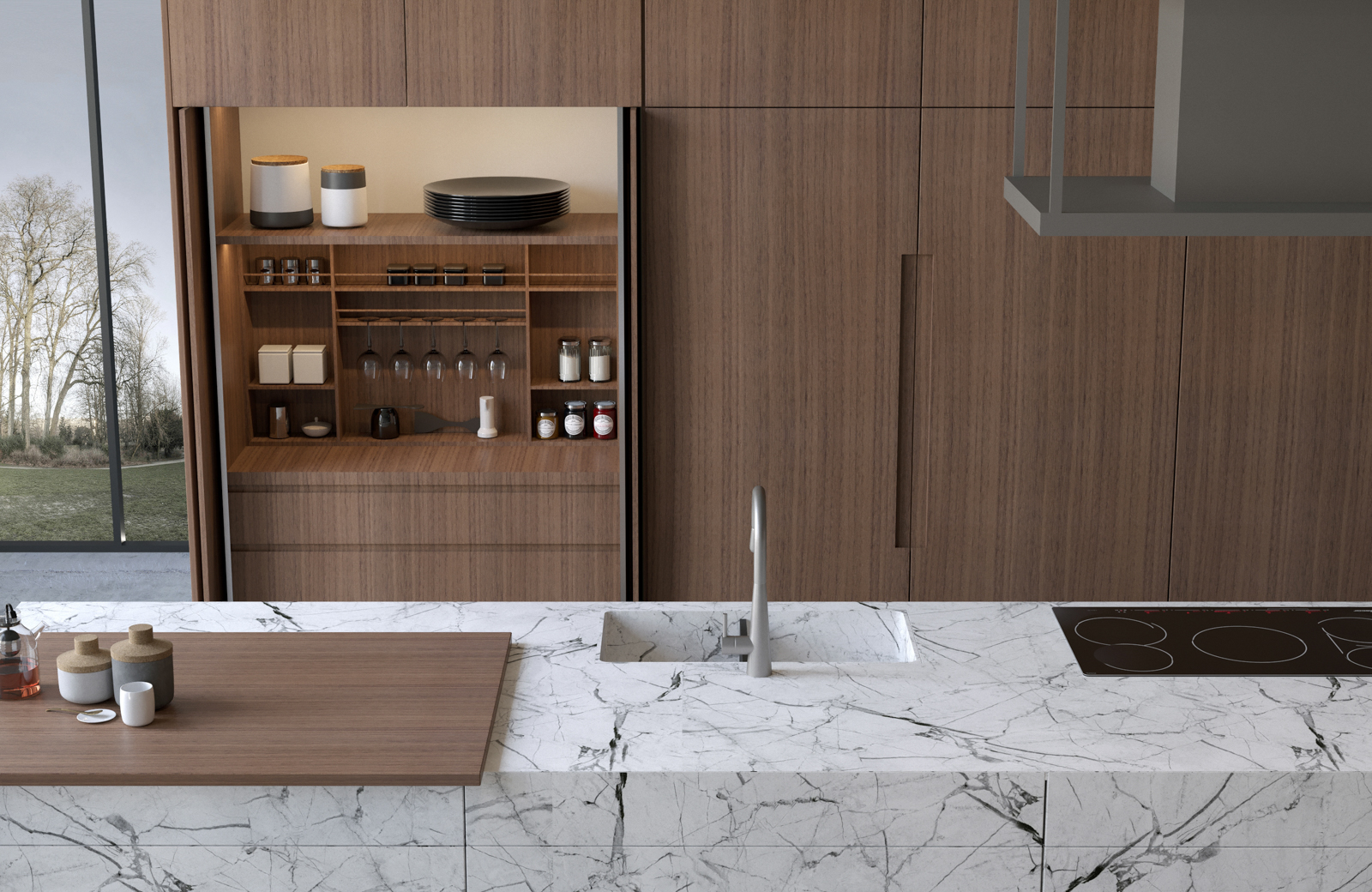 Bauformat Kitchens
Category: Kitchen
Big picture: The purveyor of chic, contemporary kitchens—designed and imported from Germany—puts its stamp on an open concept that's reduced to a few rich elements that bring sophistication, simplicity and functionality to the space.
The details: Dramatic, expansive wall cabinetry—culled from environmentally protected American walnut—are purposely designed without handles and conceal the shelving behind them. The vertical grain stretches nearly from the floor to the ceiling, adding to the majesty of panels.
A durable, microbacterial stone island, made of nonporous Carrara marble (quarried in Tuscany, Italy), is precisely fabricated with counter edges at 45-degree angles. Mounted over one side of the stone block is an oversized slab of solid walnut, creating an inviting seating area. The kitchen also features Miele appliances in stainless steel, glass and induction—as well as a minimalist cooking table and hidden cooktop.
Other options for the wall cabinetry (all sourced from environmentally protected forests) include French smoked oak; premium, silver and bronze oak; and ebony. Other stone options include: Oxide avorio, moro or nero; basalt black or beige; Calacatta and perla.
Address: 1511 E. Las Olas Blvd., Fort Lauderdale
Contact: 954.908.1055; [email protected]
Website: bauformatkitchens.com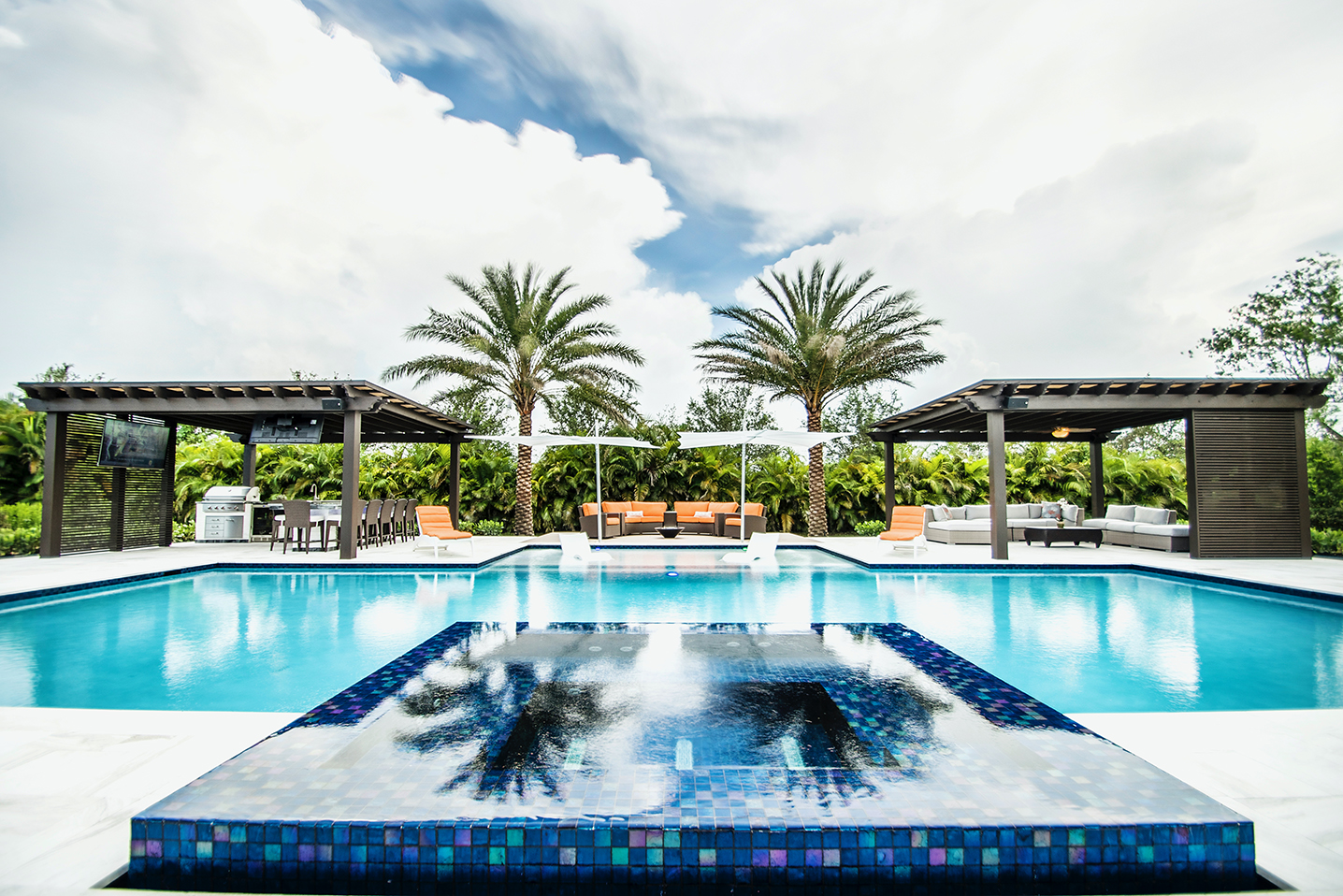 Outside Perspective: Luxapatio
Felipe Londono, director of sales and marketing for Luxapatio and The Patio District, the Doral-based outdoor living specialists (3305 NW 79th Ave.; 305.477.5141; luxapatio.com), offers some tips for designing your dream space.
1) What's important to you: Determine how you're going to use your space. Is it all about the pool? Barbecuing and entertaining? Exercise and wellness? Have a clear idea before moving forward.
2) Matching materials to style: If your style is more contemporary, try white and gray tones, along with flat textures like aluminum. If you are more traditional, go with earthy tones like wood, natural stones and greens. Look at the inside of your home and extend that style approach to the backyard.
3) Quality and durability: Keep in mind that South Florida has a harsh environment with high temperatures, high humidity and serious storms. Choose materials that stay cool to the touch, that don't fade over time, and that won't warp or bend.
4) Furniture and décor: Like the inside of your home, your patio will come to life after you furnish it. Picking the right sectionals, dining tables, accent pieces and lights is crucial for enjoyment and functionality. Think about the purpose of the area: Is this a sitting area or a dining area? Do I need additional shade? Answers will change over time—and you can always roll with those changes.