Images courtesy of PS Photography & Films
As evidenced by Janderyn Makris' rise in the industry, not every recipe for baking success starts in the kitchen.
Unlike pastry specialists whose aspirations begin the moment they can reach the strings of mom's apron, the founder of West Palm Beach-based Earth & Sugar didn't begin experimenting in the kitchen until after the birth of her first child, daughter Sabrina (now 10). Before that, she had been working for a political consulting firm.
"I like to eat, not bake, but my fondest memory was making pastries with my nanny," says Makris, 36, who also has a son (Ethan, 7) with husband Geris. "I figured I would give it a try."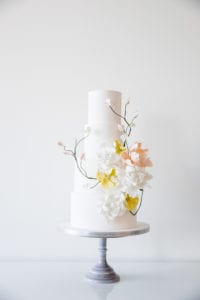 Before long, Makris was selling cupcakes in department store coffee shops. She had yet to tackle more ambitious projects until a wedding planner asked her to make a cake. The self-taught baker "just went home and tried." That creation appeared in Southern Weddings magazine. Soon, Makris was doing one photo shoot after the next until her cakes were showcased everywhere from Martha Stewart Weddings to Brides Asia.
Today, some 10 years after launching Earth & Sugar, Makris runs a commissary in the heart of the Dixie Corridor—a meaningful location to her; she got married at a church down the street—and a tasting studio in Miami. Though there's plenty to be said for the macarons, cupcakes, cookies and other confections made with natural ingredients on the menu, it's the detailed artistry and rich flavor of her team's elegant wedding cakes that has style-savvy brides-to-be clamoring for appointments.
Makris' 12-person squad—consisting of pastry chefs, designers, a kitchen production staff and delivery team—runs like clockwork, even in times of inevitable chaos. "A child has 95 percent dreams and 5 percent nightmares. That's how I would describe a cake bakery," says Makris, who adds that, yes, that dreaded moment where a cake gets dropped, has happened.
During peak times, Earth & Sugar will have between 20 and 30 events on the board in a given week. "I've done more in 10 years than many do in 30," says Makris, crediting her husband and parents for their support, and her production manager, Allison Goldsmith, for flawlessly executing timelines.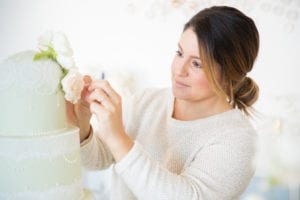 Earth & Sugar delivers wedding cakes from Vero Beach to Key Largo, and will even fly them, upon request, to New York City or the Bahamas via private jet. Though she declines to discuss the most expensive cake her staff has ever created, she notes that "the ceiling depends on the client."
For one such client, a young woman named by Forbes as one of the most successful entrepreneurs under 30, Earth & Sugar provided a weekend's worth of desserts.
"She never asked for a sketch," Makris says. "She just trusted us to design something 'Instagram-able.'" The resulting wedding cake featured eight tiers, with lace appliques, pearl detailing and deep red roses (all edible, of course). Guests took slices home in acrylic boxes.
If you dream it, Earth & Sugar can make it—for the most part. Makris, born from a Peruvian mother and Dominican father, adores Dominican cakes (sponge cakes with pineapple chutney covered in meringue) but won't put them on the menu. "Just because you have flour doesn't mean you can bake anything on the planet," she says.
When it comes to wedding cakes, however, Makris can speak from experience. She answered a few questions about the subject for Lifestyle.
How much should I budget?
It's a personal decision. Makris recommends consulting your wedding planner. If you don't have one, use an online budgeting tool such as "The Knot wedding budget calculator" (theknot.com/wedding-budget)
How do I determine the size of my cake?
Most cakes are based on the number of servings it yields. Earth & Sugar's website (earthandsugar.com) provides a serving chart for reference.
Can I choose a faux cake to save money?
There is no financial benefit to using a faux cake. It takes the same amount of time to make, and therefore the cost is the same. "The baking is the easy part," Makris explains.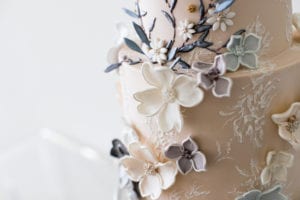 Should I try before I buy?
Makris says yes. At Earth & Sugar, tastings are by appointment only, and there's a $45 fee to schedule, which will be credited toward the required 50 percent deposit if you book.
How far in advance should I place my order?
Makris advises placing an order three to six months before your wedding date. "We do book out at certain times of the year, so I highly recommend placing a deposit as soon as you're ready," she says.
Which flavors are popular or trending?
Just one option shy of Baskin-Robbins, Earth & Sugar offers 30 flavors. "We tailor our flavors to what we feel is modern and gourmet," says Makris, whose own favorite is banana cake with Nutella flavoring. She finds red velvet still appeals to the younger crowd, and with its Hispanic culture, South Florida is wild about almond cake with dulce de leche filling.
Does an outdoor wedding limit my options?
No cake is specifically designed to withstand the elements; however, an outdoor venue does present certain factors to consider. "When exposed to heat for an extended period of time, buttercream will bounce or bubble and lose its shape," Makris says. "Aside from sun exposure, on a windy day, the linens can blow onto the cake and damage it. Also, you need to account for insects." Earth & Sugar requires clients to sign a release form, so they are not held liable. After that, common sense is strongly advised.