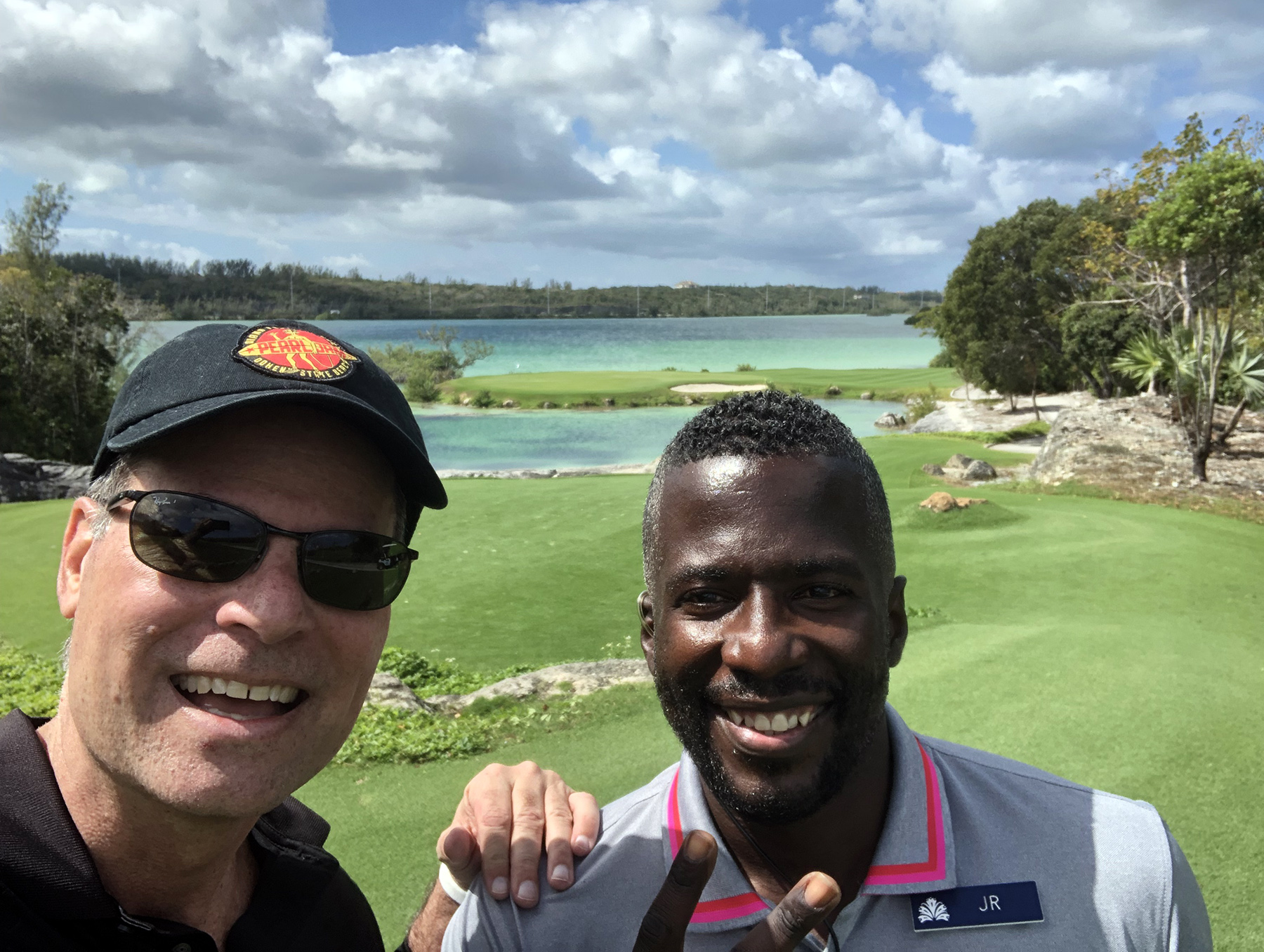 Editor's Letter
A spot-on golf lesson with an NBA legend in attendance was par for the course at a luxury resort in Nassau
It took me the better part of 40 years to come to terms with a golf swing that, despite its many flaws, allowed me to enjoy the sport without taking the ups and downs too seriously. It took JR, a teaching professional at Baha Mar's Royal Blue Golf Club in Nassau, 60 seconds of deconstructing that swing to prompt an existential golf crisis.
What had I been doing the past four decades? Why was I lifting my plant foot? Why wasn't I swinging harder through the point of impact? Why was my body aimed 25 yards to the left of my target? Could I have been a single-handicap golfer had JR been in my links life earlier?
Any why was I having this internal meltdown in front of NBA Hall of Famer Julius Erving, who was two stalls to my left on the driving range?
But like the pro that he is, JR quickly read the room. He got me to stop sneaking peeks at Dr. J, and, like Ed Harris' character in Apollo 13, implored me to work the problem. Or, in this case, problems. Left foot down. Faster swing. Full follow through toward the target.
Two hours and five lost pounds in sweat equity later, we made enough progress for JR to take me to Royal Blue's signature hole for one shot—and one shot only. On this day, the par 3, 16th, was playing a little shorter than its designated 165 yards. There was a slight breeze at my back, and the tee box was elevated.
Oh, yes, and there was the rather daunting issue of an island green. In layman's terms, that means there was a better chance of my tee shot going kerplunk into the turquoise waters of Lake Cunningham than landing safely on the putting surface.
Only that didn't happen. I took out an 8-iron, went through everything I'd worked on with JR, and fired just right of the pin. JR even captured the video moment on my iPhone.
"Got it! Perfect," he announces after my swing. "And … he hits the green!"
My only regret was that Dr. J wasn't there to see it, especially since I sprayed a good dozen shots in front of him back at the driving range.
Anyway, back to JR. Like everyone who worked at Baha Mar during my trip for this month's cover story, he made the experience that much better. JR had a quick wit, a keen golf eye, and he loved his job.
Perhaps some of that is because the sprawling resort—which is doing record business in The Bahamas—understands its importance as one of largest employers in the Caribbean. When COVID-19 shut it down for nine months in 2020, Baha Mar invested nearly $100 million to keep its 5,000-plus associates on the payroll and with benefits.
Whether my new swing lasts is neither here nor there. At least for one shot, JR brought out the best in me. Thanks, Baha Mar.