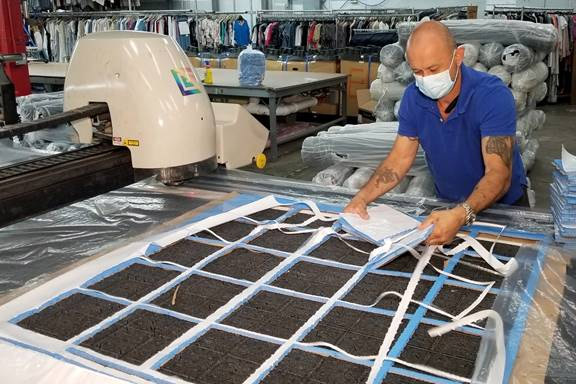 For nearly 30 years, Miami-based Elan has been a go-to contemporary brand for active women who understand that comfort, style and value aren't mutually exclusive. Along the way, the clothing manufacturer has established ties to major retailers across the United States, including Nordstrom and Bloomingdale's.
But amid the coronavirus crisis, Elan has turned its attention to—and its equipment on for—a different industry. Instead of creating crochet cover-ups and cable-knit sweaters for the likes of Lord & Taylor, Elan is producing surgical masks for health-care workers under the Memorial Healthcare System umbrella.
"Honestly, the process was not difficult," says Gaius Wise, sales director with Elan. "We have the equipment in place already to cut fabric and a sewing team on site. We did not need to retool machinery; we just put our resources to good use to help our community."
That help is resulting in approximately 750 masks per day. Wise estimates that it will take roughly eight weeks total to complete the company's goal of 40,000 units. "Our hope is that the need diminishes over these eight weeks, but we will reassess as [time goes] on."
Memorial Healthcare, with hospitals including Joe DiMaggio Children's Hospital and Memorial Regional (both in Hollywood), is distributing the masks throughout its network, according to Wise.
In the meantime, Elan has been able to keep its 81 employees on the payroll without a single furlough, rotating workers in as needed, Wise says, to facilitate production of the masks and basic operations.