Whether you paint like Picasso, dabble in doodling, keep a journal, play "Chopsticks" on the piano, or help the kids with their art projects, everyone has a creative side worth exploring and nurturing. In and around Coconut Creek, there are plenty of ways to spark your imagination and increase your creativity in both hands-on and intellectual ways. Here are a few.
Join GAL
Founded by two Creek residents, the Guild of Art and Literature in Coconut Creek seeks to nurture residents' interests in the arts by hosting exhibits, meetings, workshops, a book club and more for both artists and viewers.
Coming up: GAL hosts a meet up at the North Regional/Broward College Library, where visitors learn to crochet hearts for Valentine's Day (Feb. 10, 6 p.m.). GAL also hosts the "Stories and Secrets" exhibit at the library through March, coinciding with the library's Tell Your Story literary event on Feb. 29.
Did you know? GAL co-founder Kristin Beck will serve as literary chair of the Coral Springs Festival of the Arts, which takes place March 21-22 and features Florida-based authors. GAL will also have a booth at the festival.
Info: creekgal.org
Get Happy
One of South Florida's premier art institutions, the NSU Art Museum has made a name for itself over the years with an impressive collection of more than 7,000 works in its permanent collection, including Latin American and Cuban modern and contemporary art. Besides the art, the museum hosts several events that inspire such as its food and wine program, lectures, and Free First Thursdays Starry Nights, offering free admission from 4-8 p.m.
Coming up: Museum director and chief curator Bonnie Clearwater hosts the lecture "When Is a Banana Art?" discussing the artistic sensation created by Maurizio Cattelan when he duct-taped a banana to a wall at Art Basel Miami Beach. (Feb. 8, 2 p.m.; $10)
Did you know? Through July 5, the museum's "Happy!" exhibit invites viewers to examine their own emotions through the work of significant artists from the mid-20th century to today.
Info: nsuartmuseum.org
Make Your Own Home Decor
At Board and Brush Creative Studio in Parkland, DIY goes from HGTV-aspiration to reality. All materials are provided for visitors to make wooden signs to give their homes a personal creative stamp or to make a gift for a friend by distressing and painting a wooden sign.
Coming up: This month, the center hosts several pick-your-project workshops as well as a doormat-making workshop.
Did you know? The establishment is BYOB.
Info: boardandbrush.com/parkland
Paint the Night Away
If you enjoy winding down at the end of the day with a glass of wine, then Paints n' Cocktails is just for you. The painting studio invites visitors to bring their own snacks and drinks and paint with instruction from professional artists.
Coming up: This month, the center hosts several two-hour open studio sessions, during which visitors can explore their creativity by experimenting with paint without an instructor.
Did you know? The center is available for private parties and events.
Info: paintsncocktails.com
Explore Creek
Coconut Creek's Community Center and Recreation Complex offer art workshops for adults, children and those with special needs that allow everyone to build their art skills or just have fun.
Coming up: This month and in March, "Let's Gogh Painting," a class for those 16 and older, encourages people to create works of art with acrylic paints. (Thursdays, Feb. 6-27 from 6-8:30 p.m. or March 5-26; $40 for Creek residents)
Info: webtrac.coconutcreek.net
Pick up an instrument
It's never too late to learn how to play music. At Guitar Center, beginners and more advanced students are welcome to take classes in bass, guitar, drums, piano or voice.
Did you know? Guitar Center also sells music and instruments and offers instrument rentals and repairs.
Info: guitarcenter.com/Coconut-Creek
Attend workshops
Several art centers throughout South Florida offer a chance to put your creativity to work.
The Boca Raton Museum of Art is a hub for artists and art appreciators in Mizner Park with a collection of photographs, a sculpture garden and a selection of African and pre-Columbian art.
Coming up: Once a month, during the Saturday Morning Art (smART) studio workshops, families work together to create memories and art. The theme of the upcoming March 7 workshop is "Matisse Magic."
Did you know? Through May 31, the museum presents "Maske," an exhibit featuring the large-scale photographs of Phyllis Galembo, which feature those who participate in traditional and contemporary African ceremonies.
Info: bocamuseum.org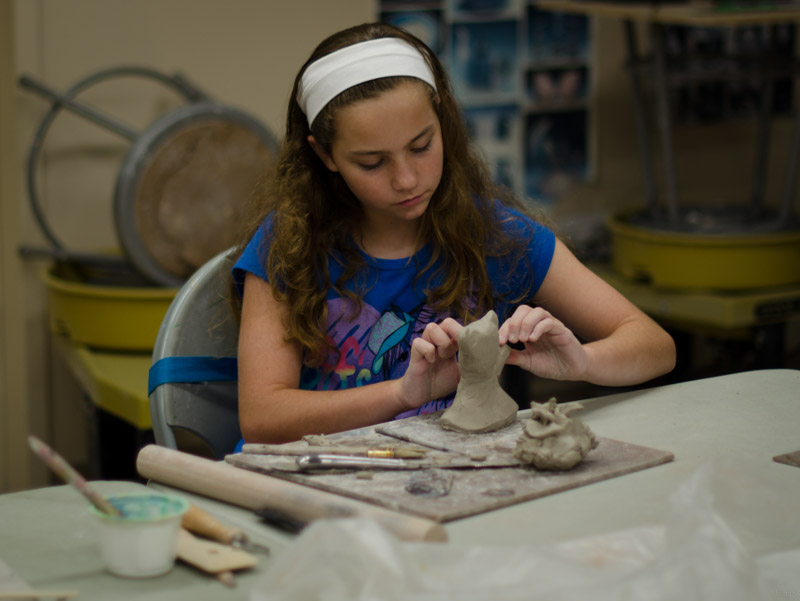 The Coral Springs Museum of Art supports its philosophy that "art is for everyone" through several adult and teen classes. Both beginners and advanced students enjoy a variety of classes in drawing techniques, painting, watercolor and more.
Coming up: Teens can enjoy a spoken-word event, Feb. 29, 6-8 p.m. Families can enjoy "Artfull Saturday" on the second Saturday of each month (Feb. 8) for a museum tour and hands-on art project for $5 per person.
Did you know? From Feb. 6 to March 7, the museum hosts the "Inspired By" exhibit with an open theme that asks artists to complete the sentence "My work is inspired by …" sure to feature a wide variety of personal inspiration.
Info: coralspringsmusem.org
Part of the city of Pompano Beach's Creative Arts District, Bailey Contemporary Arts (known as BaCA) is home to a variety of classes, workshops and contemporary exhibits.
Coming up: Workshops and classes include paper mache bowl making (Feb. 22; noon-4 p.m.; $25), Poetry as a Communication Tool (March 14, 11 a.m.-1 p.m.; $10); and Acrylic Painting Techniques (March 28, noon-4 p.m.; $25)
Did you know? Bailey is located at the historic Bailey Hotel, built in 1923, which was bought by the Pompano Beach Community Redevelopment Agency and renovated for $1.2 million.
Info: baileyarts.org
Featured image: Us by Rob Pruitt, from the Happy! exhibit