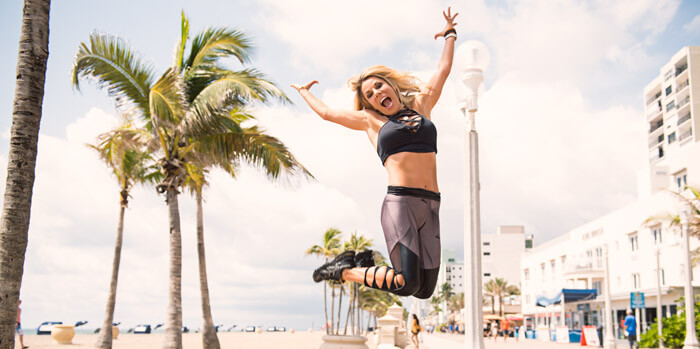 Fat Gets a Bad Rap!
Linzi Martinez
Personal Trainer/Nutritional Therapist
Host/Executive Producer of the award-winning HHS Makeover TV Series
FB: Happy Healthy Stronger
IG: Linzimartinezofficial
It is such a shame that the word "fat" is used to describe the amazing macronutrient that it is! With its derogatory meaning and feeling, it is no wonder people try to stay so far away from it! However, they are making a mistake! Let us take a closer look into this AMAZING nutrient! What if I told you that good fats do not make you fat at all, AND as a matter of fact – QUITE THE OPPOSITE…they assist in weight loss and are completely ESSENTIAL to both hunger and craving control! Counterintuitive, yes? But so very true! You see, fats are made of a chain of individual lipids that take your body quite a while to liberate and digest. This process leaves you satiated (fuller) longer and keeps your mind off food! It is lasting energy!
Fat does not raise your glucose levels… so insulin, a fat-storing hormone, stays at bay, even further assisting you in meeting your weight loss goals! But all fats are not created equal, and too much fat is not ideal! Good fats come from foods like avocados, olive oil, nuts, nut butters, egg yolks, flax/hemp/chia seeds, coconut oil, fatty clean fish like salmon, and yes…DARK CHOCOLATE! (Yum!) Bad fats are trans fats, hydrogenated fats, and fried foods. A small amount of fat at each meal is all that is needed …and it will go a long way! Fats have other equally important roles; they are also NEEDED to help your body absorb nutrients and to produce important hormones! They give you sustainable energy and support cell growth! This poor yet AMAZING macronutrient needs a new name… With love and devotion to make you both healthier and happier,
Join my Monthly Academy for a week of amazing weight loss and love – get LEANSCULAR! Link to join in the Facebook group @In-Home Fitness with Linzi Martinez