When Taylor Hicks the singer won "American Idol" in 2006, Taylor Hicks the future hot sauce king must have received 50 phone calls from acquaintances and strangers thinking that he had crooned his way to the season five title.
"To this day, when I meet someone for the first time, and they hear my name, I'm shocked if they don't make a comment about 'Idol,'" says the Miami-Dade County native.
At the rate Taylor's Ultimate sauces and marinades are finding their way into South Florida markets and restaurants, the name Taylor Hicks may well become synonymous with more than just a prematurely gray-haired reality TV contestant.
Since launching his initial wave of products in late 2013—including the popular Peruvian-style garlic sauce, as well as mild jalapeño and habanero hot sauces—Hicks has drawn raves from local foodies for recipes that hit more than one spicy note.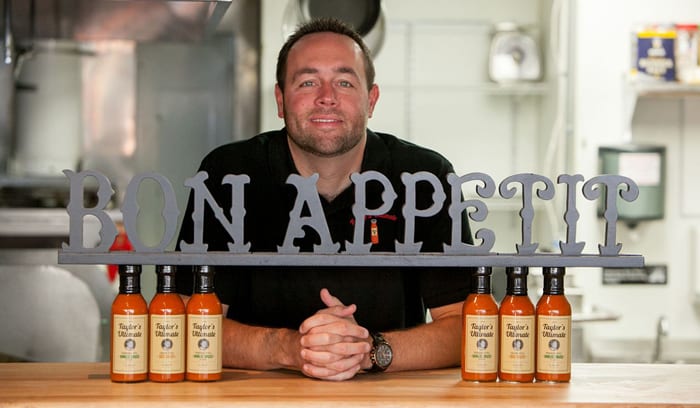 "The market is saturated with hot sauces, but so many of them are all heat and no flavor," says Hicks, 36. "We bring more than just heat. Our chefs, our clients, they notice the depths of the flavor. That's why we've been successful."
It's a road to success that Hicks never envisioned coming out of Florida State University, where he graduated in 2003 with a criminal justice degree. But after a career detour in real estate hit a dead end after the market nosedived, he decided to take an entrepreneurial chance—despite having no culinary background.
"No one in my family was a professional chef, but my parents, my grandparents, they all had this passion for cooking," Hicks says. "These sauces have been passed down from generation to generation. I tweaked them a bit and experimented with the ingredients. My family and friends love them so much, I thought the public might, as well."
Hicks' instincts proved spot-on. Over the past two years, food stores and restaurants all over the region—from Bagel Emporium (Coral Gables) and Wayside Market (Pinecrest) to Blue Moon Fish Co. (Lauderdale-by-the-Sea) and Oceans 234 (Deerfield Beach)—have featured some or all of the nearly dozen Taylor's Ultimate sauces.
Among the summer recipes that Hicks finds especially suited to his garlic sauce are anticuchos, a Peruvian dish often made with skewered beef hearts. For the recipe on the following page, Hicks suggests using steak (filet mignon, New York strip or sirloin), boneless chicken thighs or raw shrimp.
Taylor's Ultimate Anticuchos
Ingredients
4 pounds steak, boneless chicken
thighs or raw shrimp
2 yellow onions
2 green peppers
1 ½ cups of Taylor's Ultimate Peruvian-
style Garlic Sauce
1 teaspoon salt
1 teaspoon pepper
Preparation
Cut steak (or chicken or shrimp), yellow onions and green peppers into 1 ¼-inch cubes. Toss ingredients together in covered bowl or Ziploc bag and marinate in refrigerator for 12 to 24 hours (or without refrigeration for 2 hours). Assemble on skewers, alternating the meat, peppers and onions. Cook on grill at high heat 3 to 4 minutes per side for beef and chicken, or 2 minutes per side for shrimp. Baste with additional sauce when skewers are turned. Serve with additional sauce for dipping if desired.
Taylor's Grilling tips
"A lot of people, once the food comes off the grill, they'll dump a bunch of sauce on it. That doesn't give the sauce a chance to caramelize on top of the dish. If I'm cooking ribs, I baste the sauce on the meat while cooking, because then the ribs get that good charred flavor along with the sauce."