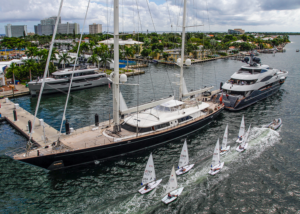 The world's largest in-water boat show has dropped anchor in Broward County for a five-day showcase that's expected to attract more than 100,000 attendees and 1,000 exhibitors—not to mention produce an economic tsunami for the state, an impact estimated at nearly $1.8 billion.
Mother Nature appears to be on board, as well, with nothing but sunny skies forecasted for the 2022 Fort Lauderdale International Boat Show (FLIBS), which kicks off today and runs through Sunday, Oct. 30. Cast across some 90 acres at several Fort Lauderdale sites, FLIBS (owned by the Marine Industries Association of South Florida and produced by Informa Markets) promises prized boats (last year, there were more than 1,300 on display) in a variety of categories. In the class of 100-foot-plus showstoppers, expect to see yachts from Horizon, Denison, Ferretti, Azimut, Sanlorenzo Americas, Westport, FGI and other purveyors of world-class sea vessels.
"The Fort Lauderdale International Boat Show has long been a critical component to the city's economy, and we look forward to another stellar and productive show this year," says Dean Trantalis, mayor of Fort Lauderdale. "Attracting people and businesses from around the world, the show does more than just bring in business; it showcases Fort Lauderdale to an international audience as an exciting, vibrant and growing community."
Broward County Convention Center serves as a transportation hub with 3,000 parking spots and shuttle service and water taxi service to all seven show locations. In addition, the convention center will have its share of boat debuts, educational seminars and clinics for kids. Pier Sixty-Six Hotel & Marina's new Pier South property will play host to Superyacht Village, featuring the show's most jaw-dropping boats.
Make sure to purchase your digital tickets in advance (adult one-day tickets are $39 and adult two-day tickets are $66, valid Thursday to Sunday; Wednesday's preview is $60; a one-day child ticket is $15). For a complete breakdown of available experiences, show locations, boat and exhibitor information, and much more, visit flibs.com.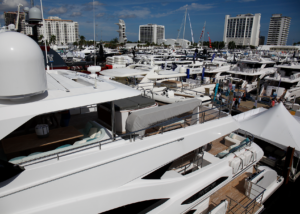 Did You Know?
Brightline is offering FLIBS attendees complimentary shuttle service from the Fort Lauderdale station to the Riverside Hotel. Brightline groups of four or more also can use code ALLABOARD to save 25 percent on SMART fares for the boat show. (gobrightline.com)