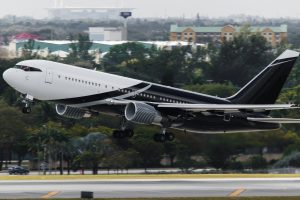 Miami entrepreneur and attorney John Ruiz had special plans for the latest addition to his private plane collection. His Boeing 767 luxury airliner, which a Fort Lauderdale company had located for him to purchase and then refurbish to his exact specifications, was ready for takeoff after a complete overhaul.
For its maiden voyage with Ruiz as owner, at the end of May, the jetliner took off for New York City—where Ruiz's friends, family and associates celebrated with him as he rang NASDAQ's opening bell to mark one of his companies, MSP Recovery, going public.
The Boeing 767 also represented a defining moment for VIP Completions, the aircraft refurbishment company that, for more than 25 years, has specialized in reimagining private jet travel for its discerning clients. The customization of the jet originally flown commercially by Australia's Qantas Airlines, which retired many of its 767s in 2014 (they were then sold to private owners, like Ruiz), marked the largest aircraft that VIP Completions had ever reconfigured. VIP also helped Ruiz find the plane.
Ben Shirazi, president of VIP Completions, which runs out of Fort Lauderdale International, notes that the Boeing is still in prime condition. Although Shirazi won't disclose the selling price, he values the plane—with the interior and exterior refurbishment, along with a slew of technical upgrades—at $40 million.
"These large VIP jets were mostly for government heads of states, presidents and prime ministers, and that's where the concept started," Shirazi explains. "But as the world has grown and private entrepreneurs have become uber wealthy, they've [adopted] the same concept of having this top-tier of luxury, presidential-style aircraft."
With its latest modifications, Ruiz's plane can comfortably accommodate 33 people and sleep 17. The "usable" living space, as Ruiz calls it, is 2,000 square feet. "If you consider the square footage of an apartment at that size, it would be fairly large."
While he likes the idea of flying in big style, he says there are practical applications, too. Other aircraft in his collection (this is the fifth plane VIP has refurbished for Ruiz) can seat up to 15 people.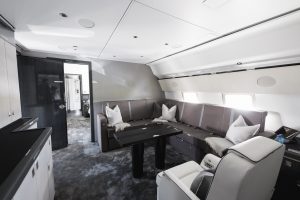 Ruiz says that was creating a problem. He travels for business with many of his staff in tow and there were situations that called for the ability to have more room and a larger space where he could conduct business in the air. Also, he points out that the 767 flies higher than commercial aircraft at 41,000 feet.
"Sometimes, there is a lot of air traffic between 35,000 to 38,000 feet." He says that as his businesses keep growing, there will be more trips "across the pond."
Shirazi estimates that the cost of flying the Boeing 767 to London and back, for instance, could cost approximately $300,000. "But if you think about buying multiple business-class tickets, and you have 33 people on board, it's not that crazy of a price," he says.
While this is the largest project VIP Completions has done to date, Shirazi sees even bigger and more comprehensive renovations on the horizon. That's because his business continues to grow. "The pre-owned market is becoming more and more common because it's so difficult to get a new larger aircraft from a factory," he says. "So, they utilize companies like ours to give it the new aircraft feel."
For Ruiz's luxury Boeing 767, there are living spaces that can be converted from lounges into staterooms, an area for formal dining (that seats seven), and an entertainment lounge with an 80-inch television. It also has a built-in DJ station that connects to an audiophile's dream sound system. Ruiz, who actually was a DJ at one time, wouldn't have anything less. And the big-screen television? It's perfect for someone who hosted his own legal talk show; La Ley con John H. Ruiz ran on Spanish-language cable TV for 14 years.
Two of the four bathrooms have stand-up showers with countertops in crystal white marble. A conference room area in the main cabin features two tables for conducting business meetings. The master bedroom with a queen-sized bed is elegantly detailed, including leather-lined cabinets. A second stateroom can double as a private lounge. Even the exterior was redone to suit Ruiz's style with what VIP Completions describes as a bold modern color scheme of black, white and pearl with fine accents.
Ironically, Ruiz says, he wouldn't even step on a plane 15 years ago. "I was terrified of flying. I would drive everywhere. I just didn't like it. I had to overcome that fear, and one of the ways I did that was understanding how planes work and how safe they really are," he says.
Today, Ruiz also understands that having the luxury jet at his disposal is the ultimate in freedom. "Out of everything that I've been fortunate in life to have, that one would consider a luxury, I would say having an airplane is probably the most special asset."
By Michelle F. Solomon
Photos courtesy of Tara Ink. and Tyler Geyer