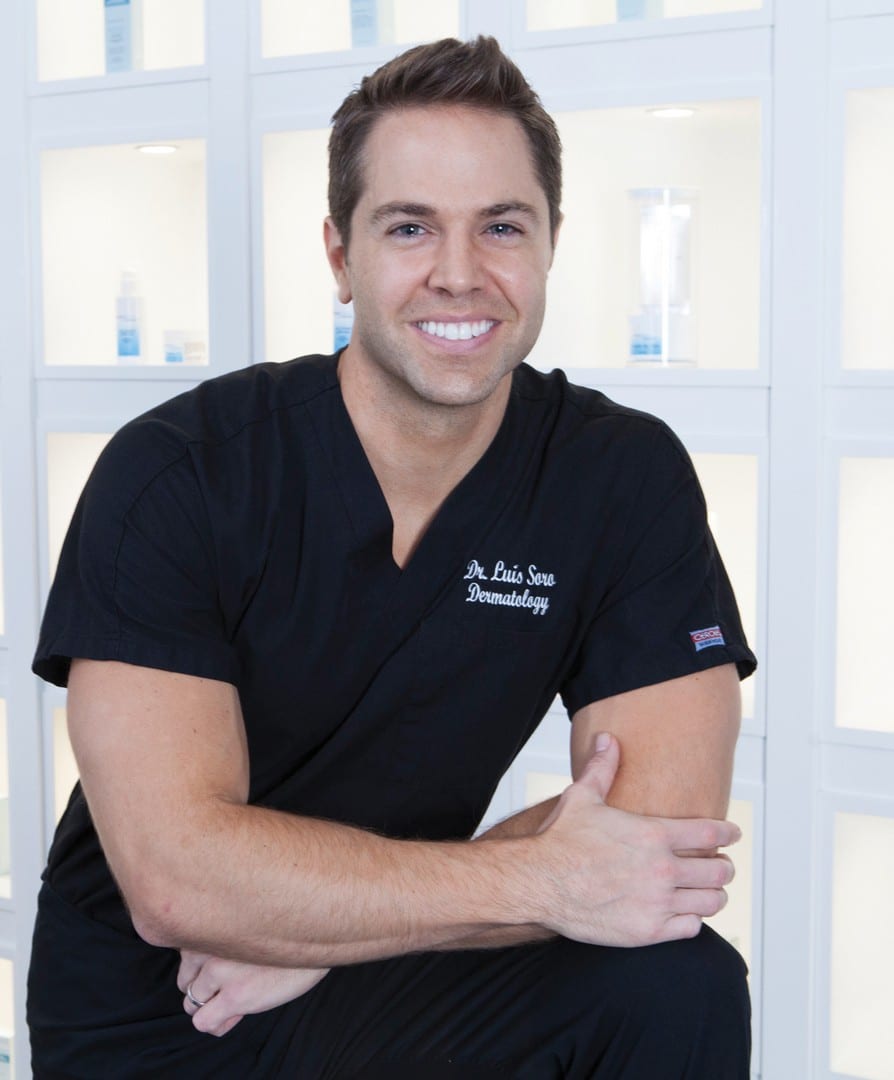 For the Sake of Appearances
Aging continues to be a top concern among clients of Shino Bay Cosmetic Dermatology & Laser Institute, says Dr. Luis Soro, a board-certified dermatologist.
"People who come in have noticed that, over time, they've lost volume in their face and elasticity in the skin, and things just start coming down—gravity," he says. "Folds become more prominent, and all of that contributes to a tired appearance."
To provide facial volume, Soro typically uses the nonsurgical Rejuva Lift, one of Shino Bay's new "signature series" treatments. A dermatological gel (often Juvederm Voluma or Restylane Lyft) is injected with thin needles along the middle of the face, which restores volume to help lift tissue. This adds support, eliminates hollowness and refreshes the face overall. The goal, Soro says, is to maintain a natural look.
"We don't want people asking, 'What did you have done?' We want it to look like you went on vacation or look rested, refreshed," he says.
The 20- to 30-minute procedure lasts more than a year, and it can be combined with others the same day for a full-face rejuvenation.
Another common worry is the under-eye, brought up by people in their 20s as well as decades older. It's not only about insufficient sleep—those dark circles can be genetic, Soro says. Some people have bone structures or fat compartments that give them less skin under the eyes, making the blood vessels visible and reflecting light in a way that gives the under-eye a darker appearance. This also can be fixed with a fine filler, such as Restylane Silk, to give the area volume. It also creates a smooth transition between the eyelid, lower eyelid and cheek.
"That's how I approach general rejuvenation—minimizing contours and convexities and shadows," he says. "We don't want to inflate everything and look like a balloon. We want to follow the facial architecture."
For more information about Shino Bay and its services, call 954.765.3005 or visit shinobayderm.com.
Those Pesky Problem Areas
Rejuvenation and anti-aging are two of Soro's specialities. Here are three more procedures Shino Bay offers:
1) Laser resurfacing: The Fractional CO2 Micro-Ablative is the "gold standard of laser resurfacing," Soro says. It's said to smooth wrinkles and thicken skin, improving its texture and tightening it. It's different than an injectable, which works deeper around the bone, fat and tissues. The laser focuses on the skin itself.
2) Cellulite treatment: Cellulite affects 85 percent of women, Soro says, and it can be resistant to weight loss. FDA-approved Cellfina is a one-time treatment with long-lasting results. The vacuum-like system suctions the skin, inserting micro-blades to cut bands of collagen under the skin to release tension and smooth dimples.
3) Neck fullness: Kybella is a familiar product to many, thanks to a TV commercial touting its impact. The injectable dissolves fat cells around the neck, which your body cleans out naturally. It reshapes the neck, tightens skin and eliminates fullness under the chin for a more sharply defined profile. Kybella also reduces fat permanently in the area. "If you gain weight, you don't gain it under the chin," Soro says.