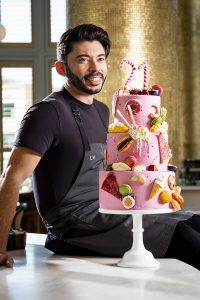 Luis Vasquez
Executive pastry chef, Miami Beach Edition
Back story: The native of Caracas, Venezuela recalls cooking in the kitchen with his father and decorating cakes with his mother at a young age. But, early on, it was his love of painting and sculpting that fueled his creative energy.
But the worlds of art and sweets merged for Vasquez during his formal studies at the New England Culinary Institute in Vermont and, later, at a pastry program in Colorado. He launched his professional career as an assistant pastry chef for Roy Yamaguchi's Hawaiian-themed restaurant in Atlanta, and quickly made a name for himself by producing elaborate blown-sugar creations.
He soon landed a job as executive pastry chef for Star Provisions, working alongside his mentor, James Beard Award-winning chef Anne Quatrano, for restaurants including Bacchanalia and Abbatoir. "It was so inspiring working with Anne because she had a farm," Vasquez says, "and every morning she'd come in with fresh produce. And we'd create the menu that day off those ingredients."
In 2011, Vasquez moved to South Florida to work with restaurateur and event designer Barton G. He quickly became the corporate executive pastry chef, which included all the national catering and events, as well as four Miami-based restaurants.
Since 2014, Vasquez has overseen the pastry program for Miami Beach Edition's restaurants developed by Michelin-star chef Jean-Georges Vongerichten, including Matador Room and Market.
The cake: Vasquez ran with the South Beach festival's 21st birthday theme, celebrating the festival's iconic events with a slew of edible details (dumplings and noodles from Asian Night; pizza from Taste of Italy, tacos from Tacos & Tequila). The core is a vanilla confetti cake with passion fruit buttercream. This will be Vasquez's seventh year participating at the festival.
Edible art: One of Vasquez's favorite events of the year, Art Basel, gives him an opportunity to pick the brains of artists from all over the world. "I'm so inspired by their process, no matter the medium," Vasquez says. "I'm able to turn what I learn [from the artists] into something I can use in the kitchen."
He's also had the opportunity to showcase his own creativity. For the past few years, he's helped renowned sculptor and painter Chloe Wise celebrate her birthday at the Edition. His most recent birthday surprise for Wise was a cake that replicated one of her works—a stack of melting butter with corn on the cob that she had done for a gallery show.
"She was literally in tears," Vasquez says "She came down to the kitchen and thanked my entire team."
Craziest request: As part of a massive international dessert event at Bal Harbour Shops, Vasquez and his four-person team once spent a full week working in a warehouse on a cake representing the United States that served as the showpiece attraction. The red, white and blue cake, which stood 10 feet tall with a bottom layer that measured 8 feet in circumference, served 2,000 people.
Photography by Eduardo Schneider