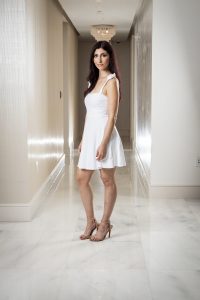 Back in the Game
Lauren's father had bought her brother tickets to a New York Rangers hockey game for his birthday. And she was not happy about the male-bonding thing. "I must have been 6, and I said to my dad, 'Excuse me, do you think because I'm a girl that I don't want to go?' "
It wasn't long before Rangers games became a daddy-daughter experience. Lauren loved the energy of the sport; she even loved the fighting. And she cherished the time with her father. A few years later, at a Rangers playoff game, a woman struck up a conversation with Lauren and her dad. She said seeing the two of them reminded her of going to hockey games with her own father as a child. She asked if Lauren could sit with her in the front row.
The woman turned out to be Lydia Murphy-Stephens, vice president of programming and acquisitions at the time for ABC Sports.
"It planted the seed in my head that I could get paid to go to sporting events," Lauren says. "That's when I decided to be a sports reporter."
That goal was still front and center after the assault—but for a different reason. She felt that if she could reach her career dream that, somehow, that would be her revenge.
By her junior year at Columbia, that dream was beginning to take shape. The National Basketball Association had hired Lauren for a part-time position in its broadcast department, but when she realized that the NBA was outsourcing online content for its women's league (WNBA), she asked to take on those duties. After graduating college with a sociology degree ("I wrote all my papers on the social impact of sports," she says), the WNBA hired Lauren full-time as a writer; by age 21, she also was writing for NBA.com.
However, Lauren's destiny was in front of the camera. In 2009, she took a job as a reporter, analyst and on-air anchor for MSG Varsity, a network devoted to high school sports. From there, she went to a CBS station in Buffalo for three years as the weekend sports anchor and reporter. That led, in turn, to a sports reporter position at WEWS-TV in Cleveland, where she stayed four years, until June 2019.
Along the way, she earned a reputation for asking tough questions and tackling difficult stories, including ones that shed light on double standards and inequities in sports. "I was afraid to walk down the street," she says, "but I was never afraid of anything professionally."
It's in Cleveland where Lauren met fellow sports broadcaster Gabriella Kruez. The two had become friends, and Lauren knew about the nonprofit, Love Doesn't Shove, that Kruez started during her senior year at John Carroll University in Ohio. As a sophomore, Kruez was involved in a physically and emotionally abusive relationship with her high school sweetheart, one that resulted in the boyfriend being slapped with a restraining order and banned from campus.
One day, over lunch, Lauren asked Kruez why she decided to share her story.
"She said, 'Lauren, I realized that it's the silence of victims that allows predators to continue their predatory behavior.' When she said that, I thought that here I was, asking her to share her story. And I'm silent about my own.
"I felt like a hypocrite."
Sharing Her Pain
It wasn't until age 25, nearly a decade after the assault, that Lauren finally told her mother, along with a boyfriend at the time, about what happened in the house along the Hudson River. Reporting and interviewing had helped her to peel the onion; the more she saw other people showing their vulnerability, the more she began to understand that she had, indeed, experienced a trauma.
She also shared the story with certain friends, including her best friend—who was with her at the party. Together, they were able to fill in a few blanks from that night.
But it was the written word, once again, that proved most cathartic. Before turning 30, Lauren began composing a series of open letters, 30 in all, that represented different versions of herself. She addressed them with salutations like, Dear Miss Ambitious, Dear Heartbreak, Dear Survivor. The idea at the time was to write a book. Instead, it foreshadowed something far more ambitious.
In the meantime, there was more writing to be done. This time, before a larger audience.
Lauren had developed a friendship with Vernon Turner, a former NFL player whose mother became pregnant with him following a gang rape. At age 15, Turner found his mom, an addict and prostitute, dead from pneumonia due to complications from drug use. Turner shared his heartbreaking story in the 2017 book Option B: Facing Adversity, Building Resilience, and Finding Joy by Sheryl Sandberg, COO of Facebook.
When Lauren shared her story with Turner, he gave her Sandberg's email address and suggested she reach out. Much to Lauren's surprise, Sandberg not only responded to her email, but she invited her to submit a scaled-down version of the story, done through a ghost writer, to the website for Option B.
At the same time, Lauren put together an open letter—similar to the 30 she'd already written—that detailed her assault and its aftermath in the way she wanted to present it. Her TV station in Cleveland agreed to run the letter on its website, to coincide with Sexual Assault Awareness Month. Lauren also posted it on her Twitter account. In April 2017, the letter went viral, becoming the top story on the site for a week.
"I'm watching people respond, and seeing all the retweets, and even though I'm not a super emotional person, I just started bawling," Lauren says. "It was like my body had just been let out of prison. I felt free.
"I'd had this skeleton in my closet for so many years. By putting it out there, it was no longer my skeleton. I'd given it back to its rightful owner. Because I never did anything wrong. Someone hurt me. I didn't hurt myself. … It lifted the shame I'd been carrying, shame that never belonged to me in the first place.
"It was the final piece of the puzzle in terms of healing."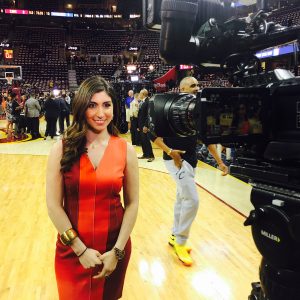 Destiny Fulfilled
Especially for someone who grew up going to hockey games with her dad, this would have been the full-circle moment. In 2018, she was one of two finalists for a broadcast position as pre- and post-game host for the NHL's New Jersey Devils.
When she didn't land the job, Lauren actually was relieved.
"I wasn't 11 anymore," she says. "I was chasing a dream I no longer had. Something else was stirring inside me. I'd become so passionate about social issues—sexual violence, racism, women's issues, social justice. I wanted to combine being a journalist and an activist—and those two don't go together. I realized that the job I wanted didn't exist.
"So, I created it."
The following year, Lauren left Cleveland, moved to South Florida, and went all in on a venture that had no entrepreneurial peer. The Unsealed, launched at the end of July 2019 (theunsealed.com), became more than just the culmination of lessons learned along the healing road.
It's a platform for people to share their own stories of overcoming adversity. A place for like minds and people with opposing views to engage. A forum that can pay it forward by connecting charities and fundraising to certain stories. There are writing contests (with cash prizes), open letters people submit about someone who's had a profound, positive impact on their life. There are live interactive conversations with special guests about current events and hot topics. And, of course, there are contributions from the founder, who's posted dozens of letters about everything from advice to her younger self to George Floyd's murder to sharing her journey as a survivor of sexual assault.
"I had people cancel their subscription over the George Floyd letter," says Lauren, who generates revenue from subscriptions, motivational speaking, and, down the road, writing workshops with local schools. "But the whole point of starting this is standing up for myself, standing up for what I believe in, and being true to who I am. Yes, I want a business. But I want to be authentic.
"I'm trying to use my truth to help inspire other people to share and discover theirs. I say discover because so many of us haven't unwrapped our truth. When we write, we learn about ourselves. We discover our strength, our power, our pain."
Lauren sees The Unsealed broadening its platform in the future, including, she hopes, through a streaming show based on the remarkable stories people have shared on the site. One family posted about their son, Ford, who was diagnosed as a toddler with a rare form of childhood cancer.
"When we ask Ford why he is so special," the letter reads, "he says, 'Because I am Ford Tough.' "
Asked if she's in a good place in her life, Lauren says that launching any business has its moments. But her vision for The Unsealed is crystal clear.
"I always say that my dream, sportscasting, led me to my purpose. I know not everyone sees it. But I see it. And that's all that matters.
"I took the worst moment in my life, the most painful thing that's happened to me, and I've used it to launch something that's not only helped me, but it's helping so many others."
To read the story in its entirety, visit https://lmgfl.com/publication and turn to page 112
Portrait photos by Eduardo Schneider. Shot on location in Sunny Isles Beach at The Estates at Acqualina.