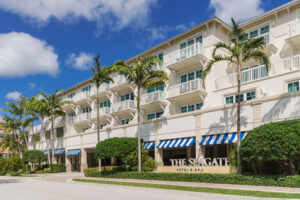 The lowdown: As devotees of the spa inside Delray Beach's popular boutique resort, can attest, the allure isn't about bells and whistles. Compared to some of its counterparts at luxury resorts throughout the region, the spa at The Seagate (1000 E. Atlantic Ave.) feels quaint at 8,000 square feet and with seven treatment rooms (and one couple's room).
But what it lacks in size and over-the-top amenities, it more than makes up for where it most counts. Some 90% of the therapists and aestheticians who started with the spa more than a decade ago are still there. The nurturing, family-oriented ambience promoted from within feeds directly into the customer experience. The daily appointment book is filled with regulars; locals comprise about 60% of the spa's business, and longtime therapists have steady seasonal patrons, mostly from the Northeast.
Since emerging from its COVID-19 pandemic hibernation in May 2020 (The Seagate was the first resort in Palm Beach County to reopen), the spa has seen a spike in shared bliss. Packages for couples are red hot—like the Treasured Memories, which includes a reflexology massage, candlelit bath, body polish, couples massage, Swiss shower rinse, and, naturally, chocolate-covered strawberries and Champagne. However, that's hardly the only treatment to stir the senses.
Spotlight treatment: When customers finally gather themselves after savoring the Rain Massage at The Seagate, the response is typically the same, according to longtime therapist Audrey Oliver. "They don't have words for it," says Oliver, who celebrates 10 years at the spa in October. "It is something quite different. It's an experience." Though words definitely fail to do the 90-minute journey justice, we'll try anyway. It begins with a soothing head-to-toe opening massage, followed by a full-body exfoliation with an ESPA ocean salt scrub (an exfoliation with warmed sugar cane and coconut oil also is available). Instead of dropping the mic there, the spa turns it up to 11, in Spinal Tap terms, by unleashing a seven-outlet Vichy shower than rains down some serious relaxation from above—all while your spa technician simultaneously treats you to a full-body aromatherapy massage. The rituals seamlessly combine to stimulate the muscles, soothe body pains, calm the nervous system—and, yes, leave the recipient speechless.
Other spa highlights: The spa's Hot Shell Massage has emerged as one of its most popular treatments. The use of stones in similar massages can be hit or miss, given how they can absorb and radiate intense heat. The smooth tiger-striped sea shells used in this massage maintain a consistent, relaxing warmth. … All of the massages on the menu can be enhanced with extras, including a mineral-rich pink mud scalp massage (with watercress, red clay, and apricot kernel oil), and an aromatherapy paraffin hand or foot treatment. … The spa does not have a hair salon, but it offers its share of salon-style services, including nail care and waxing. … In addition to facials designed especially for men and teens, The Seagate elevates its overall skin-care game with HydraFacial offerings that incorporate hydro-dermabrasion and a soft peel to free the face of dead skin cells and impurities—while leaving it with a moisturized glow. … As part of the Palm Beaches' upcoming Spa & Wellness month in October, The Seagate will feature a discounted treatment. Visit thepalmbeaches.com to learn more.
Prices: Rain Massage, $250 for 90 minutes; Hot Shell Massage, $180 for 60 minutes or $230 for 90 minutes; Treasured Memories, $645 for 120 minutes; Sojourn to Wellness (also a couples package), $750 for 120 minutes; Pink Mud Scale Massage, $90 for 30 minutes; Aromatherapy Paraffin Hand or Foot Treatment, $30; HydraFacial, $195 for 30 minutes, $285 for 60 minutes, $455 for 90 minutes.
Contact: 877.577.3242; seagatedelray.com/spa