With more than 50 years of real estate experience between them, it's no wonder that mother-and-son team Hazel and Evan Goldman, of Goldman Residential Group, totaled $50 million in sales in 2018.
The Pinecrest residents set themselves apart from other professionals not only with their experience but also with their ancillary skills. Evan, who lives in Pinecrest with his wife and children, is fluent in Spanish; Hazel, with a bachelor's degree in math and a master's in guidance and counseling, talks clients through finding out what's best for them with, as she describes it, "a little bit of therapy and a little bit of hand holding."
Lifestyle tapped the Re/Max Advance Realty agents' knowledge of the market to gather tips and insights for those planning to buy and/or sell in 2019.
Think of the future. Hazel says the most important thing for buyers to understand is the expected and potential appreciation of a property and "how protected their investment is for the future."
"It's not like it used to be years ago, when, no matter what you bought, you made money," Hazel says. "So I think that buyers need to understand the relative values in terms of what's going to give them profit, and what may not and why. We've always sold property telling our customers these issues, but I think now it's more important than ever."
Don't generalize about prices. Buyers might believe that a good buyers' market applies to all residences equally, but it's not always the case. For example, Evan says, what's happening in the condominium market might not be happening in the single-family home market.
"I think buyers need to be particularly careful and cautious. Even though there's probably more inventory and some better opportunities than there were one to three years ago, depending upon the area and certain price ranges, there are different kinds of opportunities—sometimes not as much," Evan says. "I think buyers just need to be aware of the of the specific market they're looking in."
Location, location, location. Being intentionally specific when buying a property leads Evan and Hazel to repeat the old adage, which he says, is "as important as ever."
"Most of the value is still tied up in the land and the specific location of the house," he says.
For sellers: Be realistic. Evan says sellers need to be realistic about the pricing and inventory available in their price range. Your neighbor's house down the street might have a high asking price or someone nearby may have sold their home for a higher price two years ago, but these prices might not reflect the market or your home's price. As Evan suggests, they might be overpriced, and some may have been on the market for a long time.
"Sellers don't really understand that they need to compare their homes to the homes in the immediate area that have sold within the last year," he says.
Make it pretty. Hazel says sellers need to understand what competing homes in the area look like and make their properties as gorgeous as they can. It's the reason the Goldmans give customers a detailed list of tasks to complete to make their house show well, including staging if necessary, especially for vacant homes.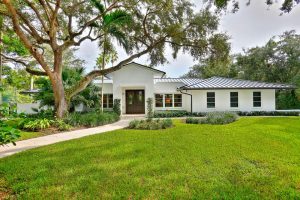 Be patient. Hazel notes that they've actually talked people out of buying when it's clear it would be better for them to continue saving money. In some cases, their personal situations or the market conditions necessitate that they wait to buy, particularly if they want a bigger house.
"It may be better for them to wait a little bit, so they can afford more and go to a neighborhood that's going to have a shorter commute or better schools or something [similar]," she says.
Evan adds that some clients should reconsider buying if they plan to sell again soon.
"In a somewhat changing market, which is what we're in now—that came down a bit off a lot of growth between 2012 and 2016—if there isn't a clear cut, good opportunity for them, it might not be in their best interest to buy, especially if they're going to be leaving Miami within the next two or three years. They can potentially be hurt by buying something and then losing money."
Modern rules. Contemporary styles that allow much light in the house are selling better, and the Mediterranean style is not as popular as it's been in the past. Buyers and sellers also are paying much more attention to home conditions. One issue is the corrosion of galvanized piping in homes built before the mid-1970s.
"Buyers still pay a bit of a premium for a house that's fully updated, in great shape and fully renovated or brand new," Evan says. "I think that's going to definitely continue. Usually, the houses that are just more updated and require less work, sell a little quicker and sell for a little more money than houses that aren't, based on the footage and the actual prices in the area."
Know the market. Hazel sees the 2019 market as one in which price rules, mandating that sellers and buyers be realistic. "One of the biggest things that we've seen—this is especially true for the first-time and the luxury [owners] from the million to 4 million range—is that many sellers, because of when they purchased, think their houses are worth more than they're worth today [depending on when they purchased]."
The Goldmans describe the current market as one that is "slightly more of a buyer's market than a seller's market," going down slightly since the upward trend of 2012-16.
"We think the market is going to stay relatively steady," Evan says. "[Pinecrest and other cities in South Miami-Dade] are traditionally very good areas, and they sell no matter what even if the pricing is slightly higher or slightly lower than a few years before."
Educate yourself. For an in-depth look at the market, your best bet is a personalized market analysis, a service the Goldmans offer clients. The analysis looks at comparable houses in the neighborhood to determine what it would be worth if it was sold today. It also discusses what the Goldmans do from a marketing standpoint, walking clients through the process of buying and selling. It's an important part of buying and selling before anything is signed.