Pinecrest's Youth Advisory Council members gain experience from community involvement
By Michelle F. Solomon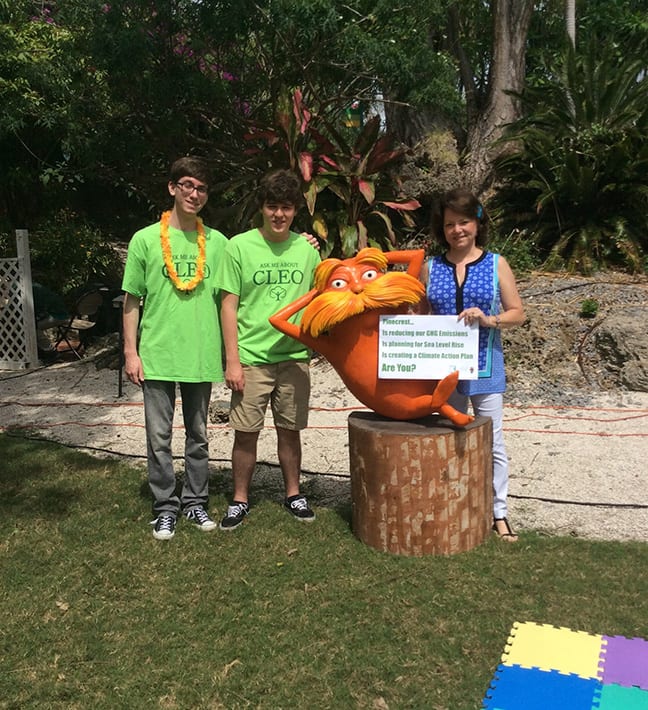 For Caitlyn Chong, learning about the positions and the people involved in running the Village of Pinecrest was one of the most impressionable lessons she took away from her two years with the city's Youth Advisory Council. A recent Palmetto High School graduate, Chong says meeting Police Chief Samuel Ceballos Jr., Pinecrest Gardens' former horticulturist Craig Morell and the city's council members and event planners gave her an insight into her hometown she wouldn't have had otherwise. "I have learned so much about how a city like Pinecrest operates," she says.
Mayor Cindy Lerner says creating the council was one of her first initiatives during her first term as mayor. "I wanted to provide our teens with direct access to their mayor, to learn about my role, my vision for the future and the importance of resident input in decision-making," says Lerner. "Local government becomes real and personal for members of the Pinecrest YAC, who learn directly from the police chief and the directors of public works, parks and recreation, the manager's office, building and planning, and Pinecrest Gardens."
On Oct. 13, 2009, Resolution 2009-48 of the Village of Pinecrest established the council, a 20-member group comprised of students in grades six through 12 from area schools, to evaluate and review issues facing the youth of Pinecrest and perform at least one community service project per academic year.
Now entering his fifth year as part of Pinecrest's YAC, Sean Bunce, a senior at Palmetto, says he's not only learned so much about the community in which he lives, but he's also grown as a person. "While engaging in the community and working with Mayor Cindy Lerner, I also made friends and created memories from all the good I did with my time."
Palmetto sophomore Matthew Solomon, who joined the council when he was in seventh grade, says he's gained a passion for community service—he was captain of the YAC's Relay For Life team, helping raise almost $3,000 for the American Cancer Society—and credits his enhanced leadership skills to his involvement with the group. "It has been interesting for me to learn about how local government functions, while working closely with the mayor on various projects," he says.
Gabriela Aklepi, who graduated from Palmetto in June, was one of the council's longest involved members, which allowed her to contribute insight to new members and discover the numerous resources Pinecrest offers. "In Pinecrest, I believe teenagers are very blessed," she says. "However, I think that teens should be made more aware of the resources in the community and how they can take advantage of them."
For Kent Trespalacios, delving deep into the village's plans to address climate change satisfied his interest in the environment. As part of the YAC, the Palmetto senior learned that the village has developed a climate action plan and a stormwater master plan and has incentivized green initiatives to get residents on board with protecting the environment. "The biggest challenge currently facing young adults in the Pinecrest community is the issue of climate change," he says. "But unlike other municipalities, Pinecrest has taken great strides to become a more climate-aware community."
One of Lerner's most passionate issues, climate change is a focus of the YAC through a collaboration with Climate Leadership Engagement Opportunities (CLEO) Institutes. The group also frequently engages in community service projects. "The YAC provides our middle and high school youth with hands-on civics lessons and involvement in their own municipality and in collaboration with neighboring municipalities," Lerner says. "A strong bond between the youth council and the community is created, fostering civic engagement, which we expect will continue into adulthood."
It is, indeed, the community involvement that many of the YAC members talk about the most when asked why they would tell classmates to join the council.
"You can propose your own ideas of community service projects and ways of helping the community, then receive feedback and even the help of fellow YAC members," says Bunce. "Just this past year, my friend and fellow YAC member Matt Barocas and I made a water bottle cage out of 167 thrown-out bottles that we collected over many weeks to visually demonstrate the number of bottles the average American uses in a year. Don't worry, we recycled them afterward."
Trespalacios, who discovered the opportunity to join the YAC through social media, says that being a part of the council is a way to share ideas with like-minded students who are interested in politics and government. "It is a great way to have a positive impact on our local government with peers who are committed to sharing ideas with our mayor and council members for the betterment of the community," he says.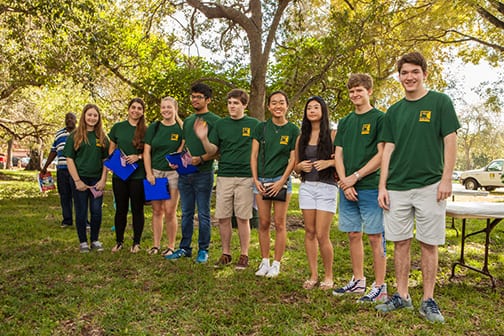 The experience students gain from the YAC goes beyond their community service when they return to daily activities in their local schools, says Solomon. "We serve as ambassadors, encouraging leadership, community service and environmental protection."
The Village Council is accepting applications from middle and high school students interested in serving on the YAC during the 2016-17 school year. Application deadline is Aug. 31. Download application at pinecrest-fl.gov.