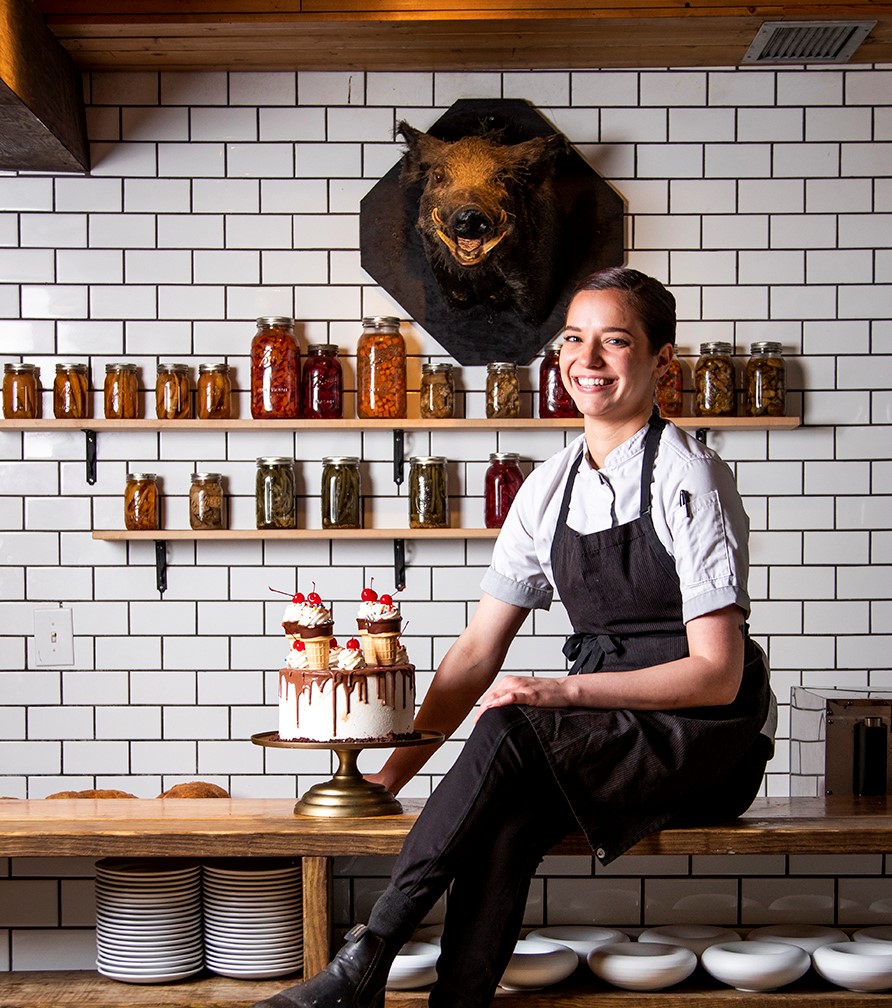 How Sweet It Is: Devin Braddock
The corporate pastry chef for Ariete Hospitality Group shares her kitchen story—and a cake creation—ahead of the South Beach Wine & Food Festival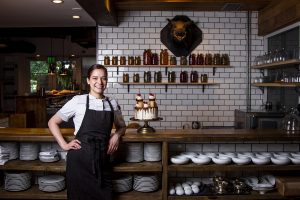 Devin Braddock
Corporate pastry chef, Ariete Hospitality Group
Back story: The prodigious talent that has made Braddock a household name in Miami pastry circles runs in the family. Her grandmother was an elaborate cake decorator in Tampa, where Braddock grew up; she cooked out of a baking kitchen inside her house.
"I'd see her forming thousands of flowers by hand," Braddock says. "She was so detail-oriented. In those days, you used pastillage instead of fondant; she everything by hand. No stencils, no cutters. It had so much influence on me."
It also spoke to something that Braddock relies on as someone who deals with anxiety issues.
"The things that center my brain are connected to the senses," she says. "I love the feel of flour in my hands. The scent of sugar that fills a room. It soothes me to decorate a cake or bake cookies. I feel like it's something I was meant to do. I can't imagine doing anything else."
Braddock moved to Miami at age 19 with $80 in her bank account to enroll at Johnson & Wales University. Her first pastry position was at Café L'attito in Sunny Isles, followed by stint as pastry chef at Wynwood Kitchen and Bar. But like her good friend, Dallas Wynne, her career was forever altered after accepting a position under Hedy Goldsmith at Michael's Genuine.
"I was young and scared of everything," Braddock says. "Hedy took me under her wing and taught me everything. I wouldn't be where I am today if I didn't work for her."
She went on to work for restaurateur Brad Kilgore at Alter in Miami before taking on the corporate executive pastry chef position for Daniel Serfer's restaurants Mignonette and Blue Collar. Feeling disconnected from the desserts she really wanted to do, Braddock was set to move to Washington, D.C., before chef/restaurateur Michael Beltran called.
"I needed to learn how to the feel the soul in my desserts again," she says. "Michael said, 'Come work for me. Make good food. And be happy.' I told him I'd start in two weeks."
For the past two-plus years, Braddock has served as corporate pastry chef for Beltran's Miami-based concepts, including Ariete, Navé and the Taurus.
The cake: A new addition to the Ariete Hospitality Group stable—a record store that doubles as an ice cream shop in Coconut Grove—inspired Braddock to create an ice cream cake.
"The light brown top layer is Café Bustelo coffee-flavored ice cream—Bustelo is very common for chefs to drink when they're at work," Braddock says. "The second layer is vanilla malt buttercream, which recalls a diner. And we just opened a diner [Chug's]. The bottom layer is passion fruit that we source from a farm [Bee Heaven] in Homestead. … Basically, whatever was on my mind, I put into the cake."
The scoop: Braddock doesn't mince words when it comes to her passion for creating ice cream from scratch. The science nerd in her loves determining the ratios between fat content and sugar content, or determining the quickest way to freeze it, or what kind of air to pump into the concoction. But the process also speaks to the fact that ice cream can be so much more than vanilla, chocolate and strawberry.
"When I worked for Brad Kilgore, I made ice creams that were very fancy with flavors that you wouldn't expect," she says. "Like, he'd make incredible ice cream with celeriac [or celery root]. It piqued my interest. You can put anything into ice cream and make it good if you know the science behind it. You can make all this weird stuff—and it can be cool.
"I'm always thinking about ice cream. It never stops. Fresh spun ice cream, straight out of the churns? It's one of the greatest things you can eat. Ever."
Words to bake by: "My goal is to create dishes that make the people who eat them feel something. That's why you order desserts. They make you feel like …" says Braddock, releasing an exaggerated heavy sigh. "I don't need to create something with 17 fluid gels, microgreens, some edible dust and a crumb—and call it fine dining. I just want to make food that tastes good. A slice of cake on a plate is just fine."
Photography by Eduardo Schneider