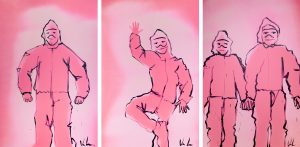 After receiving a donation to acquire an NFT last year, the Institute of Contemporary Art, Miami (ICA Miami) is delving further into the world of digital assets with the launch of its NFT (non-fungible token) Platform. NFTs consist of a unit of data stored on a blockchain just like cryptocurrency, with the blockchain certifying that the digital asset is unique. They can include photos, videos, audio and other digital files, including artwork.
ICA Miami's NFT Platform, the first launched by a U.S. museum in partnership with Palm NFT Studio and LiveArtX, featured its first NFT auction highlighted by three works by artist Cory Van Lew, auctioned in both physical and digital forms. The release coincided with the museum's annual fundraising gala, The 365 Party, which raised over $1.5 million. Buyers could place their bids via the website in cash or Ethereum, with proceeds supporting the museum's ongoing free arts programming and educational mission.
The 365 Party honored Jorge Gonzalez, Vice Chairman and CEO of City National Bank of Florida, who has championed ICA Miami's free admission program. He has served as a Trustee at the Institute of Contemporary Art, Miami, since the museum's founding in 2014.
"City National Bank's sustained support for ICA Miami is a reflection of Jorge's leadership, and the belief that our arts community is essential to the future of Miami," Alex Gartenfeld says, Artistic Director of the Institute of Contemporary Art, Miami. "With CNB's help, ICA Miami has welcomed 600,000 people through our doors free of charge, many of whom would not otherwise have had an opportunity to engage with contemporary art in a museum setting."
Along with the three works of art, a fourth NFT/painting pairing also joined the museum's permanent collection courtesy of Van Lew. The new work builds on a series of paintings and NFTs featuring pandemic-related motifs by Van Lew. His work was inspired by the ongoing collective experience of the pandemic, which featured anonymous figures in hazmat suits with their faces obscured by masks.