When 13-year-old Jessica Russo visited New York for the first time in December, there was more on her mind than seeing the sights of the Big Apple. Mentally, she was still preparing to sing before more than 200 people.
"Getting to New York—it was huge. It was kind of overwhelming. It hadn't set in that this is it. This is happening," she says. "And then I got to Carnegie Hall, and it was beautiful."
Following in the path of other Carnegie Hall performers—Benny Goodman, Judy Garland, Tina Turner—Russo performed "Journey to the Past," from the film "Anastasia," after being chosen as a first-place finisher in the junior category (ages 11-14) of the American Protégé International Vocal Competition. She entered through her vocal coach, Mike Soper of Mike Soper Music in Wellington, who also helped her craft her performance of "Don't Rain on My Parade" from "Funny Girl," which won her the title of Coconut Creek's latest "Creek Idol."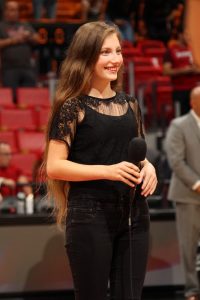 Both performances were a far cry from her stage debut when she sang "How Does She Know?" from "Enchanted" at age 5 at Actors Coral Springs, a performing arts studio that since has closed.
"I hid behind the microphone on stage because I was scared," says Russo, a Creek resident. "[It was] my first time ever on stage. I had the solo. I'm pretty sure I did it well in class, and then I got on stage and hid behind the microphone and [her teacher] shoved me back on stage. The second time, I did it well."
Though it didn't go as planned, the performance led to more opportunities for Russo. Over the years, she's performed at local events and fairs and has sung the national anthem at Miami Heat games. Today, the Lyons Creek Middle School student is a regular at the Roger Dean Chevrolet Stadium in Jupiter, where she sings the anthem before minor-league baseball games. She also has performed in musicals at Performance Edge 2 School of Dance's theater academy in Boca Raton, including "Hairspray," "High School Musical," "The 25th Annual Putnam County Spelling Bee" and "13."
In anticipation of her performance at the Butterfly Festival on Feb. 23, Coconut Creek Lifestyle asked Russo a few questions about performing at Carnegie Hall as well as in her hometown.
What were you thinking before you went on stage at Carnegie Hall?
"I thought, 'This is the reward. I've won the competition. I've done everything I need to do. This is my reward. So, enjoy it. And don't get nervous.' "
How was the performance different from other times you've sung the song?
"It was one of my best performances I've done of that song. I'm kind of weird like that—I'm practicing, and I'm doing OK. And then I get on stage and I'm doing great and better than I had been when I was practicing. I [think], 'All right, this is the time to do everything right.'
"It was so amazing. My mother was screaming in the background. There were 12 family members there, so I was kind of singing for them too because they had only heard videos of me singing and that was their first live performance. What a first live performance. I got off the stage and [I] just let it all out. It was great."
How did you prepare?
"[When I took lessons with Soper], I stood in the middle of the hallway, so it's kind of the distance we're going to be [in Carnegie Hall]. And I [tried] out the acoustics. The acoustics sound like you're cupping your ears."
What's your favorite part of preparing a song such as "Don't Rain on My Parade"?
"Adding in the little things because that makes a big difference. There was somewhat of a period where I didn't know where to breathe and put the vibrato [the vibration of the voice]. Adding in the vibrato [makes the song go] from kind of a musical theater song to full-on musical theater. That was one of the things that was really fun to add in."
What's been your favorite role to perform in a musical?
"Sharpay [from "High School Musical"]. That was really fun. Or Olive [from "Putnam County Spelling Bee"] because it was stepping out of my comfort zone a bit. … I have very loving parents. But in the show, [Olive's] mom left to go find herself because she has depression and her dad beats her. I can't relate. … It was kind of like the opposite of me."
What challenges have you overcome while learning to sing?
"Breathing. [Playing the flute] has helped me with that, actually. Finding where to breathe in a song is kind of difficult because some songs are fast. What we do is print out the sheet music and the lyrics and we put a line above where you put the vibrato and a slash where you breathe. I used to get out of breath and I wouldn't have enough breath to do the last note."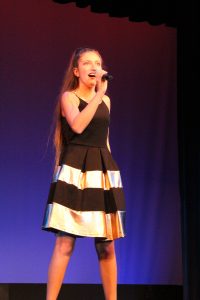 What was it like to perform at Creek Idol, the local singing competition?
"[She was told], 'You're first," and I was like, 'What?' They kind of forget you [when you're first]. … But then I was like, 'Well, even if I don't win, this is still fun.' … I went on stage and was like, 'All right! Theater! Now!' And then the song started, [and I was] an entirely different person.
"… They called first [place], and it was me, and I was like, 'What?' I wasn't [expecting] it."
How will singing play into your future?
"I'm not going to become someone who does musical theater full time or anything like that. I'm probably going to do something with math. [Editor's note: Russo is studying Algebra I in middle school.] But [singing] can be a side thing, and then I can have an academic career."