The opportunity, Jesmille Darbouze admits, feels like it's been a long time coming. And, yes, there were stretches along the way where it seemed like it might never happen.
But it's no accident that the 38-year-old actress is on a Broadway stage through mid-June in A Doll's House, starring Jessica Chastain. She embarked on her dream as a youngster in Miami—taking advantage of performing arts magnet programs in middle school (Mays Conservatory of the Arts) and high school (New World School of the Arts).
After graduating with a degree in theater from Carnegie Mellon University in Pittsburgh, Darbouze returned to New York (she's from Long Island; she moved to Homestead with her mom and two brothers when she was 10) and borrowed a page from Dustin Hoffman's character in Tootsie.
She toiled for more than a decade, going on audition after audition, snagging TV and regional theater parts here and there, and tackling an array of day jobs to pay the bills. She worked the front desk at the Standard Hotel. She conducted shopping tours. She served the likes of Robert De Niro and Steven Tyler at Jean-Georges, one of several restaurant stops.
"It's a hard career [in which] to stay confident and motivated and trust that the work will come," says Darbouze, who's married with a daughter (age 5) and son (2).
That it's come in the form of a critically acclaimed adaptation by playwright Amy Herzog—one that puts her on the same stage as an Academy Award winner—is hardly lost on Darbouze, who spoke candidly with Lifestyle about this hard-earned and much-deserved career highlight.
After college, you moved back to New York City in your early 20s to pursue your acting career—but nothing came easy. What stands out for you about those years?
I've been in the industry for over 16 years, and, yes, my trajectory hasn't been the most linear. There have been a lot of ebbs and flows.
When I graduated from Carnegie Mellon, I didn't have an agent. In fact, I didn't have an agent for the first seven years of my career. The bulk of the work that I booked was on my own by going to open calls. I'd get up at like 5 in the morning, warm up, get all my audition material ready, head down to the [Actors' Equity Building on West 46th Street], stand in line for about an hour, get a number, and then return two or three hours later to audition. I did that quite a bit. This is probably 2006 to 2011.
And then I worked my day job, mostly in restaurants. It's very cliché [for an actor], but it afforded me the opportunity to make the money I needed to make—yet have my days free to audition.
At one point, I went about two years without [acting work]. I finally got representation around 2012. I did some regional theater and a few things on TV. In 2017, I tested for a TV pilot and didn't get the part. But I found out that same day that I was pregnant with my daughter.
Things were happening for a reason—and happening when they were supposed to.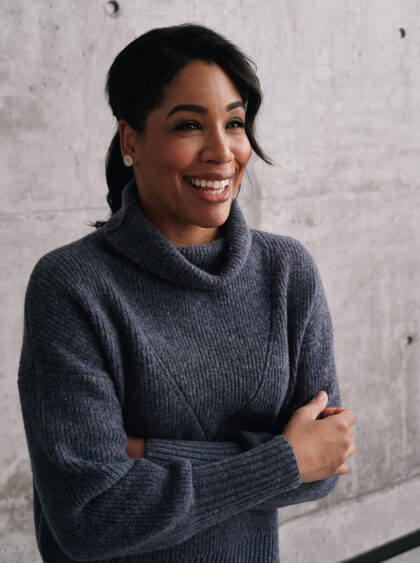 It's noted in your bio that you did turns at Bubba Gump Shrimp Co. and Applebee's. Any restaurant experiences that still haunt you?
I worked at The Breslin in New York, which had a whole roasted suckling pig on the menu. I had to learn how to carve this thing tableside.
You'd first take off the legs. Then you'd cut down the spine and start pulling off the meat to serve. From there, you'd go back to the kitchen and cut off the head, remove the eyes and tongue, and crack open the brain. You'd set all this up on a platter and bring it back to the table. Some days, especially during the holidays, you'd carve two or three pigs in a night.
I don't eat pork anymore. I wonder if that's why. [Jesmille chuckles.]
Honestly, I can't knock those experiences. Working in the restaurant industry allowed me to have the flexibility I needed to audition, to be financially independent, and to take acting classes and voice lessons. It also afforded me the flexibility where, if I did book a job, like a regional theater production, I could take off for three months. I was fortunate to work with managers who said, no problem, come back when you come back. So, I'm grateful. Restaurants allowed me to stay in New York City—and continue chasing this dream.
Finally, in 2019, you land your first Broadway role—the Tony-nominated Kiss Me, Kate, with Kelli O'Hara in the lead. That same year, you understudied in Betrayal, starring Tom Hiddleston, which also was nominated for a Tony. And, then, COVID. From a momentum standpoint, what were you feeling?
It was incredibly disheartening. I felt that I was finally hitting the [wave of]momentum that I had been working toward for so long. And then it just stopped. But, listen, there were harder things happening.
I do remember having clarity at the time to understand how blessed I was to have my health, that my family was OK, and that I had this time to spend with my young daughter. I also was fortunate to be growing another life at the time [her son]. So, I stayed in a place of gratitude. If that was it, if 2019 was my last opportunity to be on Broadway, at least I did it. Because it's not awarded to everyone.
During that time, I decided to go back to college and get the pre-requisites I would need to apply to nursing school. At that point, after having my second child, I felt I needed more stability.
Have there been other times during this journey where you wondered if the career ever was going to happen in the way that you envisioned?
There is discussion of an exit plan that happens about every six months [She laughs]. I'm like, OK, I think I'm done. I'm probably not going to work again. This is too hard.
My husband is the first one to say, "Absolutely not." He's so incredibly supportive. He's always the one to say, "Be patient. Take it easy. Things will come when they're meant to come."
But, yes, there's a phone call to my mother a few times a year where I'm saying, "Time to sign up for a statistics class, finish these pre-requisite classes and get ready for nursing school."
Flash forward to last year. How did A Doll's House land on your radar?
I grabbed a bite with Jonathan Glew, the associate director. We had both worked on Betrayal with [director] Jamie Lloyd. He tells me that Jamie is doing A Doll's House—and that he's considering me for a role.
I said, "John, I love working with you, and I love Jamie's work and his approach to plays. I'd be happy to understudy."
And he's like, "No, no. Let's get you on stage."
Time goes by, and then I get the appointment to send in my self-tape for the role of Kristine Linde. This is last October. Three weeks go by, and I don't hear anything. I sent a message to John telling him I felt good about what I did [in the tape], but that I understand that a play starring Jessica Chastain probably wants a bigger name in the role of Kristine. But thank you for considering me.
John tells me to hold tight. The next day, I get a call back.
I went in and read the scene for Jamie. That night, I remember telling my husband that I felt so good about what I did in the room—but that I'd understand if they wanted to go with someone shinier.
I was thinking that I'd get the understudy, because I'd done it for Jamie in Betrayal. Once you've understudied, it's easy to get stuck in that position. Producers and directors love actors that have that skill.
But two days later, I received word that I was being offered the role.
The first words that came out of my mouth when I spoke to my management was, "Are they sure?" It was so hard for me to wrap my brain around the fact that, oh my goodness, not only were they giving me the opportunity to have a leading role in a Broadway play with Jamie Lloyd—but I'm going to be on stage with Jessica Chastain and the other incredible cast members in this show.
Are you sure there wasn't at least one scream of excitement after you found out?
There were a lot of tears.
What's crazy is that my husband was defending his PhD the next day. He's a professor at the John Jay College of Criminal Justice in New York. It's been a seven-year process for him. He was defending his dissertation in criminology on a Thursday, and I got the news on Wednesday.
So, I didn't tell him. I didn't want to interfere or knock him off track with all that he'd be working on. So, I held onto the news for 24 hours before telling him. He so was mad. Of course, he wanted to know. But I wanted to make space for him to focus on something he'd been working so hard on for so long.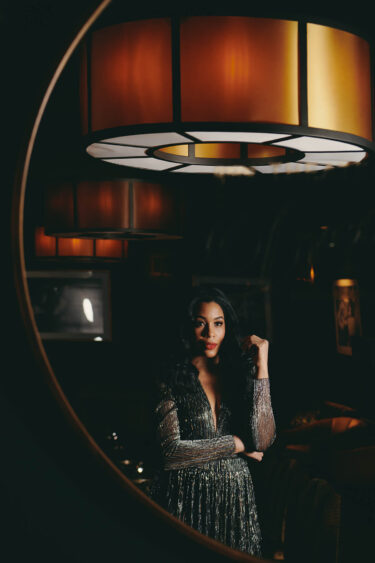 Have you ever worked for an extended period of time with an actor of Jessica Chastain's pedigree?
As far as working in a rehearsal process so intimately with someone like Jessica, this is the first time. Everyone in the room is so seasoned and so skilled at what they do. Arian Moayed is on Succession playing Torvald Helmer. Okieriete Onaodowan was an original Hamilton cast member. Michael Patrick Thornton was just on Broadway with Daniel Craig in Macbeth. It's seriously a master class working with these actors—and also learning from them.
To that end, what are you noticing about Jessica's preparation and approach that you'll take away from this experience?
Jessica is one of the hardest-working actors I've ever come across. Not only is she gracious and open and kind, but she takes her craft and the work so seriously. One takeaway will be the honesty and bravery in the choices that she makes as an actor. And how she unapologetically brings her full self to everything that she does.
We were asked to show up for our first day of rehearsal completely memorized. That's rare. Usually, you're able to have your script in hand until about two weeks in.
What was great with Jessica was that every time we approached a scene, she would bring something new. She never stuck to the same acting choices. We would create these drafts of what a scene would look like; with every draft, the choices she made were beautifully and emotionally connected. It never took away from what was needed to tell the story or to tell the relationship in the scene.
Do you feel like this opportunity is the beginning of something special in your career?
I hope so. It's hard to tell because this business is so fickle. I am manifesting that this is the beginning of the kind of career that I've always dreamed about. I'm hoping that this will bring opportunities to work with directors and artists who will help me to grow even more as an actor.
But there's also that part of me that's aware the story doesn't always go that way.
So, again, I'm staying in a place of gratitude. If it doesn't manifest the way I envision, I still had this incredible opportunity. I got to do this fantastic show in New York City with some of the most incredible actors in the industry.
No one can take that away from me.
Is your daughter, Grace, old enough to appreciate Mom's moment?
Grace sort of understands what I'm doing, but I don't think she understands the magnitude. She knows Mom is an actress and that she does shows. But then, sometimes, she'll say, "Hey, Mom, when you become a nurse, can you take me to work?"
So, there's also that. She keeps me grounded.