The godfather of celebrity-backed spirits is ticking off the reasons why he brought in a fellow rocker—"Jessie's Girl" heartthrob Rick Springfield—as a partner on his Beach Bar Rum.
"Number one, Rick is prettier than me," Sammy Hagar quips amid a belly laugh. "Plus, he had a bigger hit with my song than I did ["I've Done Everything for You"] When I released that song [in 1978], it bombed. He comes along [in 1981] and has a top-10 record with it.
"So, I'm thinking, maybe he can do that with my rum!"
Truth be told, the former front man for Van Halen—whose 50 years in music, starting in the early 1970s with Montrose, includes a prolific solo career—was doing just fine on his own when it came to adult beverages. Long before the likes of George Clooney, Bob Dylan and The Rock had launched their spirit brands, the Red Rocker had bought and sold Cabo Wabo tequila, a multimillion-dollar venture that opened the industry door for other celebrities. Today, in addition to Beach Bar Rum, Hagar's portfolio includes Sammy's Beach Bar Cocktails (all-natural ready-to-drink rum concoctions) and his Santo line—Mezquila (the first tequila/mezcal hybrid], Tequila Blanco and Reposado.
As for his day job, Hagar shows no signs of slowing down. His supergroup The Circle—which takes the stage Oct. 29 at Hard Rock Live in Hollywood—has put out critically acclaimed new music (the 2022 album "Crazy Times") and a delicious serving of raucous covers ("Lockdown 2020," released amid COVID-19) over the past few years. Expect a major fall announcement about The Circle's tour plans for 2024.
Hagar touched on music, spirits and much more during an exclusive interview with Lifestyle.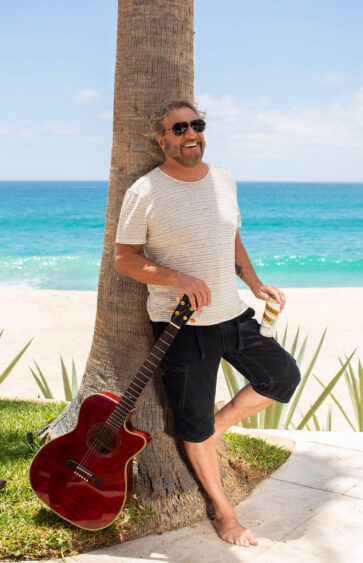 Your success with spirits is the stuff of legend. What originally piqued your interest about the industry?
I went to Guadalajara to shop for furniture for the Cabo Wabo Cantina [the famed bar and live music hub in Cabo San Lucas, Mexico that Sammy launched in 1990] as well as for the condo I had bought there. My Mexican partner suggested that we go to the town of Tequila—and drink some tequila. So, we visited three or four distilleries and sampled 100-percent agave. This wasn't the tequila for [mass consumption]. You sit down with these farmers, and they want to show off their personal stock, not the stuff they're selling to the guys across the street. This was from a recipe by the Rivera family, which had been making tequila for like 80 years.
It blew my mind. I thought, wow, when we open the cantina, I need my own tequila. I was so excited about the idea.
We talked to the right people, asked them to make this [same] tequila for the cantina, and they said, yes. Just bring us some bottles. So, that got me in. We bought these little barrels, and we'd serve the tequila out of that. There was no label. Someone tasted it, thought it was the best tequila he'd ever had, and he wrote an article. Soon, another person reaches out and asks if I want to bring the tequila to America. I said, "I don't know what I'm doing. But, [expletive], sure."
So, I went back to the farmers. Remember, I wanted the small batch that the ranchers made for themselves. They said "OK. Bring us more bottles."
We started small, but then we started getting crazy orders. We went from hand-blown bottles to factory-made bottles. We couldn't keep up with the supply. The good news was that I was dealing with the farmers—and they had all the agave. People ask how I pulled it off. That's why. Pretty soon, the farmers were telling other clients, "Sorry, we can't sell you anymore agave—we're smoking over here with Cabo Wabo tequila!"
It was so much fun watching it grow, watching these farmers buy trucks to load agave instead of donkeys pulling carts—and, later, seeing them build mansions for their families. Watching all those people win, and me win, and seeing this tequila on a bar shelf? It was like hearing your song on the radio. It really put the hook in me.
When I sold it [an 80-percent interest to Gruppo Campari in 2007 for a reported $80 million], I'm going, "[Expletive!]. I want to do that again!" It's like making a hit record. You want to make another one.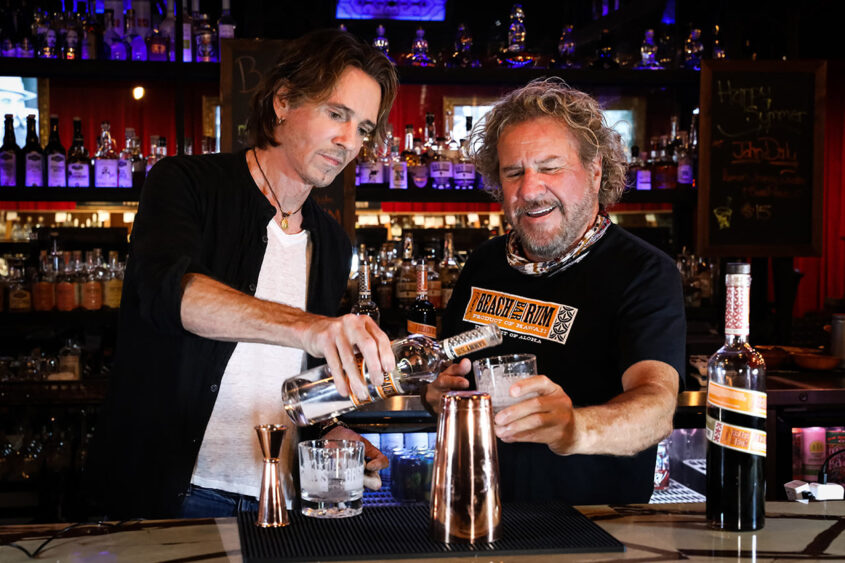 How many musicians and celebrities have approached you about different deals or just seeking advice?
Probably 20, 25 people or more have hit me up. Mainly, it's about the liquor industry. The only advice I can give is that it's a tough industry. I got lucky the first time around. The light just popped on one day. I didn't plan that.
With these new brands, it's much more of a struggle—and more of a huge investment. So, I warn people: If you have an extra $10 million to $40 million, you need to be willing to lose that if it doesn't work. That's the industry.
People also hit me up for investments. To me, it's easier to make money than to keep it. I'm a conversative son-of-a-gun. I don't try to make money with money. Betting on the stock market? Betting on someone else's housing project investment? I'd rather put that money into my own housing project, one that I can control. Once you give other people your money, they don't care about it as much as if it were their own money.
If I want to make money, I can play guitar and I sing. I have products. I can make appearances. And I can dig a freakin' ditch if I have to. I'd rather do something and get paid for it than say, "I'll put this money here and try to double it." You might as well go to Vegas and have a good time in the process because it's really like gambling.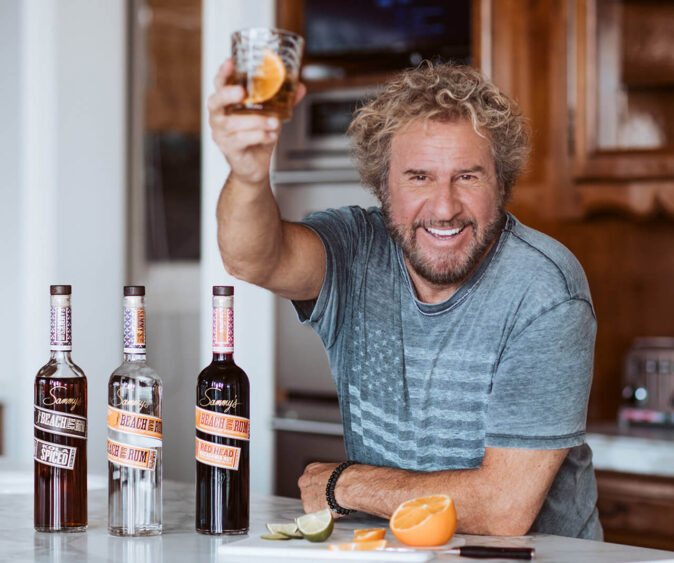 Is there a business opportunity that you regret passing on?
Absolutely. There were so many real estate deals when I first went to Cabo and bought the Cabo Wabo footprint for $100,000. It's a huge piece of property, right in the middle of downtown. I have no idea what it's worth today.
People were also talking to me about buying property way out of town—50 acres on the beach for $500,000. Today, Mike Meldman [one of the founders of Casamigos tequila with George Clooney and Rande Gerber] has one of his Discovery [Land Company] properties there. And it's $11 million to $20 million for one lot on the beach. He has about 200 lots. That $500,000 now probably would be worth $500 million or more.
But back in the day, I'm thinking, "A half-million dollars? In some piece of Mexican desert with a cactus on it?" [Sammy laughs]. There's probably 10 deals like that I could have invested in. So, I'm not as smart as you think.
Let's switch gears to music. You clearly love playing with The Circle. Why has this been such a satisfying chapter in your music journey?
It's the first band I've been in that can play my entire catalog as good, or better, than the original group.
Alex Van Halen was a John Bonham fanatic. We never made a Van Halen record without him telling the engineer, "I want this drum sound." It was always Led Zeppelin. It was "When the Levee Breaks," "Good Times, Bad Times," "Kashmir." He was looking for that sound on our Van Halen records.
So, when we play Van Halen songs with The Circle, [drummer] Jason Bonham [John Bonham's son] says in his British accent, "Oh mate, what Alex was trying to do was when my pop used to hit this high hat" or whatever it is. He knows exactly what Alex was going for. So, that's one thing.
Then you have Michael Anthony. Back in the day, Alex and Eddie [Van Halen], and even David [Lee Roth], had their thumb on Mike so much. He's such a fantastic bass player. He has hands and chops like John Entwistle [of The Who]. Plus, he sings like nobody's business. So, having him off the leash is like, "Wow!" Mike is finally adding what he wants to play. He's better than he ever was in Van Halen.
And Vic Johnson, once again, is the unsung hero. He can play Jimmy Page on Led Zeppelin songs. He can play Ronnie Montrose. And he can play Eddie Van Halen. He's so incredibly versatile.
It breaks my heart that Eddie is gone [the legendary guitarist died in October 2020]. We never got together and played music again. That's why we're putting more and more Van Halen into our sets. Because the fans are never going to get that again. It just has to be played. We even have Mikey singing a couple of David Lee Roth songs [from early Van Halen], like "Runnin' with the Devil" or "Ain't Talkin' 'bout Love."
I love it. I get to take a little break and have a cocktail.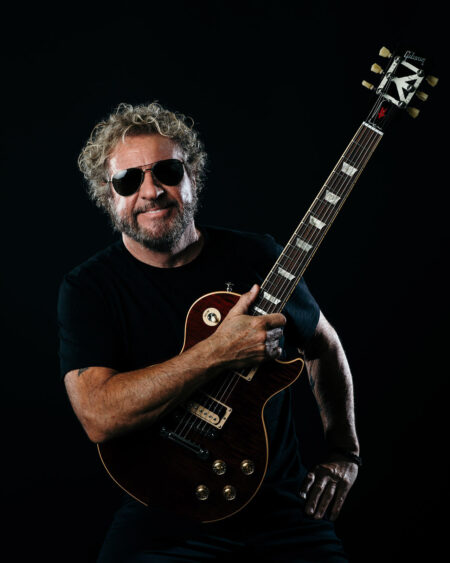 For five seasons, you were able to spend time with old friends and musicians you've long admired on "Rock & Roll Road Trip" (which ran from 2016 to 2020 on AXS TV). Which episodes stand out for you?
Every episode was a treat. But John Mellencamp is one because we became such dear friends after that show.
John is someone who can make you very uncomfortable because he's such a bitter and angry artist. He always has been and always will be. We finished the interview and, yeah, it had been uncomfortable. When it was time to perform together, John wanted to do a murder ballad written by a blind guy in the 1900s. Johnny Cash and Bob Dylan had recorded it. I'd never heard of it. I tried to put some harmonies on it, and John goes, "No, no. No harmonies. Harmonies are wimpy." We only played a part of the song because it has like 100 verses—and I was reading my verse off a teleprompter. So, he made it difficult for me.
But then, afterward, he goes, "Do you want to come up to my house?" I'm like, sure. I ended up staying all day, walking around his gardens, hanging out and just talking about old times. He played me some new songs, and I played him some new songs. That's honestly one of the best "Rock & Roll Road Trip" outcomes. If I write a new song now, and I'm not sure about it? I play it on an acoustic, sing it into my iPhone and send it to John.
And he tells me straight [expletive] up what he thinks about it. There's no ass-kissing. No consideration for my feelings. None of that. And I love it.
On The Circle's latest album, "Crazy Times," the poignant track "Father Time" stands out. You're clearly taking stock because "Father time … is looking over [his] shoulder." Is there a story behind that song?
This is about five years ago. [Sammy and wife Kari] were returning to our home in Maui. We lived way out in the boonies, on a cliff overlooking the ocean. You'd drive past these beautiful tropical palms and bushes until [the view opened up] and you'd see the house. By the time you reached the end of the driveway, you'd feel like you'd been there 100 years already. When you get in a place that peaceful, everything slows down immediately.
As soon as I'd get to that house, I'd take off my clothes and go naked until we had somewhere to go. Or until someone came to the house.
So, my wife goes to the store to pick up some things; it's about an hour away to get to town. While she was gone, I picked up a guitar that I always had in Maui. This guitar has written almost every song since "Red Voodoo" [a 1999 album with his former band, the Waboritas], especially some songs that are really meaningful to me.
So, I'm sitting there near the cliff listening to the ocean waves crashing. The waves are rough on Waipio Bay; you can almost feel the house shake. "Crashing waves clawing at the shore … that's been going on forever or more."
I just started writing what I was feeling in that moment. I got my cell phone, hit record and started singing. That song wrote itself—music, lyrics and even the bridge. "I Can't Drive 55" was like that too. That [song] came out of me straight, from beginning to end. Same with "Eagles Fly."
After I finished, I was tearing up. I tried to play it again, and it broke me down. I could hardly sing it. So, I sent what I first did straight to John Mellencamp. And John went, "Sam, that song sounds like it's been around awhile." That's [quite] a compliment from John. He's saying that song is here to stay.
"Father Time" came from the ether. The spirits. The angels. From whoever was around me. That Maui property was very spiritual. And very scary at night sometimes, just because it was so still, so quiet and so dark. I sold it right before COVID-19 because it was falling apart.
But we owned it 27 years. That was my go-to, my sanctuary.
You have older sons (Aaron and Andrew) from your first marriage, and two daughters (Samantha and Kama) with Kari (his wife of nearly 30 years). How were you a different dad with the girls?
That's a pretty deep question.
When I was young, I didn't have businesses. I just sang, played music and toured a lot. So, I wasn't around as much. When I was, we did everything. Hiking, swimming, I taught them how to fish, how to hit a baseball. That worked out well because if I had girls first, I wouldn't want to play with dolls. [Sammy laughs]
With the girls, I'm in a [different place]. I'm not struggling. I think I gave them more security. The girls knew they had a dad; we all went together on summer tours. They also got a dad who was more mature.
But all four knew they were loved. That's the one thing that will always carry through their whole lives and make them feel comfortable in the world. They have someone they can count on and turn to. … I was raised by a single mom, but guess what? I knew she loved me. I never felt lonely, like I had nowhere to go. That's a horrible feeling for a child.
I've seen so many miserable rich bastards in my life. All that matters to me, when I see someone, is that they're open-hearted. They're kind. And they're willing to be kind to other people. That comes from being loved. Love is the key to everything.
Sammy Hagar & The Circle
When: Oct. 29, 7 p.m.
Where: Hard Rock Live, Seminole Hard Rock Hotel & Casino, Hollywood
What: Expect a rollicking evening of classic rock favorites with The Circle—bassist Michael Anthony from Van Halen, drummer (and Delray Beach resident) Jason Bonham and guitarist extraordinaire Vic Johnson—that draws from Hagar's wildly successful career as a solo artist and front man for bands including Van Halen. In addition to hits and deep cuts from Hagar's chart-topping run with Van Halen (1985-96), fans of the Red Rocker can rest assured they'll hear songs like "I Can't Drive 55" and "There's Only One Way to Rock."
Tickets: myhrl.com