It's good to be Pat Monahan these days, for reasons beyond the obvious. The lead singer of multiplatinum-selling band Train, a 12-handicap golfer, followed an appearance at the PGA Tour's Pebble Beach Pro-Am in February with a rare opportunity to play the hallowed grounds of Augusta National, site of Tiger Woods' recent victory at The Masters.
Beyond the links, Monahan is having a moment in the vineyard. The portfolio of wine he created with winemaker James Foster, Drops of Jupiter (named after Train's Grammy-winning song from 2001), is driving amateur oenophiles to Publix and restaurants like Yard House for a cabernet sauvignon from Australia, a sauvignon blanc from New Zealand and a pinot noir from central California.
As for his day job, Monahan and his bandmates are hitting the road this summer (including a stop in South Florida) on the heels of the late-2018 release of Train's "Greatest Hits," a 17-track album that spans the group's two decades of studio work and includes "Calling All Angels" and the chart-topping "Hey, Soul Sister."
In an interview with Lifestyle, Monahan dished on the remake of a rock classic, talked about his "Trainiacs" and offered thoughtful insights about his past and present.
You turned 50 in February. Back when you were fronting the cover band Rogues Gallery in the late 1980s, did you ever think you'd be part of a group with a greatest hits album?
It's funny. I don't know what 50 means. When I was a young kid, being 50 was really, really close to death. Thirty was old. Forty was like, "Whoa!" And 50 was like, "Man, I'm sorry about your grandpa." Now, I feel like a 25-year-old guy, but I look in the mirror and go, "Oh, yeah, that's right. Fifty." So, it's up to me to determine what kind of grown-up I want to be. I plan on trying to make the best work of my life [moving forward]. I don't want [my best] to be in the past. So, I'm going to try and make sure my body is in good shape, my brain is healthy, and I'm challenging myself all the time.
When you look back on your time with Train (the band formed in 1993 but didn't release its first album until 1998), what are you most proud of?
I was with [pro basketball Hall of Famer and current NBA analyst] Charles Barkley about five years ago. And he was telling me that he's not friends with any of the people that he grew up with. I have very few friends from that era, as well. Part of it is that people can hurt you by saying you're not what you were.
You are who you are. And success, or lack thereof, just exposes it. I'd like to think my greatest achievement is that, when I was exposed for who I am, that person was pretty solid.
Along those lines, you seem to have a sincere connection with the "Trainiacs" who follow you and the band on social media. How did that evolve?
Actually, I've kind of taken a break from social media. I'm trying to train myself to not be hurt by a comment. You'll read a thousand "I love yous" and one "f— off." It's the one "f— off" that lives with you for three weeks. I don't like that about myself. But I'm going to get back at it before the tour so I can reconnect with everybody.
To [answer the question], those people are my friends. We're going to live and die together. We keep up when they're having children, when they fight cancer and beat cancer. Music helps all of us through different things. How can you not be connected to that? I don't know how to turn away from those stories and these people.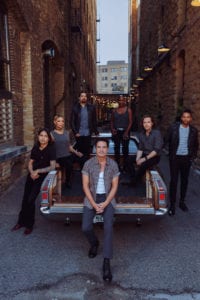 It's been a couple of years since "Train Does Led Zeppelin II." You couldn't have picked a more daunting rock album to cover. What sparked the idea?
It was the album we all cared about equally. Every member of Led Zeppelin was someone that we wanted to be like [growing up]. And that album, "Led Zeppelin II," was the moment. "Led Zeppelin I" was great, but "II" was like, "OK, this is my band."
We started to record it, and we were just going to give it to our fans. But then our manager was like, "This is really good. Let's try to donate the proceeds to our charity, Family House in San Francisco." First, we wanted to reach out to Led Zeppelin and get their blessing.
Led Zeppelin has a panel of people that meets once a month to discuss Zeppelin business and what's best for the brand. They made sure Jimmy Page heard it, and then they sent us a "go get 'em, Tiger" kind of letter. We didn't get direct feedback from [anyone in the band]. But the fact that they didn't send out a tweet that said, "Kill these guys," was good enough for me.
In 2017, you inducted Journey into the Rock & Roll Hall of Fame. Beyond the mutual Bay Area ties, is there a personal connection for you with that band?
When "Hey, Soul Sister" came out [in 2009, off the album, "Save Me, San Francisco"], Journey came to see us in Texas because they had a show the next day. I became friends with the guys in the band; [keyboardist] Jonathan Cain and I actually wrote a song together in Nashville years after that.
Beyond that, there's a kindred spirit connection between Journey and Train. Journey came from the Bay Area, and as much as they were loved, they were hated. I know that feeling. People either love [Train] or they hate us. Sometimes, there's a great blessing in being polarizing. So, I wanted to be the guy to induct them. I wanted to remind people, even the "haters," why they really love them.
Train and Goo Goo Dolls
When: July 6
Where: Coral Sky Amphitheatre, West Palm Beach
What: Two bands with a combined 22 million albums sold co-headline this summer tour, with featured guest Allen Stone as the opening act. Expect Train and front man Pat Monahan to perform many of the songs off the band's recent "Greatest Hits" album. Expect a similar night of hits from Goo Goo Dolls, whose catalog includes "Name," "Iris" and "Slide."
Tickets: livenation.com