Alec Ingold doesn't fit the profile of the stereotypical nerd, not at 6-foot-1, a taut 230 pounds and supremely comfortable in his skin. But, by his own admission, the starting fullback for the Miami Dolphins can geek out when it comes to the idea of growth mindset.
As the native of Wisconsin describes it, growth mindset involves prioritizing how you perceive things, separating identity from performance, and enhancing skills and intellect through hard work, dedication and positivity. He shares a conversation he recalls having with his parents during middle school. Alec was distraught over a B-plus because he so wanted to earn nothing but As.
"My parents asked if I tried my hardest, which I did," Ingold says. "'Then why are you upset?' they said. 'It's the effort that matters. It was never about the grade.'"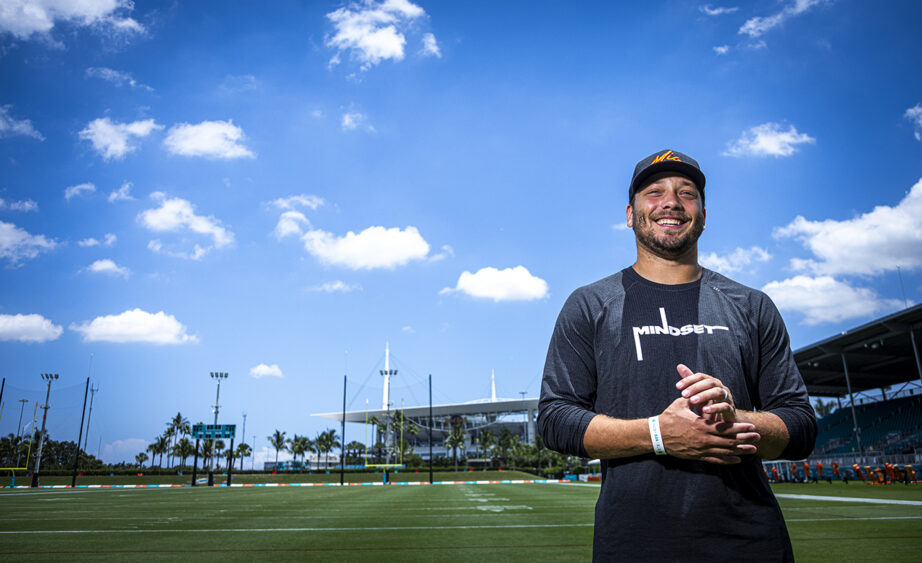 This May, standing before a graduating class at Miami Dade College, Ingold offered a similar nugget as part of his commencement speech: Who you are, how you want to show up every day, matters so much more in life than what you do.
"These are messages that football coaches are telling us on a daily basis," the 27-year-old says. "But the lessons all originated with that middle school conversation with my parents."
The twist on what Ingold describes as an idyllic upbringing in the football haven of Green Bay is that his parents adopted Alec as an infant with the help of a faith-based organization. His mother, Chris, is a third-grade teacher; his dad, Pat, works on the office side of a Wisconsin paper mill. The couple still live in the same house where Alec grew up.
"I remember my dad waking up at 5 a.m. every day and staying late," says Ingold, who has a sister, Sydnie, eight years his junior and the biological daughter of Pat and Chris. "Work ethic was so important to both of them. My dad was a [two-time All-American] wrestler at [Northern Michigan University]. So, I had him on the athletic side. And my mom was all over me about school and the importance of education.
"I was able to live with that family for my entire life, until I went to [the University of Wisconsin]. I never had realizations of how troubling foster care could be. Mine was a picture-perfect adoption story."
Ingold's ongoing appreciation for the impact that an empowering example can have on a young life has driven him to pay it forward. Last year, AdoptUSKids, a national organization that strives to find loving, permanent families for children and teens, honored Ingold in Washington, D.C., with its Adoption Excellence Award.
And with good reason.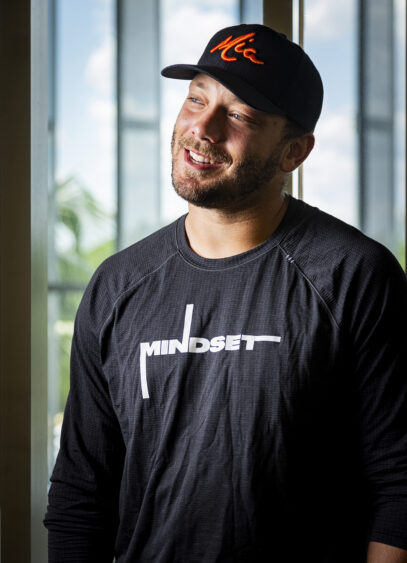 Since entering the National Football League in 2019 with the Oakland Raiders as an undrafted free agent, and even during his standout career at Wisconsin (he was the only fullback invited to the 2019 Senior Bowl and 2019 NFL Scouting Combine), Ingold has looked for ways to give back when it comes to adoption organizations and the foster community.
"I always looked up to athletes when I was young; they were like superheroes to me," he says. "There's a responsibility that comes with this platform, and I try to carry it with awareness.
I've always wanted to use my testimony for good in the world. Being able to share spaces with kids that I can relate to? This is my lane. This is a journey I can walk during my playing days and long after."
Early last year, he launched his namesake organization, the Ingold Family Foundation. It's a culmination of the passions, interests and teaching moments that led Ingold to this point in his career—one that recently was rewarded by the Dolphins with a contract extension through the 2026 season.
"The vision was to take the pillars I've experienced in different areas—financial literacy (he earned a personal finance degree at Wisconsin), football/athletics, and family support—and invest in foster youth in elementary, middle and high school," Ingold says. "We want to provide as many lessons as possible without [them having to] fight and claw for that kind of information. Somebody, beyond the teacher or caseworker. The hope is that it strikes a different or deeper chord.
"We're trying to create environments of inspiration, where kids feel empowered to be themselves and chase their own dreams. Because, why not?"
Back in Green Bay, Ingold has hosted a Foster Youth Football Summit, reminding kids that family can be whoever is around you—including your teammates or your friends. He's also partnered with the Pathways Program at the University of Nevada-Las Vegas, which encourages young adults who've been in the foster system to "design and create a personal vision for a well-lived and productive life." Ingold's own passion for financial literacy resulted in a Money Mini Camp.
Locally, since joining the Dolphins last season, Ingold already has connected with nonprofits including Junior Achievement of Greater Miami, Children's Home Society Florida and the Jason Taylor Foundation. He says there are plans to bring some of the initiatives he launched in Green Bay to South Florida.
His interest in providing foundational skills for young adults speaks, in part, to alarming statistics from the National Foster Youth Institute, which reports that 20 percent of the estimated 23,000 children who age-out of the foster system each year in the United States instantly become homeless.
"There's no support system at that point," he says. "So, we're trying to give them tools and relevant life skills [in their teens]," Ingold says. "How to budget. How to save. How to write a check. What's your credit score? All these little things can add up and give you a better understanding of how to stand on your own two feet."
Though his is a different backstory, Ingold says there are challenges he's experienced that are relatable for foster and adopted children. For example, he's dealt with identity issues since he was a child.
"I was afraid of mirrors growing up," Ingold says. "I didn't have that visual representation of what I was supposed to look like 30 years down the road. I was taller than both my parents by second or third grade. It was never a secret that I looked different. Identity was a hurdle for me, and I struggled to get over it.
"That's what football was for me, in some ways. It was an escape from those identity issues. I loved being part of a team in youth football. I loved knowing that my job was going to help the person next to me."
Still, Ingold is quick to note how fortunate he was to be raised in the warm embrace of a permanent family. Ingold's parents even stayed in touch with his birth mother, exchanging occasional letters with her about Alec's progress. When he was in the third grade, his parents asked if he would be interested in meeting her. He agreed.
"Honestly, I can't remember now what she looks like," he says. "It's that visual thing. I remember her coming over and us having a nice conversation. She [made sure to explain] that me ending up with my parents wasn't by chance. It was an educated situation of everyone communicating and making sure that I was being raised by the best family possible.
"I'm so grateful for that."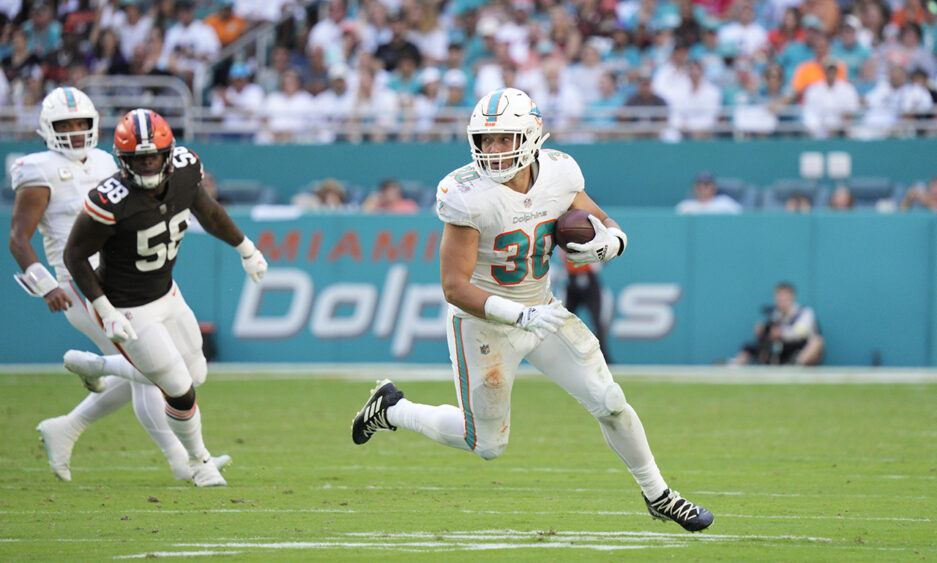 After becoming a national spokesperson for AdoptUSKids following his rookie season with the Raiders, his birth mom reached out again. It was the first time they'd spoken since the meeting in third grade.
"She's happy. And I'm doing what I'm doing," he says. "It's what it needed to be. It was a short chat, but cool."
Having suffered a season-ending torn ACL in November 2021 (from which he fully recovered in time for the 2022 season with Miami), Ingold understands that players are only one hit away from turning the page on their NFL careers. Not only does he take none of his professional football journey for granted, but he's always looking for ways to put his current platform to good use.
"To be able to host football camps, to do work through the foundation … it's an opportunity for me to speak from the heart about football, about the lessons you can learn from teamwork and discipline. That might not get millions of views on Instagram. But, hopefully, it'll change somebody's life."
Original photos by Eduardo Schneider
Action photo courtesy of the Miami Dolphins