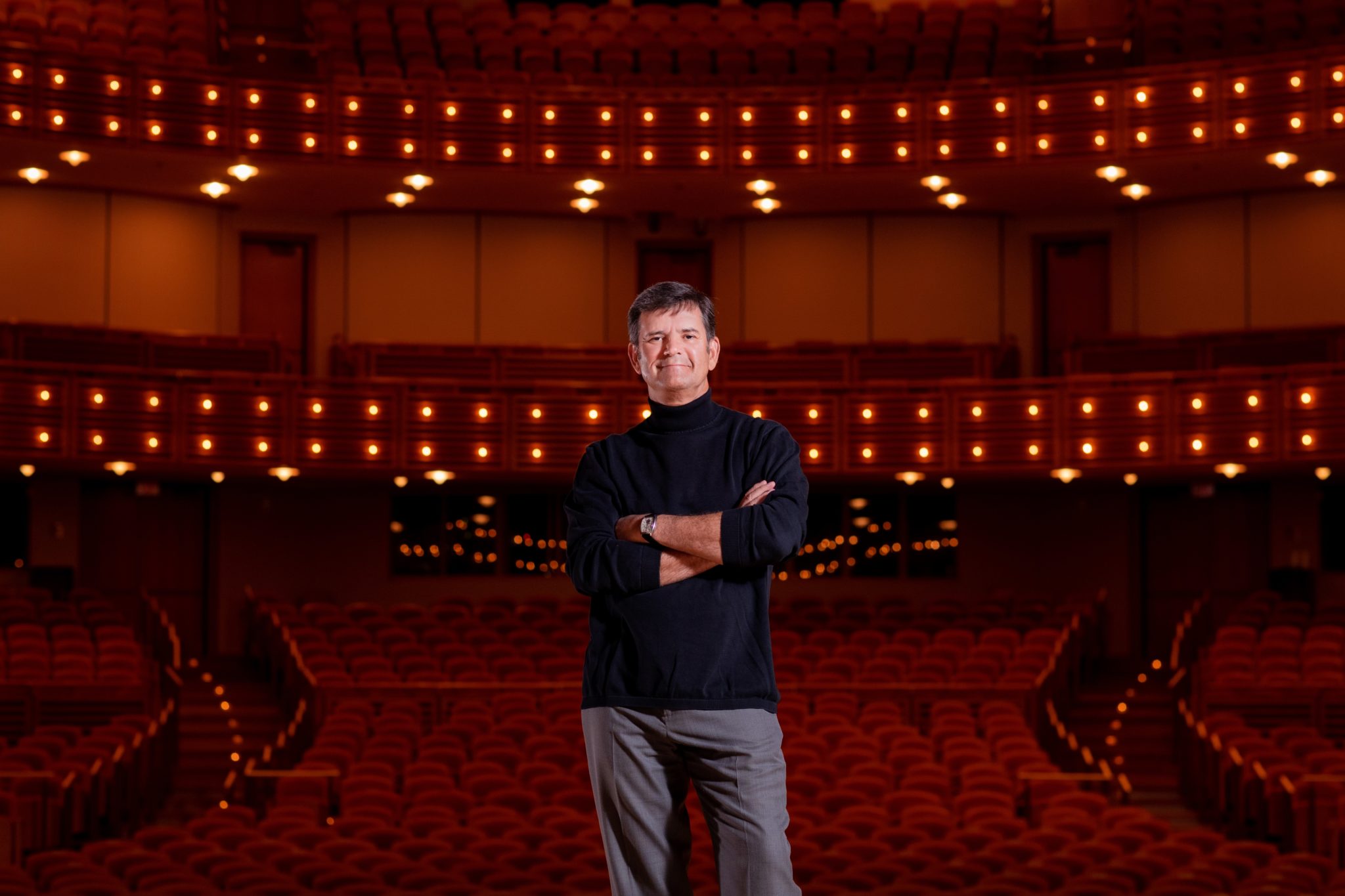 5 Questions with Johann Zietsman, president and CEO of Adrienne Arsht Center
Adrienne Arsht Center's president and CEO Johann Zietsman speaks about how art impacts a community
South African-born Johann Zietsman remembers growing up around his mother's singalongs, where friends and family—musical or not—would stand around a piano and sing together, sometimes for hours at a time. Zietsman found his own musical niche by high school, becoming a drummer in the school's marching band. He later transitioned to the trumpet and French horn, and after a stint in the military, which was mandatory at the time, Zietsman played principal horn for pocket change as he pursued degrees in architecture and music.
"My love and passion for the arts started young," he says. "But what's interesting is in the 35 years after I received my two degrees, I did neither architecture or music. I crossed over to the dark side of management and never looked back."
One to go where opportunities take him, Zietsman's decision to move into management was influenced by his experiences during apartheid and South Africa's subsequent transition to democracy. In his early years out of college, Zietsman saw the effects art can have on community—he was recognized by Nelson Mandela's government for starting and directing two community youth initiatives: the SA National Youth Orchestra and the Field Band Foundation, which continue to serve about 4,000 at-risk children.
"The recognition from Mandela's government was for the work we did under my leadership to take the lead in transforming a previously all-white performing arts center into a democratic space even before he was released from prison," he says. "Once he became president, the new democratic government formally recognized our work as national leaders in arts transformation."
After running the multifaceted Arts Commons in Calgary, Alberta, for a decade––where he turned a $900,000 projected deficit into a $1.3 million surplus––Zietsman came to the Adrienne Arsht Center for the Performing Arts last November as president and CEO, where he plans to increase Miami's exposure to the arts.
"The role arts can play is life-changing," he says. "Art makes the world a bit more kind. That's what initially drew me in, and in particular, the power that management has over the impact in a community."
Lifestyle asked Zietsman about how art changed his life and how he believes it changes others'.
1. What made you want to get involved in changing people's lives during the transition to democracy in South Africa?
During my mandatory military service [when our "enemies" were basically black people], I attended a social gathering of black miners in a township shebeen [illegal pub]. Among other entertainment was a performance of Athol Fugard's "The Island," about two black prisoners on Robben Island, where Mandela spent many years. The play impacted me profoundly, because instead of feeling attached or blamed as a white person, I became intensely aware of the shared humanity between blacks and whites, and of the many things we have in common. Up to that point, I had no ability to see or realize this, and it changed my life. I made a decision that I wanted to work in this powerful, universal language [of] the arts that could change people's hearts and minds so radically yet in a nonjudgmental way.
2. How have you seen art change lives?
In 1991, I left South Africa to open a new community cultural center in Taung, a Tswana village in Bophuthatswana. A Tswana boy, Bodulo, and his gang of friends came to check out this new place, which was built on what was their soccer field. Bodulo was 18 and had failed grade 10 three times already. He was a typical teenager of the time: he went to a terrible school, had underqualified teachers, no role models, bad friends, never saw his parents (both worked for white people far away from Taung), lived with his grandparents in a mud hut. He had no dreams, no future, no hope. Bodulo ended up playing the drums at the center and passed grade 10 for the first time. … Bodulo went on to study mathematics and went back to teach at the same school. He is now a role model for hundreds of young kids in Taung.
The question is, what changed in Bodulo's life? Nothing changed in his external circumstances (same bad school, teachers, friends, etc.). Participating in a creative arts activity unlocked a latent potential that was always inside him, but he needed to discover and believe in it. This is something I have seen the arts do over and over. We need kids to be exposed to creative arts activities more than ever—to discover their potential and to learn so-called "soft skills." … The world is not interested in what we know; it is interested in what we can do with what we know, and how we do it with others.
3. What makes Miami different than any other city you've worked in?
Miami is unlike anywhere else in America. Many cities would describe themselves as a melting pot, but I think Miami more than any other city really encompasses what it means to be multicultural. It's something you can't ignore. I've lived in many cities where you can choose a lane that allows you to live in a bubble. In Miami, that's impossible and I absolutely love that. I love that you have to deal with the reality that we are all different and all the same. There's an African philosophy called Ubuntu, which states, "a person is a person through other people," and that's held truth to me for a long time. Our otherness is OK and should be embraced. If you accept that as a reality, then Miami makes sense. That doesn't mean that it's easy, though. There are so many different demographics here, from retirees to the wealthy to those who come here for a better life, and somehow, they all find a reason to be together here. There's a richness of the people, and now it's my job to get all of them to experience what we have to offer.
4. What are your duties as president and CEO of the Arsht Center?
The obvious is running this incredibly large organization to make sure the facility stays in good shape, the programs stay thriving, visitors and staff are treated well, and the community remains proud of what we do. The second, however, is the connection and impact we can have on the city overall. We're more than just a place where you buy a ticket and see a show. We want to guide and impact the community in as many ways as possible. The arts are transformative, and people have transformative experiences here. You never know when or to whom it'll happen to, which is why we take every day very seriously. At the end of the day, it's about making an impact.
5. Arsht Center offers several programs that foster arts education among young people. Is there one you're particularly proud of and what's next for these programs?
Of the 14 different education programs included in our portfolio every year, the annual AileyCamp Miami [a summer camp for underserved middle schoolers from public school] continues to have a meaningful impact on the lives of hundreds of Miami kids. No wonder it has been recognized by the White House. [Editor's Note: In 2016, the program was awarded the National Arts and Humanities Youth Program Award by the President's Committee on the Arts and the Humanities.] We are in the development stage for our new Learning through the Arts program for ninth grade students, which will be launched in October 2020 to augment the existing (and successful) fifth and seventh grade programs—extending our reach to more than 60,000 students per year.
Lead photo by PS Photography and Films