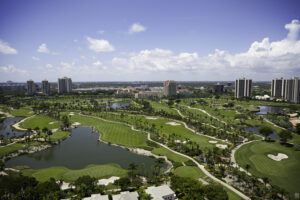 JW Marriott Miami Turnberry Resort & Spa was recognized as the best resort in Florida for the third consecutive year by Condé Nast Traveler's annual Readers' Choice Awards. Over 800,000 Condé Nast Traveler readers submitted responses based on their travel experiences.
"It is incredibly exciting to receive this high honor for the third year in a row," says Jeff Klein, Vice President and Managing Director of the resort. "Despite all of the challenges we have faced throughout the pandemic, our team continues to work relentlessly day in and day out to ensure all of our guests have a safe and memorable experience at our resort."
The iconic Aventura property underwent a multi-million-dollar renovation in 2019, which included the redesign of its two championship golf courses, doubling its guest rooms to 685; adding new state-of-the-art meeting space and the opening of its own on-site waterpark, Tidal Cove, which received USA Today's 10 Best Readers' Choice 2020 travel awards in the category of Best New Attractions. 
The resort is rolling out a special "threepeat" hotel package to celebrate its top ranking for the third year in a row. The package features stays from $279 per night, includes deluxe guest room accommodations, 30% off RAC rate, daily valet parking for one car, daily $30 resort credit and three welcome drink vouchers on arrival. Entrance to Tidal Cove is included for all JW Marriott Miami Turnberry hotel guests based on designated occupancy per room.
JW Marriott Miami Turnberry Resort & Spa was also recognized as a Top 20 Resort in the U.S. The Four Seasons Resort Palm Beach came in second for best resorts in Florida.