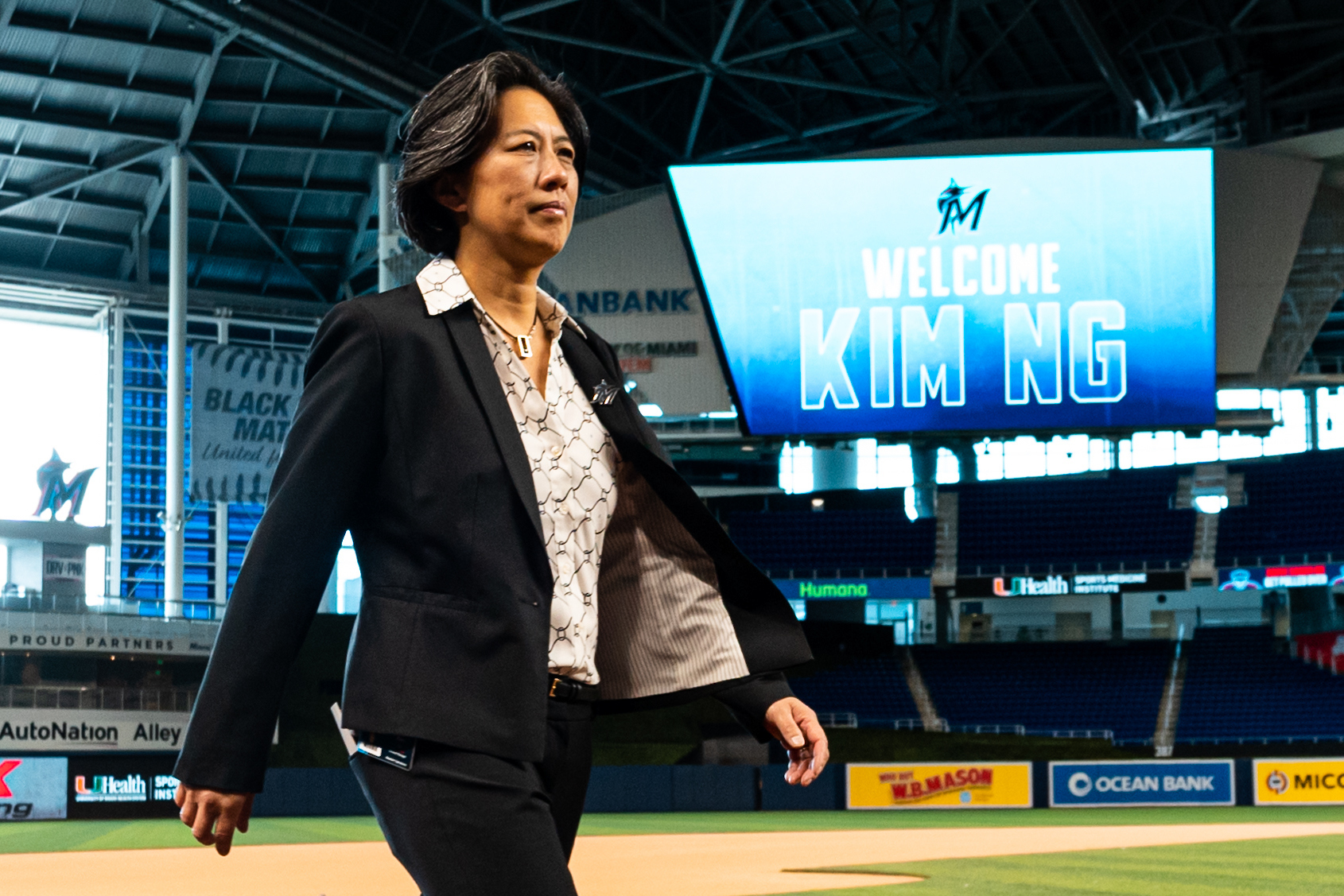 Kim Ng changes the game and makes history
Kim Ng's long and winding baseball road leads her to Miami—and a history-making front-office hire with the Marlins
Kim Ng remembers the moment like it was yesterday. She was 8 years old and attending her first Major League Baseball game on a bright summer weekend afternoon. Ng recalls navigating the interior corridors of Yankee Stadium until she reached her section and finally walked into the open air at one of the sport's most hallowed ballparks.
"There were the seats and the field and the green," Ng says. "I heard all of the sounds of the [stadium]." It was one thing, she recalls, to watch games on television with her dad. But it was quite another to see it, hear it and feel it in person.
That's when baseball became real to Kim Ng.
Forty-four years later, a similar feeling swept through baseball's corridors on a Friday the 13th last November. That's when opportunity became real for women all over the world after Ng shattered one of the sporting world's glass ceilings.
When the Miami Marlins and their CEO, former New York Yankees great Derek Jeter, introduced her as their new general manager, Ng (pronounced "Ang") not only became the first female general manager in baseball history, but she became the first woman to ever hold that position for a professional men's team in major North American sports. She also became just the second Asian American—Ng's mother, Virginia, was born in Thailand; Jin, her father, was American-born of Cantonese descent—to serve in that executive capacity for an American pro sports franchise; the first, Farhan Zaidi, was general manager of the Los Angeles Dodgers from 2014 to 2018.
The hire marked the latest rung in Ng's baseball climb, a 30-plus-year journey that started with an internship in 1990 with the Chicago White Sox. But the moment meant so much more to so many others. It was reported that Yankees' broadcaster Suzyn Waldman cried when she heard the news. Among those to send congratulatory notes to Ng were former first lady Michelle Obama and tennis legend (and gender equality advocate) Billie Jean King.
"I got calls and text messages from people I've known over the years who were so excited to tell their daughters and wives," says Ng, who turned 52 four days after the announcement. "I got voicemails from front-office executives just so happy that I had broken through, but more for the sport and more about what it meant about us in society."
Though blazing trails wasn't top of mind growing up, there were signs that Ng ultimately would follow the road less traveled.
Let's Play Ball
Ng was born in Indianapolis, but she grew up in New York—her family moved to Fresh Meadows in Queens, where she went to elementary school. Though she lived close to Shea Stadium, former home of the New York Mets, she watched the Yankees on television with her dad and played stickball with the neighborhood kids.
"First base would be the red car on the right, second base was the manhole, third base was the green car on the left, and there was another manhole for home," she says. "It was kids just enjoying the game." When she didn't have anyone to play with, Ng would throw a ball against the stoop and catch it—"stoopball," she called it—or she'd create an outdoor handball court using the house chimney as the wall.
Jin, an accountant/financial analyst by trade, also loved sports. "He skied, he played tennis, he skated, he played softball," says Ng, who did many of those activities with her father. She recalls going from Queens to Glen Cove on Long Island, where her grandparents lived—weekends full of games and tennis. Her first formal foray into organized sports was playing in a Glen Cove softball league.
After her father died when Ng was 11, Virginia moved the family to Glen Cove; later, they relocated to Ridgewood, New Jersey, where Ng played softball and tennis at Ridgewood High School.
It was through tennis that Ng began to see women in sports in a different light. She idolized legends like Billie Jean King and Martina Navratilova as much for what they stood for as for their accomplishments.
Navratilova, especially, embodied a fierce physical and inner strength, not often associated with female athletes.
"She was such an interesting [athlete] to me because she was so candid, and I love that," Ng says. "I'm not necessarily like that; I wish I was. She just lets it fly and says exactly what's [on] her mind. She had such unabashed relentlessness, which I always admired and respected."
In November, when Ng was introduced to reporters at Marlins Park, she spoke about King and Navratilova being her role models. When Navratilova learned of being mentioned, she tweeted, "How cool is that? Inspiring and humbling. And btw, I played and love stickball, too."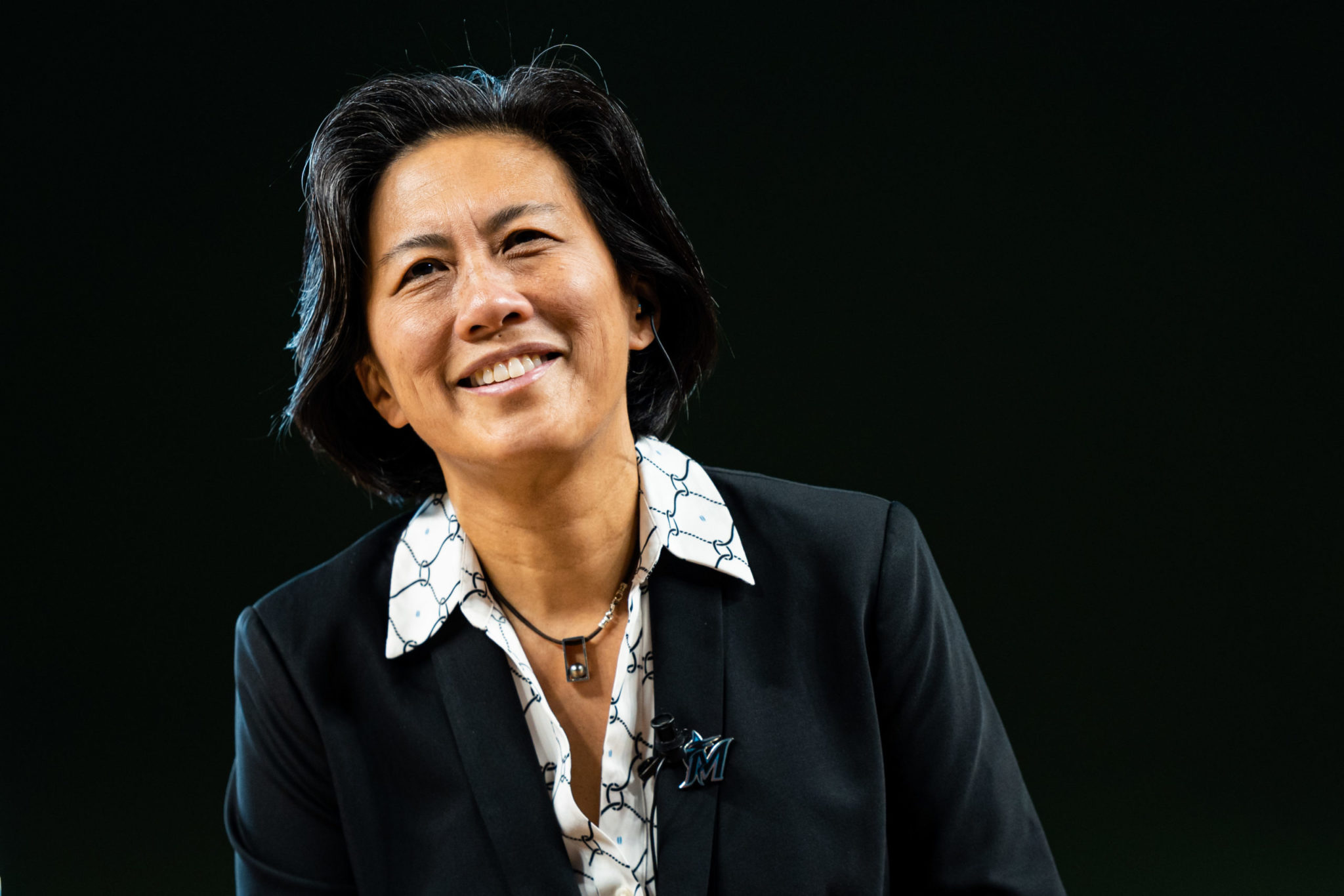 Stepping Up to the Plate
After graduating from the University of Chicago in 1990 with a degree in public policy (she was also captain of the softball team and, during her senior year, president of the college's women's athletic association), Ng beat out more than two dozen candidates for an internship with the White Sox.
The team's assistant general manager, Dan Evans, was so impressed by Ng that he soon brought her on full-time. She not only learned front-office operations (Ng would attend player arbitration hearings, for example), but she also made time to work the pitching radar gun and chart pitches during games. By 1995, the White Sox had named Ng assistant director of baseball operations.
It wasn't long before the Yankees came calling; in 1998, Ng was hired by her childhood dream team as an assistant general manager. She became the youngest person (29) to hold an assistant GM position at the time. The Yankees won three World Series while she served in that role.
She then spent 10 years with the Los Angeles Dodgers as assistant general manager from 2001 to 2011. During that stretch, she interviewed for several GM openings around the league (the Dodgers in 2005, the Seattle Mariners in 2008, the San Diego Padres in 2009, and the Los Angeles Angels in 2011). She didn't land any of those jobs.
"When I started in baseball, it was never about becoming a general manager," Ng says. "It was just about learning and soaking it all in. Every step of the way, it was just keeping my nose to the grindstone and getting to the next level."
Not that the thought never crossed her mind. A Washington Post story following the Marlins' announcement in November found a Ng quote from 1998 in which she said, "Someday, I hope to be a GM. … I think the possibility is out there." When pressed on the subject, Ng concedes that the slights and rejections that she's encountered through the years "has just made me dig my heels in more."
"I've come to deal with things on an everyday basis," she says. "If people didn't know who I was, and I walked into a ballpark, they'd think I was a translator or someone with the media, which is fine. But it's interesting how there is no imagination, or how they are just not used to seeing a woman leading a baseball team—or that a woman couldn't be someone of significance around a team."
Though it's often left to others to share the tales of sexism, racism and harassment that she's encountered, Ng's baseball journey is as much a study in quiet strength and bend-but-never-break persistence as it is about her impeccable résumé—one that includes a 10-season stint as senior vice president of baseball operations for Major League Baseball before joining the Marlins.
One of the oft-reported stories from her past involves a 2003 encounter at baseball's annual GM meetings, during Ng's time as assistant GM with the Dodgers, when a special assistant with the New York Mets mocked her Chinese heritage.
Ng confides that she's developed a coping mechanism throughout the years. "Many people who are close to me will tell you that I have become one of the best compartmentalizers of all time," she says. "I can be very singularly focused. If I hear it, yes, I acknowledge it because I will remember it. But I just put it away, and I don't let it sidetrack me.
"If I said it didn't affect me, I wouldn't be human."
I got calls and text messages from people I've known over the years who were so excited to tell their daughters and wives.
Running the Bases
Rather than focus on past struggles, Ng looks to channel that energy into something productive.
"I try to be proactive in helping others, particularly women in the workplace," she says. "Whether it's giving advice, mentorships, providing camaraderie or letting others know they aren't the only ones out there dealing with difficult situations in terms of being a woman or someone of color." Ng puts time into serving on diversity and initiative panels in communities, and advocates to "educate people and improve the situation for others."
Of course, there are on-the-field legacies she wants to leave in Miami when it comes to executive decisions with the Marlins. "We hope to bring an exciting brand of baseball to Miami," she says, not promising a World Series just yet.
Off the field, Ng wants the Marlins to engage in the South Florida community more than ever. "I would like to bring some programming to the organization around scholarships for girls," she says. "We have a great analytics team and department, so maybe we can get some programs built around STEM (science, technology, engineering and mathematics courses) for girls and young women, especially those in our underserved areas."
Ng cites her mother, a banker, as being one of the influences in her life of a strong, independent woman. "The least I can do is pay that forward," she says.
She points to her husband, Tony Markward, as being her rock through this transition into the Marlins executive office job. The two met while both were at the University of Chicago. Markward, a public policy consultant and TV editor, left his career after an introduction in 2011 by Ng to a lawyer named Todd Sigaty, who had started a boutique winery in Oregon. Markward is now co-owner of Silas Wines. Needless to say, there's never a lack of a vintage offering in the Ng-Markward house.
"In the past, when I've been with other clubs, he'll know if I had a bad game to stick a drink in my hand when I walk in the door," Ng quips.
As to how long she will make the Magic City her home and lead the Marlins, Ng prefers to keep her eye on the ball that's in front of her.
"I'll keep doing the best that I can and if it's not good enough, then someone will tell me at some point. If it is, then I'll be here for a while."
Ng photos courtesy of the Miami Marlins/Joseph Guzy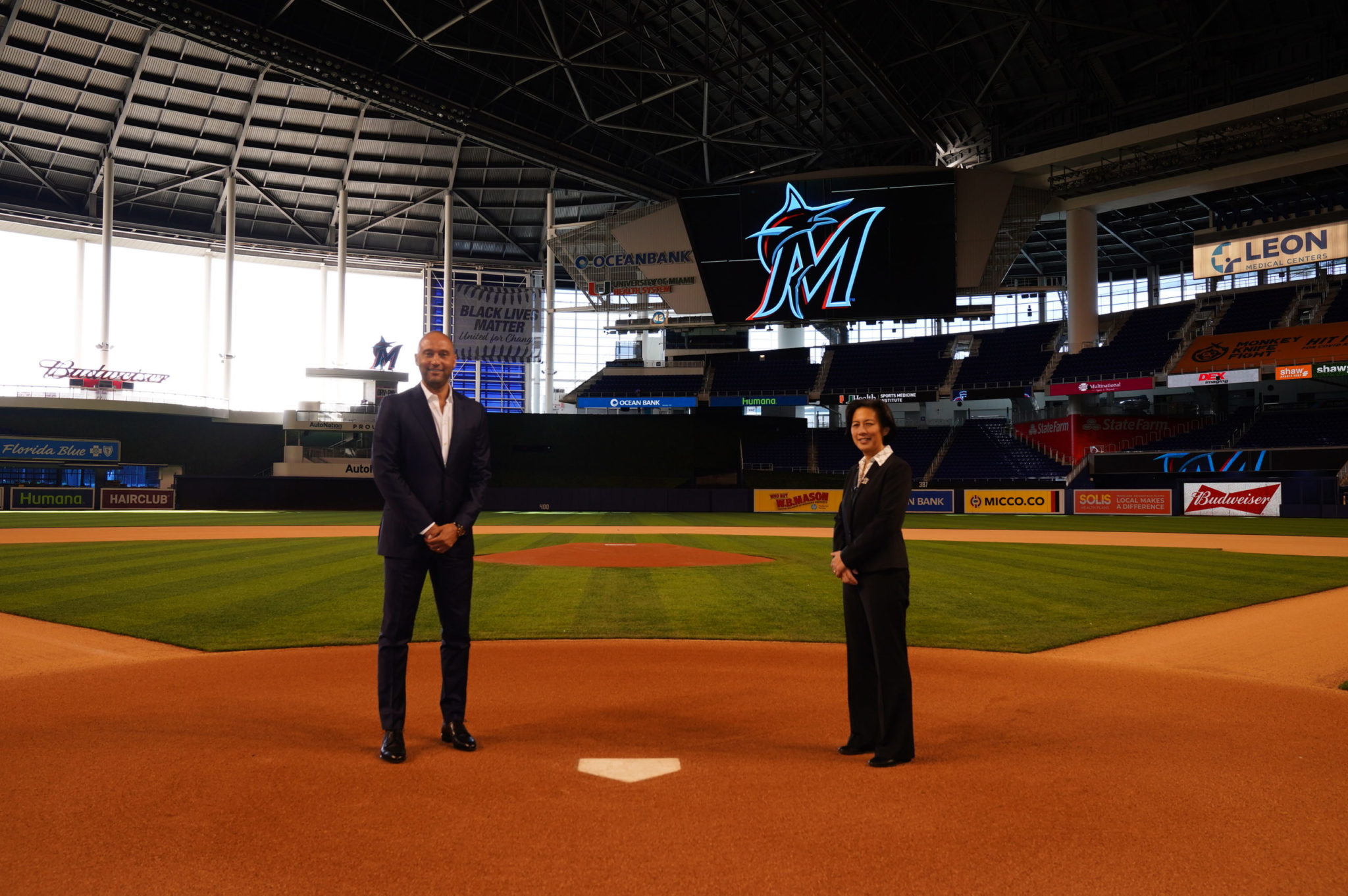 Opening Day
The Miami Marlins open the 2021 baseball season on Thursday, April 1, against the defending American League champions, the Tampa Bay Rays. The 4:10 p.m. start is part of a three-game series against the Rays that runs through Saturday.
As part of the festivities, the Marlins are offering an Opening Day Bundle, starting at $65, that includes tickets to three games and a classic or floral Marlins cap. Tickets are available in four categories: Home Plate Box, Base Reserved, Legends, and Comunidad305. The other games featured in the bundle include May 22 against the New York Mets, and July 11 against the Atlanta Braves.
For more information, call 305.480.2525 or visit mlb.com/marlins and click on the tickets link.