Photos by Dana Patrick and Shawn Adeli
Most people only have one chance to make a first impression. But it's quite the contrary for 24-year-old Carlie Craig, who typically makes second, third, fourth—and many more impressions on a given night. The Coral Springs native is an improviser and impressionist pursuing her dreams in Los Angeles—one of which recently came to fruition when she appeared on a USA Network show.
Craig, voted the "class clown" of Marjory Stoneman Douglas High School's Class of 2009, moved to LA just 10 days after she graduated from Florida State University. After gaining experience at a production company, she took on a behind-the-scenes role with YouTube celeb, Todrick Hall. Her ability to capture celebrity voices and traits eventually earned her a spot in videos, three international tours and Hall's docuseries on MTV.
"I'll sit and watch hours of interviews and try to get the voice down first. Then, I add physicality, pop culture references and jokes," Craig says. "I'll do it over and over again."
With a résumé that racks up a diverse list of titles, including character performer, actor, singer, director and producer, it wasn't long before Craig took to social media to showcase her own talents. Her claim to fame came in the form of a YouTube video she posted in January that has since garnered nearly 700,000 views. The petite blonde dressed up—wigs, makeup and all—and impersonated pop culture icons such as Emma Stone, Ariana Grande, Kristin Chenoweth, Shakira, Gwen Stefani and Lorde.
Shortly after she posted the video, she received a serendipitous phone call regarding a show for which she auditioned. Craig had scored a spot on the USA Network comedy series, "First Impressions," which debuted this summer. The show, hosted by Freddie Prinze Jr. and featuring "Saturday Night Live" alum Dana Carvey, challenges amateur celebrity impressionists against one another for a chance to win $10,000. "I auditioned in November with 16 different impressions," Craig says.
The day of filming was a blur for Craig. She confesses to being star-struck when it came to meeting Carvey, who sat next to her at the hair and makeup station.
"I was so flustered after talking to [Carvey] for just 15 minutes," Craig says, "From there, they whisked me away to an interview station and then immediately brought me onstage. It threw me for a whirlwind."
Although she was on cloud nine, her focus returned once she hit the stage. "It was the perfect theater. It was kind of off the beaten path in Los Angeles. It was an intimate setting, which I thrive in," says Craig, whose episode aired in late May. "I had the time of my life."
Although Craig did not walk out with the monetary grand prize, she feels the opportunity to showcase her talents and work side by side with the likes of Carvey and Prinze was invaluable.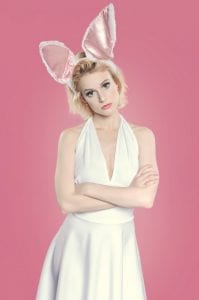 "I was now a name and a face to someone I grew up watching," Craig says, referring to Carvey. "I was floating, regardless of the fact that I didn't win the $10,000. I was the happiest person alive that day. There was nothing that could stop me."
Looking back, Craig divulges the only thing she would change would be the impressions she chose to perform.
"I wasn't hard on myself at all, but the audience was a lot older and more mature than I thought. I think if I catered a little more to the demographic I may have won; but I have no regrets," Craig says, adding that she would have traded in her Iggy Azalea impression (although she rocked it!) for Britney Spears.
Born and raised in Coral Springs, Craig credits her success to the support of her family along with two of her mentors, Cynthia O'Brien of Next Step Broadway and Melody Herzfeld, who runs the drama program at Douglas. "I was super-proud to represent my city. It's that town that really shaped me as a performer," says Craig, who started performing when she was just 7 years old at the Coral Springs Center for the Arts.
Those who have met her can attest that Craig is a walking, talking smiley face. And soon, she'll wear the comedy crown every week on The CW's resurrection of the classic sketch-comedy show, Mad TV. This summer, catch her on Tuesdays at 9 p.m.; she'll be doing impressions of celebs you know and love, as well as performing original characters. "It's my first network television experience ever. I'm going into this completely blind," says Craig, the youngest member of the eight-person cast. "I'm going to figure it out as I go. It'll be a journey for sure." 
---
Extras with Carlie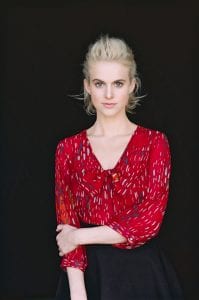 What did you do after FILMING "First Impressions"? I floated home and cuddled with my dog. I probably baked some cookies, too.

What was your watch party like? It was incredible. My friend Shawn had me and the gang over. It was a bunch of friends from all different pockets of my life coming under one roof to watch the show. I felt very special. He made cupcakes and sangria and had a huge confetti cannon.

How was meeting '90s heartthrob Freddie Prinze Jr.? He was the absolute sweetest—such a doll. He was crouched down sitting by the couch during breaks asking me how I was doing. When the credits were rolling, he gave me a high-five. It's like I don't even need an acting reel anymore because what else do I need other than that?

What is your pre-show ritual? I love to get my nails done. It makes me feel like I'm Ariana Grande and embracing her femininity. I'll buy a fake pair of eyelashes or get a cute new pair of earrings. I do everything that makes me feel confident. It's like prepping for the SATs and getting all of your ducks in a row and making yourself feel like a rock star.

How did you choose your outfit for the show? I pulled out one of my favorite skirts that I wear when I perform Ariana Grande. The top that I wore was kind of my signature look. I wanted to feel super-comfortable and 100-percent myself. I'm sure the boys didn't put a lot of thought into [their outfits].
Who is your favorite person to impersonate? I love impersonating Ariana Grande for obvious reasons. She's such a cute little character and comes naturally to me because we're the same size and both come from South Florida! I love her singing voice and it comes more naturally than other impressions like Ellie Goulding.
What do you want to be when you "grow up?" I really admire people like Adam Sandler and Chelsea Handler. They have a group of friends that they take care of. I want to be in a position where I can produce movies and TV shows that are funny, will change the world and make people happy, and to do it with my best friends who are extremely talented.