High Tide Rising at Bahia Mar featured image
Bahia Mar's newest addition, High Tide Rising, is a combination bar and lounge space located alongside the hotel's rooftop pool. Enjoy light bites and delicious drinks in this recently-renovated outdoor space and listen to the laid-back tunes of the live bands that perform on the weekends. Locals can enjoy this exclusive location with a Locals Loyalty Card, which also grants access to the rooftop pool, 20% off food from the bar, free WiFi access and $5 valet parking. 
When to listen: Live DJ or local musician on Saturdays, steel drummer on Sundays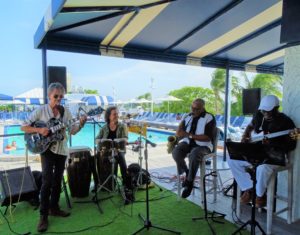 Andy's Live Fire Grill
Enjoy the South Florida breeze at Andy's Live Fire Grill's rooftop patio. Open daily for lunch and dinner, this new restaurant serves wood-grilled meats, seafood, and American Cuisine on a live fire grill. Dine on signature menu items like The Dowg, served Chicago style on a poppy seed bun, or the Grilled Beet Salad with goat cheese and red and golden beets while listening to the acoustic strumming and singing of live musicians every weekend.
When to listen: Live music on Fridays and Saturdays from 7-10 p.m. and Sundays from 5-8 p.m.
Xtreme Action Park
Contrary to what the name might lead you to believe, there's more to do than go-karting or VR escape rooms at Xtreme Action Park. Local bands take the stage every Saturday night just outside the Pit Bar to perform free live music that's open to the public. Upcoming performers include Stereo Mix, The Shin Dig, and Radio Addiction. 
When to listen: Live band on Saturday nights from 8-11 p.m.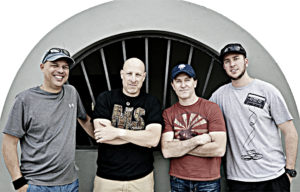 Saiko-i
Experience decadence at Saiko-i Sushi Lounge and Hibachi in Boca Raton. On Wednesday and Friday evenings, guests can enjoy music from a live DJ while sipping on libations from the extensive drink menu or tasting some of this location's unique sushi rolls. 
When to listen: Live DJ on Wednesdays and Fridays
Tavolino
Each week, local Coral Springs restaurant Tavolino becomes a live music hub, boasting live DJ performances, Jazz music and Top 40 bands. This cozy, upscale destination gives guests the option of dining by the band or listening to the live tunes while enjoying drinks and apps at the open seating hi-tops in the lounge area. 
When to listen: Live DJ on Thursdays, Jazz and Top 40s bands on Fridays and Saturdays, Jazz Jam Sessions on Sundays from 6:30-10 p.m.