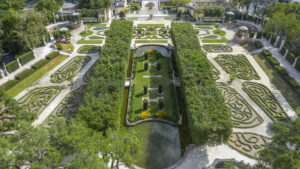 Visit Vizcaya: The former estate of James Deering, Vizcaya Museum & Gardens, has been a legendary landmark in Miami since construction began nearly 110 years ago. Deering used Vizcaya as his winter home from 1916 until his death in 1925; the sprawling Mediterranean revival-style home with 10 acres of Italianate gardens has been featured in box office hits such as Ace Ventura: Pet Detective, Any Given Sunday, and Iron Man 3. The weekly Vizcaya Village Farmers Market—think vendors with fresh-baked delicacies, hand-crafted goods, fruits and vegetables, and other products—runs every Sunday from 9 a.m. to 2 p.m.
Info: vizcaya.org
Take a Tiki Tour: Of all the ways to explore Broward's waterways, perhaps none is more spirited than Fort Lauderdale Tiki Boat Tours. Up to six passengers can pull up a seat on this floating tiki bar that departs from the Historic Downtowner on the New River. It's a BYO experience: They provide a cooler, ice and water; patrons bring their own food and beverages.
Info: fortlauderdaletiki.com
Feel the Rhythm: The City of Aventura's Summer Concert Series kicks off June 19 at the Aventura Arts & Cultural Center with the Atlantic City Boys, the smooth-sounding quartet that revisits rock songs from the 1950s and '60s by the Drifters, the Beach Boys, and the Beatles. On July 10, the Motowners (pictured above) bring that genre to life with songs from artists including the Four Tops, Sam Cooke and Stevie Wonder. The series concludes on Aug. 7 with Rocky and the Rollers and that band's tribute to doo-wop and rock songs from the 1950s through the '70s.
Tickets: aventuracenter.org
Save the Environment: Join the Broward chapter of Beach Sweep America for a monthly gathering to clear Fort Lauderdale Beach of trash. Hundreds of people, including corporate teams, typically meet on the second Saturday of every month for this endeavor.
Info: Check out @flbeachsweep on Facebook for monthly details, or email [email protected]