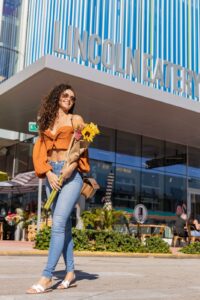 Catch a Wave: When it comes to beating the South Florida heat this summer, few attractions compare to Tidal Cove at JW Marriott Miami Turnberry Resort & Spa. The five-acre water park in Aventura, which just celebrated its second anniversary, satisfies thrill seekers and Lazy River lovers alike. On the spine-tingling side, don't the miss almost-vertical Aqua Drop; the world's first uphill waterslide, the Master Blaster; and, for wave-riding enthusiasts, the FlowRider Triple. There's also a 4,000-square-foot kids pool and 25 luxury cabanas for rental.
Info: tidalcovemiami.com
SmartWalk at Sistrunk: Broward is buzzing over Sistrunk Marketplace & Brewery in the arts district of Fort Lauderdale. The 24,000-square-foot food hall concept includes Khoffner Brewery (with handcrafted lagers, ales and stouts), the SistrunKollective (a retail boutique with merchandise by different artisans), and a dozen food vendors. In addition, Sistrunk shines the spotlight on a different local artist on the last Saturday of every month. The SmartWalk events at the Club Soda Lounge include cocktails and raffles; artists on tap include Rosanna Kalis (June 26) and Kyle Shindler (July 31).
Info: sistrunkmarketplace.com
Find Secrets of the City: Looking for a fun way to make discoveries with friends about storied buildings, famed neighborhoods and iconic artifacts? The experts at Let's Roam have put together a half-dozen South Florida scavenger hunts, each one with a local hook for teams of adventure seekers. There's a trek along New River in Fort Lauderdale, a Colors and Culture hunt on Miami Beach, a Historic Facts and Fabulous Fountains challenge in Coral Gables—and even a Get Slushed in South Beach bar crawl.
Info: letsroam.com
Find a Food Hall: As Lifestyle reported in its April issue, massive food and entertainment halls are all the rage right now, including the recently opened four-story Delray Beach Market, the largest food hall in Florida. Other South Florida halls include the Lincoln Eatery in Miami Beach, Time Out Market Miami, and the Wharf (with locations in downtown Miami and downtown Fort Lauderdale).
Info: timeoutmarket.com/miami; delraybeachmarket.com; thelincolneatery.com; wharfmiami.com; wharfftl.com