Monica McAfee
Chief Marketing/Innovation Officer, John Knox Village
Backstory: Giving back was baked into McAfee's core being at an early age. Her parents always had a place at their table, and spare resources, for those who needed an act of kindness. It's how she raised her own children. "It's never about I or me," she says. "It's about us and we."
Though her background in senior living/life plan communities (she was director of programs and partnerships at Southminster in Charlotte, North Carolina, before moving to South Florida) paved the way for her post at award-winning John Knox Village in Pompano Beach, the career move also has allowed her to broaden the philanthropic canvas that's so important to her.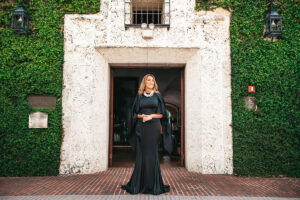 Charitable pursuits: Last year, the International Council on Active Aging honored John Knox Village with two first-place distinctions for its innovative programming, much of which has connections to cultural entities and charitable initiatives.
A partnership with Innovation Charter School in Pompano, for example, allows JKV residents and staff to volunteer time reading to the K-5 students. JKV also has developed ties to the Pompano Beach Cultural Center, as well as the Museum of Art and the Life Long Learning Institute, both at Nova Southeastern University.
"Just because you are older doesn't mean that you're going to stop learning," the native New Yorker says. "I hope that I have purpose until my last breaths. That's what we want to do for our residents. And we want to do that through resources that are outside of John Knox Village, as well as what we do on campus."
In addition, McAfee is on the board at the historic Bonnet House in Fort Lauderdale, plus she's involved with United Way, Habitat for Humanity, and Big Brothers Big Sisters—relationships, again, that she's often able to incorporate into the lives of residents and even the staff at JKV,
which emphasizes volunteering. "It's been so rewarding to come to an organization where we have shared common values," she says.
The last word: Last summer, McAfee underwent a lumpectomy after being diagnosed with stage 1 breast cancer. She acknowledges that it had been six years since her last mammogram. "Shame on me, because I let work and my commitments come before my well-being," she says. "So, I'm going to work relentlessly on promoting mammograms." Part of that advocacy will be connected to Gilda's Club South Florida, the cancer support organization for which John Knox Village raises funds.
Photography by James Woodley—Shot on location at the Bath Club in Miami Beach