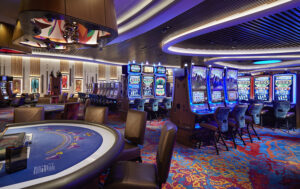 Back in the early stages of its construction, long before the steel beams started to take shape, when the concept was still more rendering than reality, there were plenty of questions surrounding the world's first hotel to resemble a six-string instrument.
Could modern-day engineering produce the proposed 450-foot-tall resort? If so, would it be a landmark achievement that cast Broward County in the best light? Or would it come off as an architectural gimmick—and another reason to poke gentle fun at the kitschy side of the Sunshine State?
More than 18 months after its October 2019 debut, and even after taking a pandemic breather, the game-changing Guitar Hotel, part of the $1.5 billion expansion at Seminole Hard Rock Hotel & Casino Hollywood, has answered those questions. And then some.
The 34-story tower has redefined the South Florida skyline. Along the way, the beams of high-powered light that project from the guitar neck—shooting some 20,000 feet into the darkness of night—seem to be beckoning to travelers. At the very least, based on early returns, they symbolize a truth that can't be denied:
If you build it, they will come.
And come they have—from all over the world. As a recent stay revealed, people are beyond ready to vacation again. And the Guitar Hotel has emerged as a bucket-list destination.
Accommodations: It's not all about the acoustic. The 12-story Hard Rock Hotel (with nearly 470 rooms) still presents a great escape. Meanwhile, the seven-story Oasis Tower (with 168 rooms), part of the expansion, overlooks a sprawling lagoon and private pool—and features swim-up suites. But let's talk Guitar Hotel. The 638 guestrooms and suites fall into a range of categories, with spaces that start at 520 square feet and top out at the 1,090-square-feet Platinum Suite. The Platinum experience, like the other rooms, exudes contemporary chic, but with a separate bedroom and a private dining area. The plush "Sleep Like a Rock" bedding, by the way, is exactly as advertised. Also, no stay at the Hard Rock is complete without an audio boost from the "Sound of Your Stay" program. Clients can pump up the volume by requesting everything from an in-room turntable with which to listen to the resort's curated album collection—or even check out a Fender Stratocaster, Telecaster or bass guitar with headphones.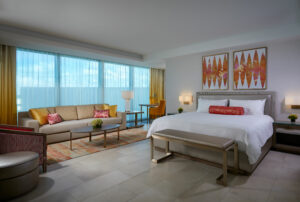 The aquatic life: The 13.5-acre pool that accompanied the property expansion has emerged as the see-and-be-seen heartbeat of the resort, a tropical setting with actual Florida sand, waterfalls, rich foliage—and an exclusive private lagoon area that recalls a South Pacific getaway. Thus, the Bora Bora bungalow cabanas, which come with a sofa, water chaise lounges, private plunge pools, flat-screen satellite TV (including the Sunday Ticket during NFL season), private bathroom and shower, outdoor shower and personalized service. The aforementioned larger expanse of water by the Oasis Tower gives clients the opportunity to rent paddle boards and canoes.
Food for thought: Despite the challenges inherent to pandemic-era dining, the Hard Rock continues to put on quite the culinary show. Along with steady staples like Rise Kitchen & Deli (with a view of the pool lagoon and 24/7 offerings), the resort boasts a dynamic roster of fine-dining experiences. The beautifully reimagined Council Oak, Hard Rock's signature American steakhouse, now features an open kitchen, a wine room with some 400 labels, a double-tiered contemporary space that overlook the pool, and an in-restaurant butcher shop and dry-aging room (with pink Himalayan salt walls). Naturally, that room produces USDA-prime cuts like a 24-ounce porterhouse and a 34-ounce long bone rib-eye; there's also raw and seafood options (think lobster thermidor). On the casino side of the resort, there's Kuro, executive chef Alex Becker's flavor-rich ode to high-concept Japanese cuisine that produces one Instagram-worthy dish after another. The menu, built for a memorable evening of shared plates, encompasses tempura (shrimp, king crab), robata grill options (sea bass nori), land and sea treats (tenderloin, scallops), maki/hand rolls, sushi/sashimi and other categories. The artistry inherent to each presentation, alone, is worth the price of admission. New to the Guitar Hotel is Cipresso, a seamless mesh of Old World and modern-style Italian cuisine with a tightly curated menu of antipasti, pizza, pasta, salad and chicken/meat dishes. Check the Hard Rock site for info on the other light-bite and sit-down dining options.
Enter if you Daer: Even enthusiasts of the South Beach scene are making the drive to Hollywood to check out Daer, the Hard Rock's high-octane, multi-dimensional, indoor-outdoor complex that draws celebrities, influencers and anyone else seeking a VIP-style party experience. It's the second location of the Daer brand, which originally launched in Atlantic City. The nearly 45,000-square-foot hot spot consists of a Dayclub with a stage and 40-foot LED screen, renowned DJs, a resort-style pool area, hot tubs, daybeds, and 13 private cabanas; the Daer Nightclub, a dance-and-drink oasis that can be reserved for private events; and Rooftop Live, on the top floor of the Nightclub, which features live performances on Fridays and Saturdays.
That's entertainment: After going dark for more than a year because of COVID-19, the new Hard Rock Live, the resort's state-of-the-art, 7,000-seat concert venue, is booking acts again. Stand-up favorite Tom Segura is in town Oct. 1, followed the next two nights by Guns N' Roses. The Guitar Hotel and casino sport a variety of bars/lounges, perfect for people-watching, and enjoying creative cocktails, craft beers and fine wines. The elevated Center Bar overlooks the gaming floor; L Bar provides a more intimate setting; and the Oculus Bar in the Guitar Hotel lobby features a glamorous wraparound bar and ample table seating.
In addition: Speaking of Oculus, that's the visual centerpiece of the Guitar Hotel's interior, a floor-to-ceiling attraction just inside the entrance that combines streaming water effects, projections, and lighting—all choreographed to music. … Speaking of lights, the exterior of the 450-foot structure finds its groove each night around sunset, and then again once it's dark, thanks to a pulsating and mesmerizing light show set to any number of classic rock tunes or South Florida-inspired beats. … Lest we forget, the Hard Rock is home to casino gambling—and lots of it. The redesigned casino has gone above and beyond to follow Centers for Disease Control and Prevention guidelines and ensure guest safety, with Plexiglass partitions inside the award-winning poker room, and appropriate spacing at table games and amid the more than 3,000 slot machines. … The Shoppes at the Guitar Hotel features an array of storefronts in categories like jewelry, men's and women's clothing, specialty food, art, electronics and Hard Rock souvenirs.
Contact: 1 Seminole Way, Hollywood; 866.502.7529; seminolehardrockhollywood.com