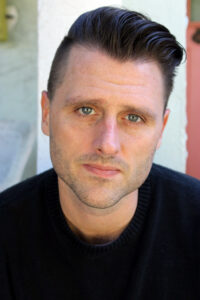 Not many actors receive a full 20 months between the first preview performance of their latest play and the official opening night. That's the surreal position in which Matt Stabile (pictured, left) finds himself.
Stabile has been artistic director of Theatre Lab, the professional theater company and new-play incubator at Florida Atlantic University in Boca Raton, since 2018. In March 2020, however, he was set to appear on the other side of the stage for the first time in three years. Better still, he was to star alongside his wife, two-time Carbonell winner Niki Fridh, in a two-character play: a world premiere called To Fall in Love, a real-time, voyeuristic drama about a grief-stricken marriage on defibrillators, and the couple's last-ditch efforts to salvage it.
"It's the first play that I'd read in a long time that made me want to come back to acting," he says. "I keep joking that I'm trying to retire from acting—semi-joking. But it's the kind of work you always hope you're going to be doing when you get into this business. … It's a beautiful exploration of what love is, how love is constantly evolving, and what love can do and can overcome."
The sets were built, rehearsals were completed, and a single preview performance went ahead as scheduled. That night, Stabile could see the writing on the wall; only a quarter of the 64 ticket holders on the books that night showed up. By the next day, "nonessential" businesses had begun to close their doors. For a year and a half, it looked as though the play would go down in cultural circles as an almost mythic production—a soul-stirring, heart-tugging work of theatrical labor experienced by all of 16 people.
But this November, To Fall in Love is finally set to resume its run, with everyone in the cast and crew a year older, a year wiser, and a year more inclined to not take anything for granted. When asked about the biggest challenge of the COVID-19 era, Stabile says, "Just learning to become comfortable with uncertainty—which is a weird thing for a theater artist to go through, because any time you start a project, you're not certain it's going to work. Especially if you're in the business of new plays."
Stabile has known just about every side of the theater business, which he believes has made him a better artistic director. "When I was in school, part of my degree was in scenic design," he says. "I did lighting, and when we had smaller companies, I was sweeping the stage, if need be."
For much his life, he's also taught others the craft. A native South Floridian, Stabile left to earn a theatre studies degree from Southern Methodist University (class of 2000) in Dallas. He then returned to join Fantasy Theatre Factory, a venerable children's troupe in Miami. He taught educational outreach workshops there and brought similar programs to area middle schools. From there, he spent seven years on the faculty at G-Star School of the Arts, a public charter high school in West Palm Beach, where he led and even created much of its acting department curricula.
He later held positions at the Kravis Center in West Palm Beach, where his work as artistic coordinator for its summer ArtsCamp earned him the venue's Outstanding Teacher of 2013 award, and at Delray Beach's Theatre at Arts Garage, where he served as education director from 2013 to 2015.
All the while, he was pursuing an acting career. Handsome and charming, but with an ability to play brooding and misanthropic characters, his most memorable early role on the South Florida professional stage was in Island City Stage's The Timekeepers, a shattering Holocaust drama that swept the 2014 Carbonell Awards. He played a humorless prison functionary, hired to supervise a labor camp, a role he described years later as "one of those stories that immediately felt like it mattered."
Stabile accrued a career as a versatile supporting actor, playing police officers and flustered filmmakers and recovering drug addicts and small-time criminals in productions spanning the tri-county area. None of them have required the sort of onstage stamina, let alone the line memorization, of the co-lead in To Fall in Love. The show's director (and the founder of Theatre Lab), Lou Tyrrell, believes his protégé is more than ready for the opportunity.
The same goes for Stabile's ability to run the company outright. For Tyrell, who started the company in 2015, his choice of successor was an easy one.
"Matt is among the most talented, dynamic, and exciting artistic directors in American theater today," he says. "A consummate director, he is also a playwright, an accomplished actor and, so important in these challenging times, a savvy theater administrator. He's as comfortable working budgets as he is working rehearsal. All of his skills are wrapped in an intellect and a passion uniquely ideal for the development of new work, which is Theatre Lab's mission."
Because Theatre Lab hosts only world-premiere plays, Stabile is in a tougher position than some of his contemporaries, who have the luxury of looking to hot Broadway properties or fail-safe classics when programming their seasons.
"The way we've always approached that is by saying, 'You're almost never going to recognize the title, and you're probably not going to recognize the playwright … but what we can promise you is that we're going to do our absolute best,' " he says.
When considering material, he adds, "You've got consider your audience. But in considering your audience, you also need to consider how you might challenge them. I was a teacher forever, and I still view everything through education, so it's like scaffolding. What can we do this year that will open up a possibility for next season, and that will open up a possibility for three years down the road? So you're always trying to think much further out."
Stabile expects to take the stage Nov. 20 in To Fall In Love, but as we've all learned from 2020, one of the slipperiest things one can do in a pandemic is make a plan.
"Early on in the pandemic, we were making plan A and B and C and D, and 'if this, then that,' and it just becomes an exhausting exercise. At some point you just say, we're going to go with this, and we will react and adapt if something comes up."