Trying to find the right school for your children can be a challenge if you are already living in South Florida, but imagine if you are just moving here.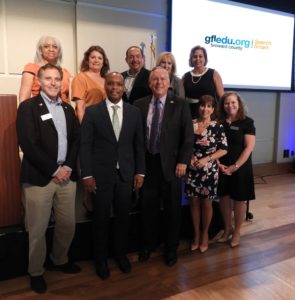 The Greater Fort Lauderdale Alliance, Broward County's official economic development partnership, is addressing that issue with the launch of a one-stop, education-focused website, GFLedu.org.  It was unveiled at the Alliance board meeting on Thursday at the Broward Center for the Performing Arts.
The site presents a comprehensive look at education in Greater Fort Lauderdale/Broward County and aims to tell the story of the diverse, nationally recognized educational options available, including public and private, pre-K through postgraduate.
"Companies are particularly interested in the spectrum of schools and educational programs available for employees and their children. They also look for education-driven talent pipelines to produce future workforce-ready employees," said Bob Swindell, president and CEO of the Alliance.
GFLedu.org  enables visitors to see the full range of public, private and parochial school offerings currently available in Broward County. The website is part of a larger, ongoing effort to market and communicate the myriad of high-quality educational opportunities that exist in Greater Fort Lauderdale.
SFBW has been participating in that effort with a four-part series with the Alliance. The first article looked at headquarters relocations and the second looked at technology. The September issue will have a report on the thriving aviation and aerospace sectors.
The education site features mapping capabilities that allow visitors to view educational institutions in different parts of the county as well as showcase pages for student, alumni and teacher achievements, testimonials from local business leaders, videos that bring education initiatives to life, and much more. Key partners included Broward County Public Schools, Private K-12 schools including Pine Crest School and higher education institutions including Broward College, Florida Atlantic University and Nova Southeastern University. As part of a longtime, ongoing regional collaboration between South Florida's three official economic development organizations, the site was modeled on a similar educational website spearheaded by the Business Development Board of Palm Beach County.