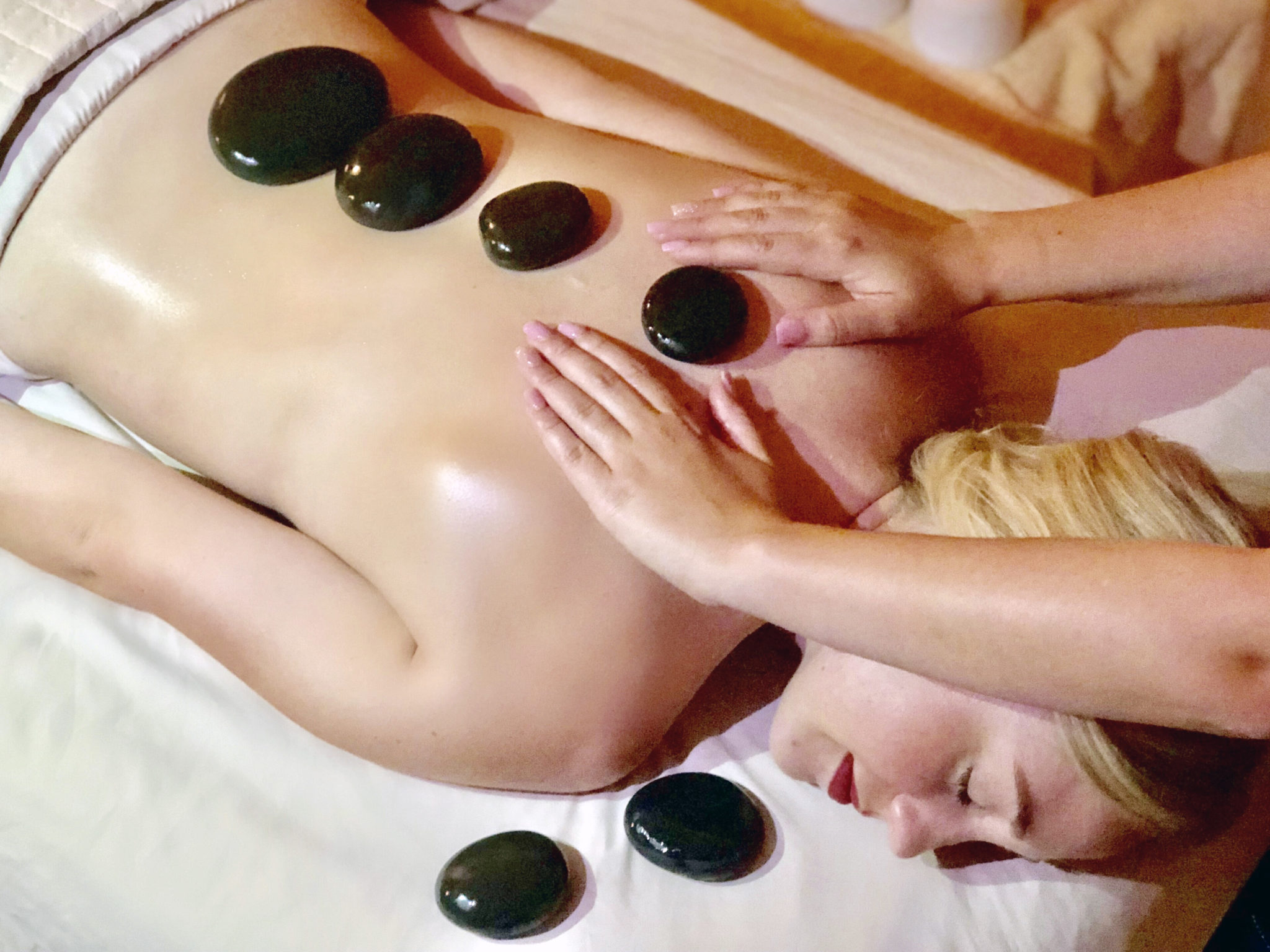 Where: St. Somewhere Spa at Margaritaville Beach Resort (1111 N. Ocean Drive, Hollywood)
The vibe: It should come as no surprise that a resort bearing Jimmy Buffett-inspired branding would offer a designated changes-in-attitude facility to decompress and refresh. At Margaritaville, St. Somewhere Spa fills the rejuvenating niche with 11 treatment rooms amid its 11,000-square-foot layout. The earthy tones, light woods and wicker chairs in the lobby and on the spa balcony (which overlooks the main pool and hosts its share of community and business mix-and-mingle events) capture the kick-back-and-chill ambience that permeates the property.
The treatments: Hot Stone Therapy and the Lost Shaker of Salt Scrub
The lowdown: The warm Himalayan salt stones used to penetrate the muscles during the first portion of a combo treatment that Jeff, one of St. Somewhere's seasoned and engaging spa therapists, describes as a "massage-arita," contain the same 84 trace minerals said to be found in the human body. It's one of several dozen snippets of knowledge and wisdom that Jeff seamlessly weaves into a more than 90-minute session that delivers on its promise to alleviate stress, exfoliate the skin and energize the mind. Though the menu touts the use of smooth basalt for hot stone therapy, it's only appropriate that a Margaritaville spa would combine salt stones and lime-scented oils as a variation. It's equally appropriate that the closing Lost Shaker of Salt Scrub treatment would come with a complimentary margarita (with the 50-minute service). The actual full-body scrub relies on the salt's coarseness as a natural and invigorating way to exfoliate—at least that's what Jeff says.
Prices: Hot Stone Therapy ($220 for 80 minutes); Lost Shaker of Salt Scrub ($75 for 25 minutes; $140 for 50 minutes)
Other spa highlights: The mix of 20 combined massages, body treatments and facials on the menu includes a coconut-cleansing men's facial that exfoliates and hydrates the skin, as well as a side-by-side couple's massage, and a special pampering massage for expectant moms after their first trimester. … The spa's salon provides complete hair, makeup, waxing and nail care services; options regarding the latter include a 60-minute Pedicure in Paradise that comes with a foot and calf massage, and a purifying mask. … In addition to separate men's and women's locker areas (with steam rooms), there's a coed wet lounge that includes a hot tub. … From Monday through Friday, the spa offers a 15-percent discount on its treatments for local residents. … As evidenced by the overwhelming amount of five-star reviews on TripAdvisor that single out a spa therapist by name, the personalized service at St. Somewhere goes above and beyond.
Contact: margaritavillehollywoodbeachresort.com/spa; 954.874.4430 (spa hours are Sunday to Wednesday, 9 a.m.-6 p.m.; Thursday to Saturday, 9 a.m.-7 p.m.)