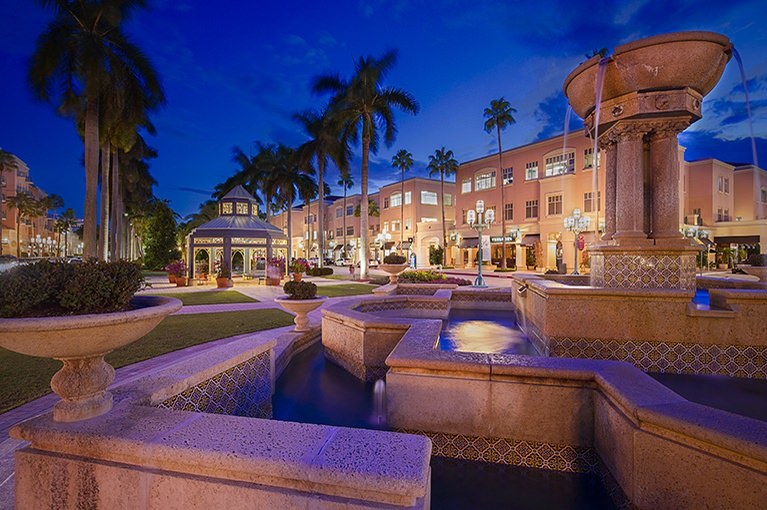 Mizner Park Stops Traffic for Diners
Mizner Park, the mixed-use center in Boca Raton, clears the way for expanded al fresco dining
For those in Palm Beach County ready to venture out and visit a dining destination during Phase 1 of reopening, Mizner Park is doing its part to pave the way for an open-air experience. The downtown center is closing its main throughway, Plaza Real, to northbound and southbound traffic—thus providing more space for restaurants to create outdoor seating opportunities.
"We are looking forward to welcoming the community back to enjoy all Mizner Park has to offer," says Dana Romanelli Schearer, general manager of Mizner Park. "Opening up Plaza Real will provide our restaurants with safely distanced dining beyond what they are permitted inside. We have been working diligently with the city of Boca Raton, our staff and our tenants to provide the safest and most comfortable experience for all."
Limited capacity dining (25%), consistent with Phase 1 guidelines, already has started at some Mizner Park restaurants, with a few others opening their doors today (May 14). Among the restaurants ready to welcome diners indoors or outside (all the restaurants below offer curbside pickup and delivery):
• Yard House: Already open for dine-in customers; 11 a.m. to 9 p.m.
• The Blue Fish: Open Sunday-Thursday, from 4 to 8 p.m.; Friday and Saturday, 4 to 9 p.m. for dine-in
• Max's Grille: Opening May 14 for dine-in at 5 p.m.
• Loch Bar: Opening May 14 for lunch and dinner
• Kapow! Noodle Bar: Opening May 14 for dinner