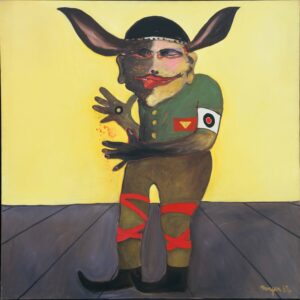 The prolific, groundbreaking work of Polish-born artist Maryan receives a richly deserved retrospective, courtesy of the Museum of Contemporary Art North Miami (MOCA). 
The exhibition curated by Alison Gingeras, which just opened, examines four decades of complex and deeply moving work by the man born Pinkas Bursztyn—considered one of the first artists-eyewitnesses to depict personal experiences of the Holocaust. Bursztyn, only 12 when he was captured by the Nazis (and later imprisoned at the Auschwitz and Birkenau concentration camps), was the only member of his working-class Jewish family to survive. 
He immigrated to then-Palestine, begin his artistic training, and re-define himself as Maryan. After developing a following in Paris, Maryan moved to New York City in the early 1960s, where he developed his personnages (the fictitious figures for which he became known). As noted in the exhibition description, "While he had always refused being called a 'Holocaust artist,' the psychological fallout of Maryan's experiences overwhelmed him in the early 1970s." He died of a heart attack at age 50 in 1977. 
Expect a series of thoughtful educational and public programming to accompany the exhibition, which runs until March 20. Visit mocanomi.org for additional information.