Mondays may not be the traditional time to gather for drinks after work. Still, local deals surrounding National Rum Day will undoubtedly convince you to experience what local bars and restaurants have to offer.
To help readers narrow down a few places around the tri-county area to celebrate the occasion, we've gathered some of the area's best offerings.
Venue: Spanglish
Location: 2808 N. Miami Ave, Miami
Details: At Spanglish, rum lovers can celebrate National Rum Day by sipping the Cafetera Old Fashioned. Served out of an actual cafetera, this cocktail is a delicious mixture of Brugal 1888 – a premium rum from the Dominican Republic – cigar bitters and cold brew coffee reduction. Guests will also enjoy the unique dishes that fuse Latin and American favorites, such as Spanglish Milk Bread and Arroz Mamposteado.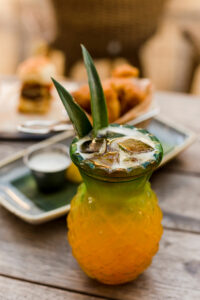 Venue: Barrio
Location: 700 South Rosemary Ave, West Palm Beach
Details: Barrio will feature a crew-pleasing Rum Punch ($13). The concoction (pictured, left) features Sporting spiced rum, fresh juices and a dark rum topper.
Venue: City Cellar
Location: 700 S. Rosemary Avenue, Second Floor, West Palm Beach
Details: City Cellar will serve up the Hemingway Old Fashioned (pictured, top), a sophisticated scoundrel laden with Papa's Pilar Sherry Barrel Aged Rum, orange bitters, filthy cherry and an orange peel.
Venue: Burlock Coast
Location: 1 North Fort Lauderdale Beach Boulevard at The Ritz-Carlton in Fort Lauderdale
Details: Burlock Coast is a rustic seafood eatery, home to an enormous rum room in South Florida. The venue is featuring specials all day long, including $32 Island-Style Coconut Rum Fish Stew, $25 Rum Flights, $25 Bottomless Rum Punch and $10 Rum Cakes with live reggae music from 5 to 8 p.m.