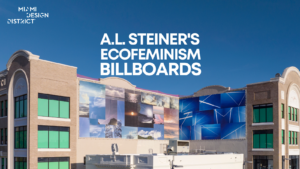 The Miami Design District continues to offer an array of art exhibits and opportunities for international and local artists to display their unique artwork. To help diversify its collections, the Miami Design District offers art tours throughout the district while adding new art initiatives, including A.L. Steiner's Ecofeminism Billboards, Criola Mural, LALANA Exhibit, and Locust Projects Exhibit.
A.L. Steiner's Ecofeminism Billboards
In this double billboard, Miami-born artist A.L. Steiner presents a photographic diptych highlighting the beauty of Earth's vocalities. Steiner portrays prolific land defenders such as Berta Cáceres, Rachel Carson, Marjory Stoneman Douglas, Winona LaDuke, Wangari Maathai, Vandana Shiva, Penny Whetton, and so many others who worked tirelessly to remediate and repair human-based destruction to preserve life on the planet.
Location: 2nd Ave & 41st St, Miami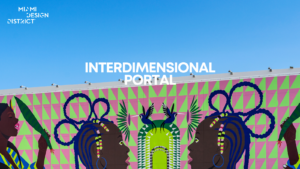 Criola Mural
Acclaimed muralist Criola has significant murals in São Paulo, Rio de Janeiro, Belo Horizonte, Paris and the Miami Design District. The artist's massive 39 by 137-foot display in Jungle Plaza is her largest mural to date and her second public work in the U.S. The work portrays Afro-Brazilian ancestors in ritualistic performance, accessing ancient forest wisdom for medicinal purposes and transcending thresholds of knowledge. 
Location: 3801 NE 1st Ave, Miami
LALANA Exhibit
The LALANA Exhibition is a design initiative that works with modern and contemporary Argentine artists to reimagine their original artworks as functional pieces bred in local techniques and noble materials. The exhibition features three textile pieces based on paintings by Roberto Aizenberg, a floor piece and a sculptural chair by Luis Fernando Benedit. 
Location: 140 NE 39th St, Suite 106, Miami
Locust Projects
Miami's longest-running nonprofit alternative art space, Locust Projects, recently commissioned exhibitions and a guest-curated video show. Herramientas (Levels and Bosses) will be presented in the Main Gallery to provide a transmedia adventure game experience by Miami-based multimedia artist Leo Castañeda. In the Project Room will be Mia, an immersive interactive installation consisting of sculpture, video, and sound by Brooklyn-based artist Zac Hacmon. The shows are on view, free of charge, through Nov. 5, Wednesdays through Saturdays from 11 a.m.-to 5 p.m. 
Location: 3852 N Miami Ave, Miami
Public Art Tours
Miami Design District is hosting a walking tour of the neighborhood to help residents explore the art and architecture of the area and visit outdoor installations. The tours commence in Palm Court at 11 a.m. on Oct. 22 and Nov. 5. 
Location: Palm Court | 140 NE 39th St, Miami