In what some might consider a gratifying character arc, the owner of Docking Bay 94 had humble beginnings in the comic industry.
Under different ownership, Docking Bay 94 was John Miller's go-to spot in 1998; it was where he got his weekly comic fix and even worked part time—first as an errand boy paid in store credit and access to new books before they were available for purchase.
"I'd pick up their books, bring them back to the store, and then I'd get the honor of opening them up and sorting them for inventory like a mule," Miller says with a laugh. "And I was just so content to get store credit and access to the comics."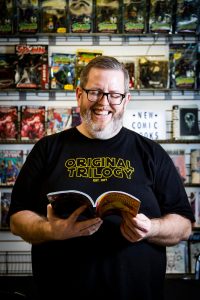 Miller's positive outlook paid off. He eventually bought the store with the stock he'd earned working at Publix and made Docking Bay 94 what it is today—complete with a "Walking Dead"-themed restroom.
Miller has a lifelong love for comics. He started reading them as a child (he was a Marvel fan), and now, as the owner of Coconut Creek's only comic book store, he shares that love with others. Miller also offers a free subscription service for patrons to order their books in advance and avoid the hassle of picking them up on release days.
"I love that young kids are discovering that you can play games with real books and be in a room and play," Miller says, referring to a recent influx of young Dungeons and Dragons players, thanks to the Netflix TV series "Stranger Things."
While the Coconut Creek resident's love of comics is what got him started, it can sometimes lead to disappointment. "I just love the stories, I love the comics … I probably take it too personally," Miller says. "I love the stuff so much that I feel like, sometimes, when the books and writers aren't trying, I get mad."
Miller's frustrations with the comic book industry might explain why he's trying to break into it himself. He's working with James Michael Whynot, a published artist who teaches Docking Bay 94's weekly " 'Whynot' Learn to Draw" class, as a creator on some projects. Miller hopes to publish his own comic alongside Whynot and sell it in his store.
Along with the drawing class, Docking Bay 94 (the name is a "Star Wars" reference) hosts a weekly Comic Culture Club (known as C3) meetings—a comic book reading group that discusses the newest releases—as well as weekly roleplay game events.
These events are frequented by people from "all walks of life," from police officers to veterinarians, attorneys and teachers.
"There's definitely a sense of community here," Miller says.
Come and Play
Docking Bay 94 hosts these weekly events.
Monday: Open gaming
Tuesday: "Whynot" Learn to Draw Class, 6 p.m.; Miniature Painters Club, 6 p.m.; Comic Culture Club (C3), 8 p.m.
Wednesday: New Comic Book Day
Thursday: Open Gaming
Friday: Friday Night Magic Standard Tournament, 7 p.m.
Saturday: Warhammer, 11 a.m.-close; Magic 101, 11 a.m.-2 p.m.
Sunday: Pokemon League Tournament, 11 a.m.
Docking Bay 94
Location: 7710 NW 56th Way, Suite 100
Contact: comicsandgames.com; 954.427.1694