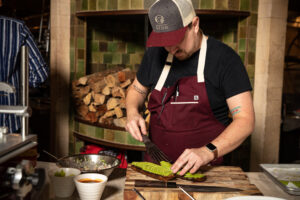 The Orno at THesis HotelMiami in Coral Gables recently introduced Sunday brunch services featuring brunch-inspired dishes specially curated by Orno's Executive Chef Niven Patel, a four-time James Beard Award nominee. Orno opened in October 2021 as an authentic farm-to-table restaurant concept heavily focused on fresh, quality ingredients sourced directly from Chef Patel's backyard farm, Rancho Patel, in nearby Homestead. The modern neighborhood restaurant features an open-kitchen concept offering an interactive experience pairing wood-fired dishes with handcrafted cocktails.
The brunch service is available every Sunday from 11 a.m. to 2:30 p.m. featuring innovative twists on traditional dishes, like an elevated version of an avocado toast, the Maine Lobster Toast topped with avocado, farm egg, everything spice and chili oil. Along with bottomless Moet Brut and Rose champagne, guests can enjoy new brunch cocktails, including La Roma, a seasonal cocktail centered around nutty, buttery, sweet, delicate and bold flavors from the hazelnut orgeat. 
Orno is part of Patel's evolving Alpareno Restaurant Group umbrella, which includes Mamey (also located at THesis Hotel Miami) and Ghee Indian Kitchen. Orno will be open for brunch every Sunday from 11 a.m. to 2:30 p.m.