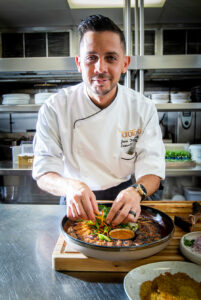 Jean Delgado
Executive chef, Toro Toro at the InterContinental Miami
The dish: Bone-in tomahawk pork chop
About the chop: "The tomahawk pork chop, which a lot of people don't know, is something that came from Puerto Rico. It's a pork chop attached with a pork belly, so it looks like a tomahawk. You barely see this at restaurants, so I wanted to elevate it. Of course, I have a beautiful charcoal grill at Toro Toro, which brings the smoke flavor into it; most important, we marinate it for 12 hours (see recipe). My idea here was to do a plantain tortilla with it, along with a great mojo glaze."
About Jean: The native of Puerto Rico found early farm-to-table inspiration at his aunt's house in the country. His grandmother picked him after high school and took him there Monday through Friday, where he dined with his cousins. Delgado's aunt raised chickens in the backyard, and grew her own spices and produce, including cilantro and ahi peppers. The idea of a culinary life piqued his interest, so he pursued the dream—first, by taking classes at the Art Institute of Fort Lauderdale and, later, by working with chef Todd English in New York. The corporate chef at Todd English brought Delgado with him to W Hotel in New York City, where they opened the Irvington Bar & Restaurant. Through his friendship with Ryan Ratino, chef/owner at Bresca (the Washington, D.C., restaurant that earned consecutive Michelin stars in 2019 and 2020), Delgado later connected with chef/restaurateur Richard Sandoval, who invited him to return to Florida in 2017 and helm his new venture at the InterContinental. With Toro Toro, Delgado has created a buzzworthy steakhouse that also specializes in small plates; dishes up and down the menu reflect an array of pan-Latin influences, including from Puerto Rico.
Open-fire insights: "Have your grill very, very hot. The hotter the better. Also, seasoning is so important. If it's chicken, try to marinate it for at least 24 hours, whether it's an herb marinade or a brine. You're going to see such a difference in flavor. Adding a lot of kosher salt on the outside of the steak is very important, too. People think it's going to make the meat taste salty. It's not. It's just adding a layer of crust, which is perfect for grilling, especially the big steaks."
FYI: Check out the May issue of Lifestyle for Delgado's complete tomahawk pork chop recipe.