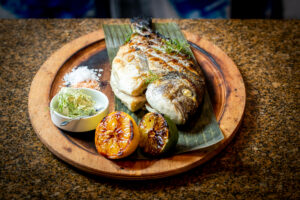 Brian Nasajon
Chef/owner of Beaker & Gray
The dish: Fire-roasted whole dorade
About the fish: "I worked with dorade years back, but I never really gave it much attention. Then I picked up a couple and took them to my dad's house; he has this nice open-wood grill. We threw them on the grill, and they were so good. The dorade is high in fat. It's like what the chicken thigh is to the chicken breast; you can do whatever you want to it [from a prep/cooking standpoint], and no matter what it's always delicious because of the fattiness. It's also extremely flavorful. All you need is salt. I'm adding a little chimichurri butter, but, really, it's all about hitting it with high temperature. The open fire can give [what you're cooking] a whole other world of depth. Because of the fat in dorade, when you put it really close to the charcoal, that's what happens."
About Brian: Nasajon was in his final year as a philosophy major at New York University, after originally going there to pursue a music degree. Still lacking a clear career path, he decided to follow the example of a friend and architect major who, in his senior year, decided to take a kitchen job. He picked the brain of Josh Capon, the talented chef at Lure Fishbar in Manhattan, who advised Nasajon to work for a month at a restaurant—for free—just to see if he even liked working with food. Nasajon did just that. At Lure. "Within a week, I was hooked," he says. The Miami native later returned to South Florida and honed his skills at Wish and Sushisamba. In November 2015, he opened Beaker & Grey, which he describes as approachable New American dishes with global influences.
Did you know: Nasajon's family is from Uruguay, "so open-fire cooking is in our blood," he says. The Uruguayan approach is distinguished by minimal seasoning and a slow roll on the charcoal grill for beloved cuts of beef like skirt steak and flank steak. "They don't season it, they don't even add salt before," Nasajon says. "You set it on one side of the grill for seven to 10 minutes. Once you see that nice sear on the outside, you flip it, you score it—and then you salt it, only on that one side, with a thick, coarse salt. The salt starts to suck up the blood. You know the steak is ready to go when you see the blood kind of trickling to the top."
Open-fire insights: "Fire is very temperamental. If you don't know how to gauge the height, if you don't know how to manage the fire, if you cook it too close or too far, you can damage the quality of product. The great thing about [dorade] is that nothing is going to happen to this whole fish. Most fish dry out quickly at max temp; they're also often more delicate than other proteins. In this case, it's so good for grilling because you can just blast it. The hotter and the faster you get on it, the better the result."
FYI: Check out the May issue of Lifestyle for Nasajon's dorade recipe.