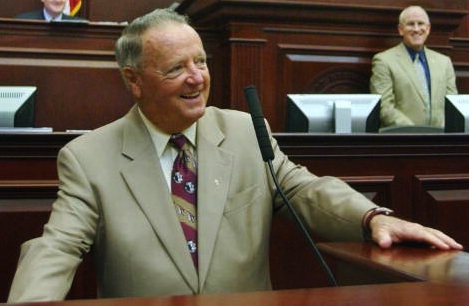 Remembering Bobby Bowden
The longtime FSU head coach left his share of indelible memories, including on the editor of Lifestyle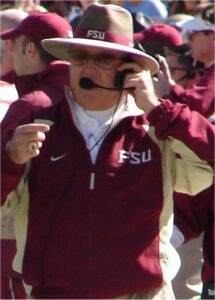 South Florida was a mixed bag for the man who put Florida State on the college football map. There were the games literally decided by a foot, missed field goals in the closing seconds against the University of Miami forever etched in the rivalry's lore as Wide Right II (1992) and Wide Right III (2000). There was the ugly 13-2 loss to Oklahoma in the 2001 BCS National Championship game.
On the flip side, there were signature postseason wins at the Orange Bowl against Nebraska in 1993 (27-14) and Notre Dame in 1996 (31-26), as well as the program's first national championship, an 18-16 thriller over Nebraska in 1994—decided, appropriately enough, by a Cornhuskers' field goal that sailed wide left as time expired.
Through all the gridiron dramas that played out during his 34 seasons as the Seminoles' head coach (resulting in 315 wins and two national titles), Bobby Bowden never lost his faith. Or his sense of humor. Or his generous spirit. Bowden, who died of pancreatic cancer early Sunday morning at age 91, was a folksy, homespun throwback. A true man of his word.
It's something I learned first-hand during my South Florida experiences with Bowden. In 1996, I was the managing editor of Football News, a national publication based in Miami that covered the NFL and college football. Part of my job involved ghost writing for famous figures who contributed weekly columns about the pro and college game for Football News. We invited Bowden to be our guest college columnist for the entire '96 season, and he kindly agreed.
After an initial meeting at Bowden's office in Tallahassee, our routine involved biweekly phone interviews, which I'd transcribe and spin into his take on a variety of subjects unfolding that season in the college game. One of the ongoing plotlines involved his own team; the Seminoles finished the regular season 11-0 and played for the national championship against their dreaded in-state rival (and my alma mater), the University of Florida, at the 1997 Sugar Bowl.
In order to make our print deadline, Bowden suggested that he call me at my home on the Friday morning after the Thursday night game and talk about what happened for that issue's column. It was a remarkable offer. What if FSU lost? What if the post-game demands or celebration kept him up all night. I pushed back and told him we could chat over the weekend, if that helped. "No, let's do it while it's all fresh in my mind," he said.
That Thursday night, the Gators annihilated FSU, a 52-20 thrashing that gave UF its first national title. I woke up the next morning figuring Bowden would be in no mood to talk.
But the phone rang exactly at 9 a.m., our designated time. "How are you, Kevin," the voice on the other end said. "Boy, was that ugly last night or what?"
We spoke for the next 30 minutes about a game Bowden probably had zero interest in reliving. But, as always, he was gracious. And funny. And so insightful about the game of college football.
A few weeks later, I received a letter in the mail from Bowden, thanking me for our time together that season and expressing how much he enjoyed the experience. It meant the world to me. Because I knew that Bobby Bowden was a man of his word.