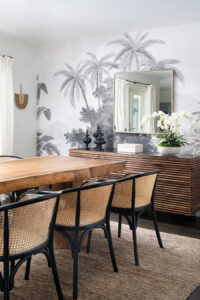 Although it's long been considered a symbol of wealth and status, the formal dining room for many has become somewhat of a relic in recent years.
But, unsurprisingly, as the global pandemic wore on, and we leaned into the idea of enjoying meals at home, there has been a resurgence of excitement around what had become an often-underused area of the home. While enjoying meals in a casual living area, in a kitchen with counter seating or in a breakfast room may continue to be the norm, making time to enjoy conversation and comforting food with friends and family in a special setting never will get old.
To shed light on current dining room trends, Lifestyle spoke to local experts in the design and furniture industries.
Lighter Looks: To create a dining room that is timeless, calming and inviting, consider choosing a table, chairs and accompanying cabinetry in lighter hues.
Kari Fletcher, director of marketing at Baer's Furniture, says many customers are gravitating toward sets like the featured Solaria collection by Bernhardt, which echoes the Bauhaus design style of simplicity and function.
"Clearly, we've seen a major influx of people moving from the Northeast in the last couple of years, and these people do not bring their heavy, dark dining sets from their previous homes," notes Fletcher. "They want a more casual, coastal look that is characterized by a fresh, neutral palette." (baers.com)
Make It Multifunctional: At the onset of the pandemic, working from home equated to finding any suitable spot in the house for your computer. Frequently, unless you already had a dedicated home office, said spot was the dining room table.
According to Miami-based interior designer Elizabeth Ghia, she has had countless requests for dining rooms that function as comfortable workspaces. And with many people continuing to adhere to a hybrid work-from-home schedule, this trend is still proving to be popular.
"Overall, I'm seeing a lot of interest in dining rooms that offer more than just dining," Ghia says. "For example, I recently completed projects where one client wanted their dining room to also function as a library with built-in bookshelves. Another wanted their dining room to double as a games area." (elizabethghia.com)
Dealing With Clutter: While the dining room may have been a frequent host to miscellaneous or seasonal decorative pieces and a place to display a bar cart brimming with spirits and barware, leaving such items in view no longer makes sense. Especially if your dining room is going to serve multiple purposes, the less clutter, the better. So, in lieu of an overflowing bar cart, consider a more streamlined bar cabinet or a buffet, which will offer storage for your bottles and accessories while keeping them organized and out of sight.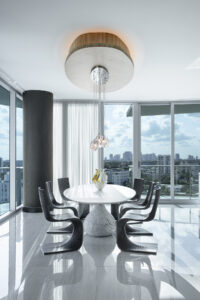 Art-Inspired Lighting: To add a dose of interest to your dining room, Fort Lauderdale interior designer DawnElise Hamilton suggests installing a sculptural light fixture.
In her featured dining room design, which is situated in a condominium unit perched above Fort Lauderdale Beach, a dramatic light fixture design amplifies the open-concept space that extends to sweeping floor-to-ceiling city views.
To create contrast, Hamilton installed an oval multipendant fixture that extends from a custom soffit accented by zebrawood. "The soft and flowing organic shapes create an immediate focal point in a room that is otherwise a blank canvas defined by glass and glossy tile flooring," Hamilton says. (dawneliseinteriors.com)
Vibrant Wallcoverings: If your dining room allows, consider covering one or more of its walls with a vibrant mural or patterned wallcovering.
According to Ghia, panoramic murals, like the one she applied to the tropical dining room in her featured Miami project, can infuse a space with a unique panache.
"This custom-made mural was sourced from a Parisian company named Ananbo," Ghia says. "It's done in the single-toned style of grisaille, which gives it an antique French colonial feel."
By Mallory Evans Jacobson