When the anniversary of the Marjory Stoneman Douglas High School shooting came in February, 16-year-old twins Becca and Molly Marks' thoughts returned to their former teachers.
Now students at American Heritage School in Plantation, the girls knew they had to do something special for those affected by the tragedy—not just MSD but all the Parkland schools. In the aftermath of the first anniversary of the shooting, the girls not only wanted the teachers to feel appreciated but also wanted them to remember something positive.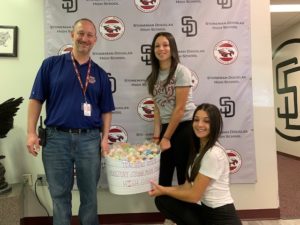 "They never got recognition for what they went through, only Douglas did," Becca says. "So we wanted to do something for all of them."
As co-presidents of the Parkland chapter of Communiteens, an organization for teenagers wanting to perform community service, Molly and Becca came up with a project called Teachers Rock. This project honors teachers during Teacher Appreciation Week, celebrated in the first week of May. With the help of a member of the parent teacher organization at Heron Heights Elementary, the girls were able to get a headcount of how many teachers and administrators there were at each of Parkland's schools.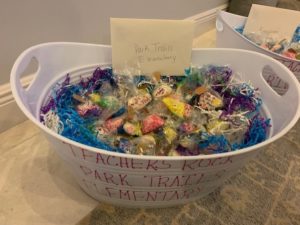 Then, over the course of three months, the twins purchased 900 rocks from Home Depot. They wrote various messages on the rocks such as, "You are loved" and, "Be joyful" with oil based permanent markers. They sprayed each rock with sealer to make them shine, and wrapped them in clear plastic bags with a tag signed "love, Becca and Molly" or, "Teachers Rock."
"You can keep rocks," Becca says of choosing to write the messages on rocks. "They don't tear apart or disintegrate."
During Teacher Appreciation Week, the girls delivered the rocks to Heron Heights Elementary, Riverglades Elementary, Park Trails Elementary, Westglades Middle and MSD. "I got a text of a picture of what I did with a really nice message," Becca says.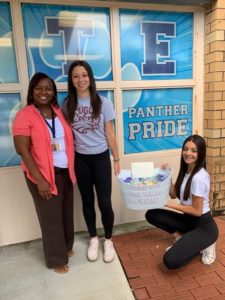 "Feb 14 might be a hard day but it's going to be OK, you can be happy," Becca says as she reflects on the first anniversary of the shooting. "Making these rocks made us feel better. Even though we couldn't talk to the teachers, these rocks spoke for us."
As they begin their junior year this fall, Molly and Becca hope to keep contributing to the Parkland community through their club.
"It feels so good." Molly says, "It made us feel inspired and empowered to do more to help this community."