Above: (from left) Andrea Peña and Sawyer Garrity
Photo by Eduardo Schneider
It started with a voice memo last Feb. 17, three days after the deadliest high school shooting in United States history. The chords that Andrea Peña texted her classmate, Sawyer Garrity, seemed to be pouring out of her on that Saturday.
Garrity knew the feeling.
The classmates were two of the 65 theater program students hiding in a closet during the massacre at Marjory Stoneman Douglas in Parkland. Peña, then a sophomore, and Garrity, a junior at the time, had been listening to music in the ensuing days "just to get through everything," Garrity says.
But the emotions that were building inside needed an outlet. Peña, who has been playing piano competitively since kindergarten, sent the chords, which soon became an entire chorus. By Monday, the song co-written by Peña and Garrity, was complete. Two days later, "Shine" would captivate a national television audience, thus beginning a journey that would lead to more than 400,000 views on CNN's YouTube page, some 300,000 streams (and counting) on Spotify—and a year of events, appearances and nonprofit work that has taken Peña and Garrity all over the country.
"We saw all our friends from drama [class] speaking out," says Garrity, now a senior at MSD. "We knew we wanted to do something."
"It came out so naturally," says Peña, in her junior year at MSD. "It was just pouring out our emotions into one thing. It was a way of healing because you were saying everything you were feeling."
Initially, Peña and Garrity saw their creative effort as little more than catharsis. In fact, the two were so focused on writing "Shine" as an outlet for themselves, the song almost never made it past their smartphones.
"We never thought we were going to record it," Peña says.
But then the girls sent the song as a voice memo to their drama teacher, Melody Herzfeld. Before they knew it, they were preparing to debut "Shine" on Feb. 21 at CNN's Town Hall: "Stand Up: The Students of Stoneman Douglas Demand Action."
"Every piece of beautiful theater is truth," Herzfeld, who was later honored at the Tony Awards with an Excellence in Theatre Education award, told Time magazine. "And I think that when a child or a student that is 14 to 18 years old is given permission to tell their truth, they'll sing it from the top of the car, and they'll sing it from the top of the roof."
CNN's Jake Tapper heard that truth as the teens rehearsed prior to the Town Hall. The girls' performance alongside members of the school's drama club originally was supposed to be an opener, with maybe some B-roll, but Tapper wasn't going to let that happen.
"Jake Tapper was taking a break and heard us practicing," Garrity says. "He came up to us from across the arena and was like, 'This is a really great song.' "
With that, "Shine" became the closing number to the live broadcast, which drew a total of 2.91 million viewers, according to Variety.
"We sat through the whole town hall, and we were really nervous because this happened so fast," Peña says. "I remember going into a group huddle and saying, 'This is for our school.' I never realized how much power a song could have until after we sang it."
As Peña played the keyboard, her eyes were locked downward since the girls had written and learned the song only days before. But when she finally took in the scene at BB&T Center in Sunrise, she saw something that she says will stick with her forever.
"I looked up for the first time and saw a couple people with their phone flashlights out, and then I looked back down," she says. "When I looked back up, I saw even more lights. I kept playing and, by the end, everyone had their phone out. That's when I realized that we did our jobs. I felt so fulfilled. It was such a good moment after such a terrible one. I've never felt so much love and support."
Since the very public debut of "Shine," the song has continued to resonate. Its CNN recording has been viewed more than 419,000 times, the song has been streamed across platforms such as Apple Music and Spotify hundreds of thousands of times, and an accompanying music video filmed at the high school debuted in May to acclaim from such publications as Rolling Stone, Billboard and Teen Vogue.
Peña and Garrity have performed the song countless times at events large and small, including against the backdrop of the U.S. Capitol at the March 24 March For Our Lives, as well as at an intimate dinner in Washington, D.C., for the families of the 17 victims.
Along the way, "Shine" has birthed an entire movement and purpose for Peña and Garrity. The girls co-founded Shine MSD—a nonprofit organization dedicated to providing mental health programs that center around the arts to communities in need, starting with their own. Through a combination of profits on iTunes from "Shine" downloads, as well as donations, Peña and Garrity were able to host Camp Shine, a summer camp for Parkland students that featured certified arts, drama and musical therapists serving as counselors.
Peña describes Camp Shine as a "healing of the arts camp." About 60 children, ranging in age from incoming freshmen to seniors, participated over the summer. In the music track, students wrote songs; in drama, they acted out scenarios; in art, they painted masks that illustrated how they felt like they were perceived.
Guests included Manuel Oliver, father of one of the student victims, Joaquin Oliver. Manuel has been channeling his grief and gun-violence prevention activism through painting murals across the country. At Camp Shine, Oliver worked with the students to paint a mural with a diamond.
"When you shine a light at a diamond, different colors shine through," Peña says. "It was a way to show kids our age that there are different creative outlets that hopefully will help them heal."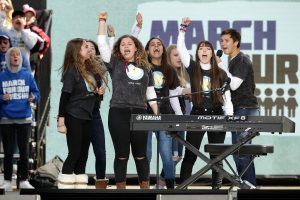 The duo held an additional two-day Camp Shine in December over the winter school break. The free camp included art, music and drama workshops as well as snacks and a provided lunch. According to Sawyer's mother, Wendy Simon-Garrity, who serves as one of Shine MSD's directors, the group already has raised "hundreds of thousands of dollars."
"Through our foundation, we hope to shine a light for our community and show people that even through darkness you're never alone," Peña says.
Despite overseeing a nonprofit organization before even being old enough to vote, the girls still grapple with the song's success at times.
"I find myself going to events and feeling like this should not be a thing, almost feeling guilty for being there," Peña says.
Adds Garrity: "It's important to keep yourself in check that you're spreading the message for people who no longer can. I definitely struggle with feeling guilty, but that's why I'm so glad we have each other."
Like so many of the MSD students who've made a difference through their words and actions since last Feb. 14, Peña and Garrity seem wise beyond their years. But they're also, in many ways, still your typical high schoolers. They talk about homework, ice cream and their Stoneman Douglas teachers, jumping from topic to topic at a mile a minute with each other. They speak in gibberish so their parents can't intrude; they promise to finish their homework and not to be out too late; they giggle like, well, high school girls.
Meanwhile, "Shine" continues to have a life of its own. Aspiring singers are even releasing covers of it on YouTube. "There are kids on Broadway doing a cover of this song," Simon-Garrity chimes in with pride. "That's just amazing."
Beyond the inherent emotion attached to it, part of the song's ability to connect can be traced to its lyrics and composition; it was direct enough to give the Parkland community some desperately needed healing, but ambiguous enough that it could serve as an anthem for whatever a person is going through.
"Shine" also has helped inspire the girls as they start to figure out what they want to do after high school.
"Before everything happened, I was set on my life being musical theater and going to Broadway," Garrity says. "But after everything happened, I realized I have so much more I want to say. I really want to go to school for songwriting because I'm self-taught, so I want to get better training.
"But I [also] want to be able to write songs and go to places where people might not have a radio and help others heal. Like the lyrics in our song say, 'Love more, hug tighter and live your life to the fullest' because you never know what's going to happen."
Peña still has a couple of years to go until college, but since the song's success and the founding of Shine MSD, she's been toying with the idea of opening a physical and musical therapy practice.
"We wrote 'Shine,' and I realized that I can definitely do more than I think I can," she says. "I'm so grateful I've been able to unlock that. I've learned that you never know what you have until it's gone and not to take little things in life for granted. … Hopefully, with what we're doing, I can give something like that back."
"Shine" (lyrics excerpt)
You, you threw my city away
You tore down the walls and opened up all the gates
You, you ruined this town
You burned all of the bridges, and you slowly let us drown
But you're not going to knock us down
We'll get back up again
You may have hurt us
But I promise we'll be stronger and
We're not going to let you win
We're putting up a fight
You may have brought the dark
But together we will shine the light
And whoa, we will be something special
Whoa, we're gonna shine
We're, we're gonna stand tall
Gonna raise up our voices so we never, ever fall
We're done with all your little games
We're tired of hearing that we're too young to ever make a change
We can hug a little tighter
We can love a little more
Laugh a little harder
We can stand up and roar
If we all come together, it will be all right
Stand up for one another, and we'll never give up the fight