Florida has helped to promote its share of inventions out of necessity, like sunscreen and air conditioning. But another phenomenon for which the Sunshine State can be thanked is all about desire—culinary desire.
"Florida [kitchens] are the pioneers of small plates," says Mike Mayo, the award-winning local food critic who writes for Fort Lauderdale's Sun-Sentinel, among other outlets. "Over the last 10 years, it seems like more and more places are offering them."
Tapas, or small plates, originated in Spain. When Mayo traveled to Barcelona in the mid-1980s, it's all he saw—and it was a culture shock.
"People nibbled and noshed, that's where it started," says the Broward-based writer. "But I think it's the perfect fit and really popular in Florida now because dining has become less formal. Restaurants realized people wanted a different way to eat."
Mayo says restaurants in Florida have hopped on the tapas train because it makes sense for everyone.
"People didn't just want the traditional multicourse meal," he says. "Instead, they want to go out and try more things. Restaurants love it because it's a better margin."
Throughout the tri-county area, restaurants are increasingly growing their small plates section of the menu and paring down on large entrees. Here are some of our favorite spots for light bites.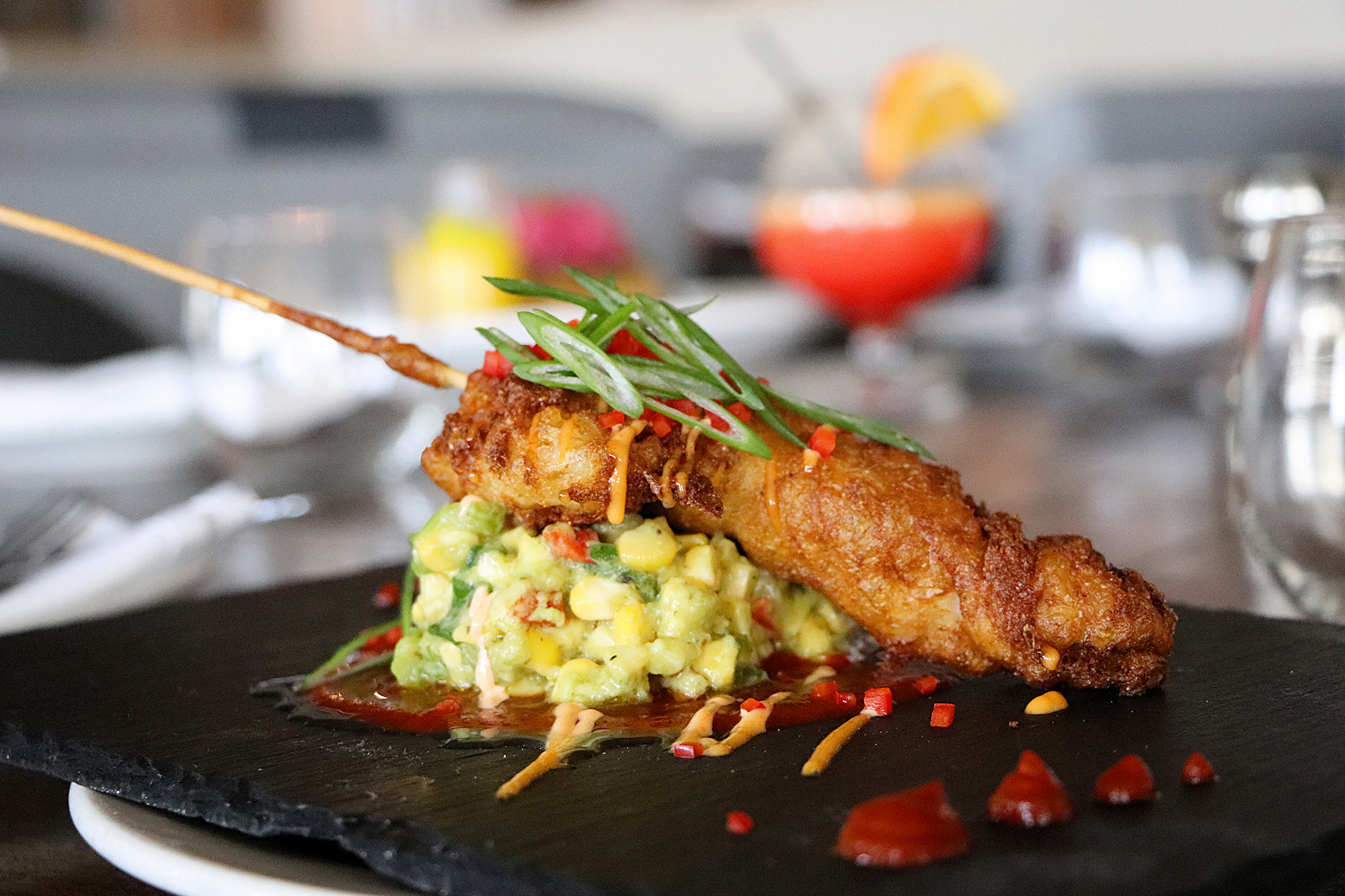 Lobster Corn Dog
Restaurant: Wild Thyme Oceanside Eatery (601 N. Fort Lauderdale Beach Blvd., Fort Lauderdale)
The lowdown: Battered and luscious, the corn dog is nothing like what you'll find at a county fair. Instead, the deep-fried lobster corn dog is seriously distinctive, served atop a cucumber, avocado and corn salad. Categorized as a small plate, this starter is one to always order.
Contact: 954.567.8070, wildthymeoceanside.com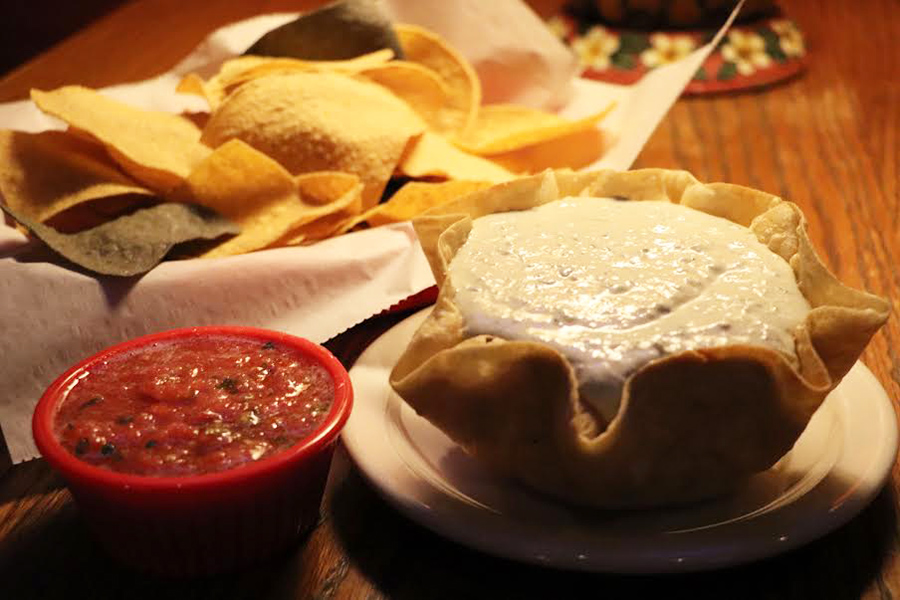 Tuna Dip
Restaurant: Carlos and Pepe's (1302 SE 17th St.,
Fort Lauderdale)
The lowdown: This isn't your mom's tuna salad. Here, the tuna dip has become a fan favorite, along with its crab nachos. Served with warm chips, this lightly spicy, rich dip is an in-house secret. But the gist of it is a medley of albacore tuna, mayonnaise, jalapeno peppers and seasoning. And it's said to be pretty addictive.
Contact: 954.467.8335, carlosandpepesfl.com
Grilled Lollipop Lamb Chops (featured image)
Restaurant: Shooters Waterfront (3033 NE 32nd Ave., Fort Lauderdale)
The lowdown:An appetizer that can't be missed, Shooter's infamous grilled lollipop lamb chops have been given a new twist.
The succulent meat is marinated in olive oil, fresh parsley and oregano with red wine vinegar, shallots and garlic. Grilled to perfection, served with a vibrant mint chimichurri and goat cheese breadcrumbs.
Contact: 954.566.2855, shooterswaterfront.com
Hand-pulled Mozzarella
Restaurant: Sweetwater (1507 Federal Highway, Boynton Beach)
The lowdown: Sweetwater serves gastropub fare and cocktails for the masses. Despite its lengthy list of elevated bar bites, including cauliflower hushpuppies and loaded pierogies, a fan favorite continues to be the restaurant's hand-pulled mozzarella. The dish features a huge ball of the fresh cheese paired with sea salt, heirloom tomatoes, toasted points, olive tapenade, roasted garlic, basil and balsamic dressing.
Contact: 561.509.9277, sweetwater33.com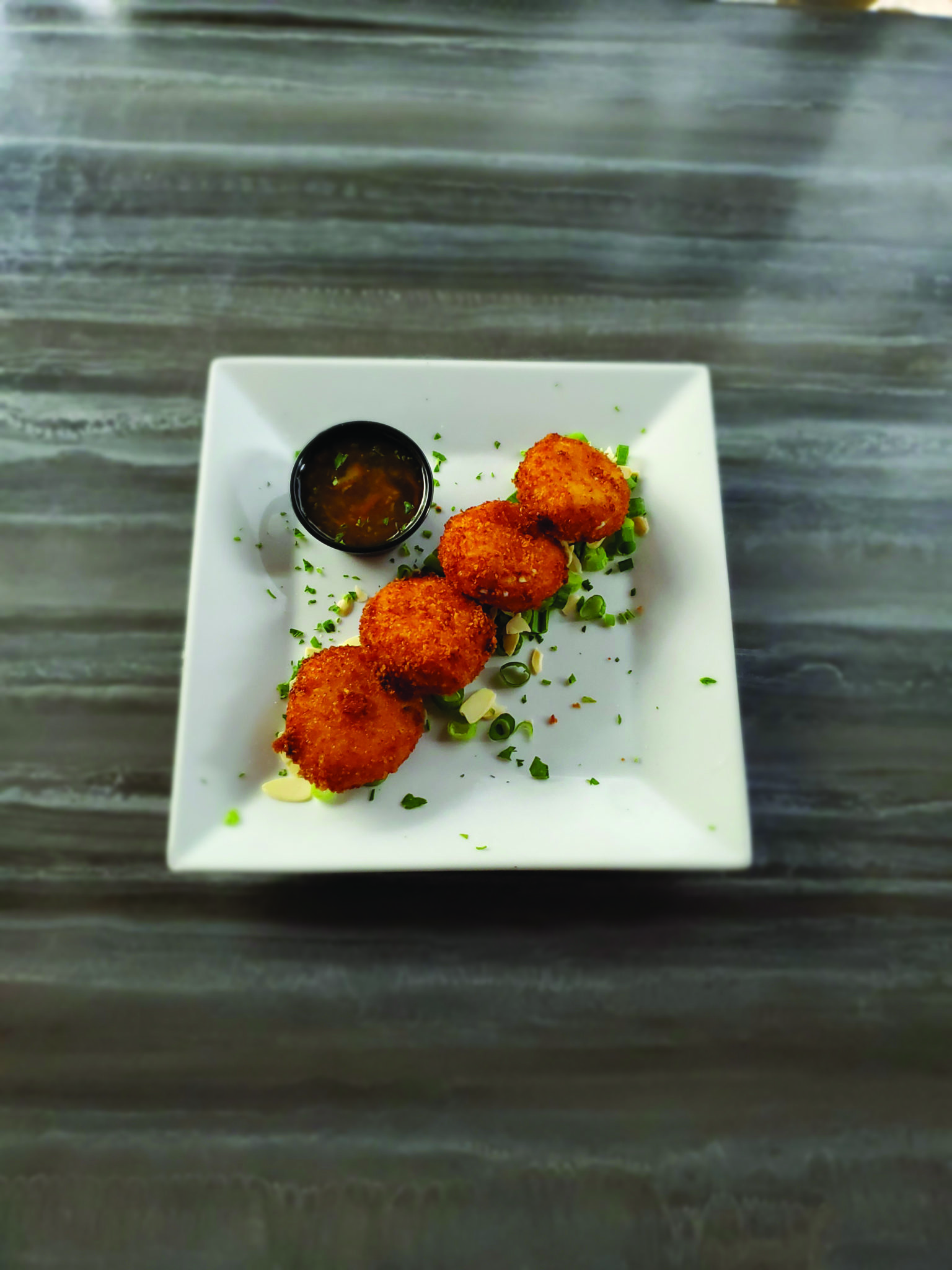 Goat Cheese and Lamb Gyro Croquettes
Restaurant: Tipsy Boar (1906 Harrison St., Hollywood)
The lowdown: Beloved appetizers since the restaurant's inception, the croquettes are an innovative spin on a nostalgic classic. The menu features two varieties: a sweet-but-savory goat cheese one with apricot and thyme, as well as lamb, gyro-style with tzatziki sauce. These warm, crunchy, elevated bar bites steal the show every time.
Contact: 954.920.2627, thetipsyboar.com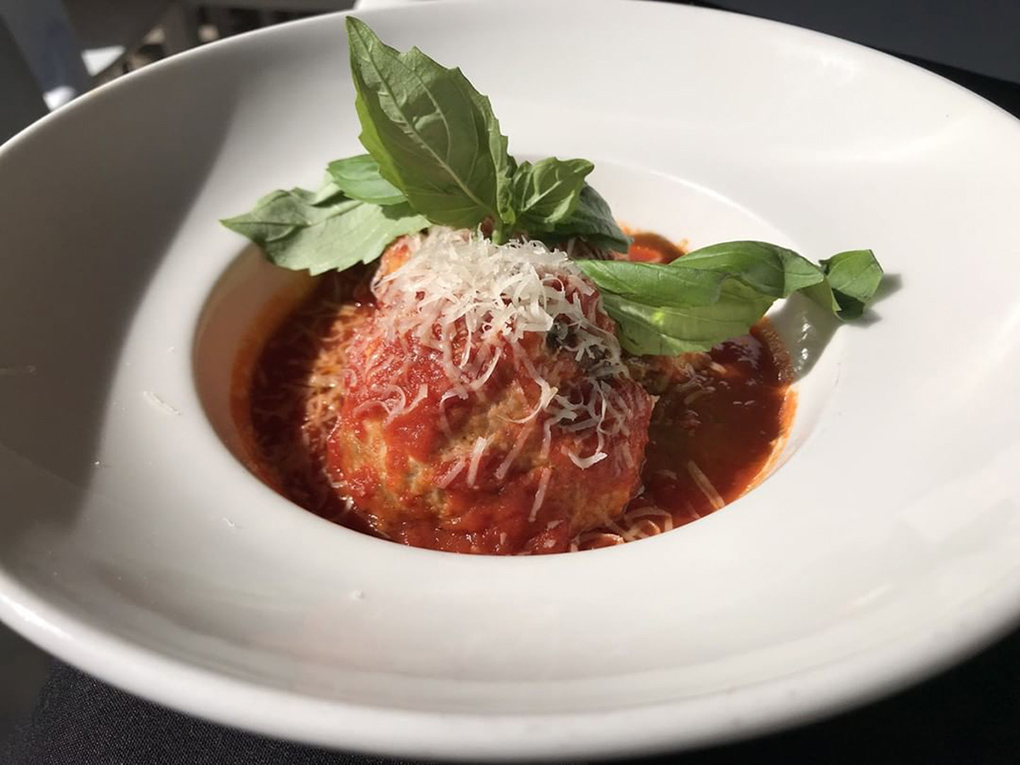 Veal Meatballs
Restaurant: Angelo Elia Pizza, Bar, Tapas (16950 Jog Road, Delray Beach)
The lowdown: Here, the veal meatballs remain a fan favorite. An order comes with two massive, fluffy and tender meatballs stewed in a classic tangy red sauce and topped with cheese. The mouthwatering dish has received diners' praise since 2010.
Contact: 561.381.0037, angeloeliapizza.com
Snapper Crudo
Restaurant: One Door East (620 Federal Highway, Fort Lauderdale)
The lowdown: This Las Olas eatery specializes in small plates and tapas specifically meant for sharing. Favorites on the menu, which features both cold and hot small dishes, include the snapper crudo. Honeycrisp apple, white jalapeno, mint and crispy rice complete a chilled dish that's packed with freshness and melts in your mouth.
Contact: 954.368.6902, onedooreast.com
Edamame Falafel Balls
Restaurant: Temple Street Eatery (416 Federal Highway, Fort Lauderdale)
The lowdown: With its emphasis on fusion street food, this restaurant takes a Mediterranean classic and turns it into an ode to Hong Kong with its edamame falafel balls. An order provides a sharable plate of the fried treats—crispy on the outside and green and fluffy on the inside, served with curry aioli drizzled on top. The snack is a longstanding favorite on the Fort Lauderdale restaurant's list of appetizers.
Contact: 754.701.0976, templestreeteatery.com
Lobster Mac and Cheese
Restaurant: NYY Steak, Seminole Casino Coconut Creek (5550 NW 40th St., Coconut Creek)
The lowdown: Described as decadent and rich, NYY Steak's lobster macaroni and cheese dish is meant to be shared. This diet-breaking dish features a blend of Irish cheddar and muenster cheeses and comes topped with crumbled Ritz crackers. It's been a mainstay appetizer at this Yankees-themed restaurant since 2012.
Contact: 954.935.6699, seminolecoconutcreekcasino.com/nyy-steak
Thai Fries
Restaurant: Sky Thai Sushi (350 E. Las Olas Blvd., Fort Lauderdale)
The lowdown: It's hard to pull off a sweet french fry, but Sky Thai makes it work. The plate served looks like a standard fry—but that's where the comparisons stop. These coconut-battered boniatos—which are like a cross between a sweet potato and yucca—come with a side of sweet vinegar sauce, topped with crushed peanuts. These crispy favorites are listed in the menu's hot small plates section.
Contact: 954.993.9889, skythaisushi.com
Crab Cakes
Restaurant: Steak954 (401 N. Fort Lauderdale Beach Blvd., Fort Lauderdale)
The lowdown: Pay the perfect homage to classic surf n' turf with an order of the jumbo lump crab cake. Served with a radish salad and a light, airy, dill creme fraiche on top, the appetizer remains a crowd pleaser, racking in dozens of reviews across social media that name the cake, specifically. It's such a hit that the crab cake stays on the steakhouse's brunch menu alongside additions like a lobster avocado toast.
Contact: 954.414.8333, steak954.com
Jamon Iberico y Manchego Montadito
Restaurant: Patio Tapas and Beer (205 SE First Ave.,
Boca Raton)
The lowdown: Montaditos are an anchor in Spain's culinary scene. The small open-faced pieces of baguette with various toppings are a classic form of tapas from the country. Here, they make up an entire section of the menu. The restaurant features more than 20 montaditos with different combinations of meats, veggies and cheeses. But one of the most popular is one with ham and a six-month-aged Spanish manchego.
Contact: 561.419.7239, patiotapasandbeer.com
Wing It
Caribbean-American fusion restaurant Steelpan (999 N. Fort Lauderdale Beach Blvd., Fort Lauderdale) makes island flavors accessible to its South Florida patrons. A big part of that is chef Kevin Baker—a native of Jamaica—whose coconut shell ceviche, callaloo artichoke dip and jerk chicken wings make the menu's Beach Bites section a highlight for the restaurant.
"The flavor profile of the final dish is reminiscent of the cuisine you would find throughout the Caribbean," Baker says of his signature jerk wings. He describes the dish as special because of its authenticity. And now, he's sharing the recipe with us. (steelpanftl.com, 954.302.5252)
CARIBBEAN JERK WINGS
Marinade
1 cup rice wine vinegar
3 ounces water
1 cup low-sodium soy sauce
5 ounces dark brown sugar
Bring the liquids to a simmer and stir in the brown sugar until it completely dissolves.
Jerk Barbecue Sauce
5 cups ketchup
½ cup Jamaican Pride jerk spice
¼ cup of marinade
Combine all ingredients.
Preparation: Marinate approximately 5 pounds of chicken wings for at least 8 hours. Drain well, on a raised rack in a roasting pan (single layer), and roast at 375 degrees for 20 minutes. At this point, you can cool the wings and hold them for up to two days—or continue by tossing them lightly in the jerk barbecue sauce and finishing them in a single layer on a raised rack in either a 400-degree oven for about 12 minutes, or on a grill.