Flowers and music and lighting and linens, oh my! Planning and designing an event as meaningful (and, potentially, as complex) as a wedding can become overwhelming in no time at all. As an event designer and owner of luxury floral design and management company Alorè Event Firm, I'm asked by clients to create experiences that are unique and stylish—and it's my honor to help bring such weddings to life.
Because of the details involved, I always suggest leaving event planning in the hands of a professional. That said, it helps to be aware of current wedding trends before charting a course. So, here are some tips for brides and grooms as they begin the process of planning their special day.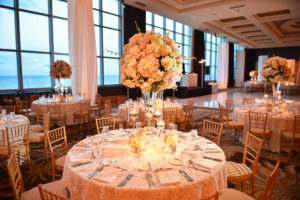 Generally Speaking
Budget plays a crucial role in establishing the parameters of your design and overall wedding experience. First, identify your anticipated guest count and budget. Most clients understand that, with a growing guest list, they will need a larger budget, but this tends to be the single most overlooked component.
Next, identify the style you are trying to achieve and a potential wish list of items, decorations or activations in which you're interested. Whether it's simple, elegant, chic, rustic, vintage, modern, fun, intimate or casual, every wedding has its own flavor, and it's important to establish and embrace it. Reviewing the outlined wish list allows you and your planner (or wedding designer) to know where to start—and where to focus the most attention—when budget planning. I like to concentrate on specific elements that create high impact and motivate the senses. The style of your event, guided by your budget, will enable you to explore different ways of realizing your vision.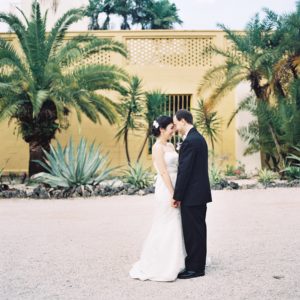 Design 101
Designing an event and creating an experience for your guests is no easy task. Creativity is paramount in today's wedding world, as evidenced by the emphasis on unusual backdrops in distinctive locations.
Building a design is the most challenging aspect of planning an event. It's critical to stick to a key focal point and work around it. Build from the natural setting the venue or event space has to offer and find unique ways to bring in color. When in doubt, stick to shades of green, or neutrals. Effortlessly matched with any other shade, green has the ability to imbue any venue with a lush, romantic atmosphere. Pair your favorite shade of green with cream or white for a more classic approach or combine lighter hues with matte black and metallics to create a trendy modern twist.
Wedding decor in 2019 is all about making a statement, from the color palette you choose to the accents that will define the day. Every detail helps to build your story and create an original guest experience. Iridescent, smoky, gilded, textured and asymmetrical designs are all on the "hot" list this year.
Creative South Florida Spaces
South Florida is a major player in the wedding industry, boasting some of the world's most sought-after venues. Tropical-themed décor—think lush greenery and majestic ocean views accented with a zest of color—gives South Florida a year-round advantage as the perfect wedding destination location.
Understanding exactly what an event space has to offer is important because every minute of content during a wedding plays an active role in establishing the overall ambience. The bride and groom want their guests to feel important, special and intrigued. From creating distinctive lounges and settings to bringing in live interactive entertainment, the beauty of hosting an event in South Florida is the fact that you can extend yourself far beyond the standard limitations of traditional design.
Here are some of the local backdrops that support this year's hottest themes:
• Aquatic Bliss: At Ocean Key Resort & Spa in Key West (0 Duval St.), wedding parties are treated to an island experience on the Sunset Pier with breathtaking views, complete with historic tall ships as they pass through the harbor. "Surrounded by turquoise waters, it is ideal for outdoor island weddings and lends itself to many tropical themes and décor options," says Bill Foster, regional director of marketing for Noble House Hotels & Resorts, Ocean Key's umbrella company. Build your décor around tropical vibrant hues and florals such as monstera leaves, succulents and anthuriums. Dress the space with a show-stopping clear tent so guests can stargaze all night.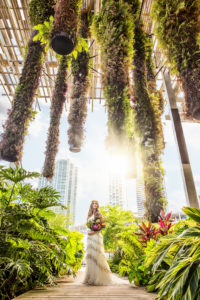 If you want to say "I do" with your toes in the sand, Acqualina Resort & Spa (17875 Collins Ave., Sunny Isles Beach) might be the right fit. The sophisticated and intimate spaces at Acqualina overlook the Atlantic Ocean, and the resort team is well-versed in over-the-top experiences. The great lawn is perfect for a sit-down reception on the beach. Deck the space with bistro lighting and levels of LED candle-style centerpieces and soft romantic blooms to create a chic, charming ambience while dining al fresco. This is an oasis of luxury.
With more than 200,000 square feet of flexible indoor and outdoor space, The Diplomat Beach Resort Hollywood (3555 S. Ocean Drive) is a great option for large weddings and those having multiday celebrations. "Our resort is a destination in and of itself," says Jennifer Freedman, senior catering sales manager. This tropical resort, family friendly and full of wonderful amenities and culinary delights, gives those planning a wedding the opportunity to create elaborate build-outs or intimate affairs. Better still, there are enough options to fit different budgets and needs—including a 33rd-floor lounge with full window walls overlooking the Atlantic Ocean and the Intracoastal Waterway.
• Old World Sophistication: Located in a barrier island habitat with the Atlantic Ocean to the east and Intracoastal Waterway to the west sits an oasis, the Bonnet House Museum & Gardens (900 N. Birch Road, Fort Lauderdale). "Here you will find a lush world filled with native and exotic trees, stunning orchids, an arid desert garden and a tranquil lily pond for which the house is named," explains Monica Estevez, the Bonnet's director of marketing. Full of old-school charm and just the right touch of garden chic, this is the backdrop for couples looking for more of a natural, tropical South Florida experience. Incorporate wood elements and complimentary earthy tones with accented pops of color to allow the historic space to take center stage.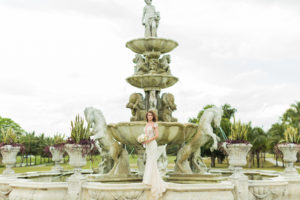 Celebrate in the dreamlike ballrooms of Trump National Doral Miami (4400 NW 87th Ave., Miami); its impeccably designed indoor and outdoor event spaces provide flexibility to create dynamic programs while allowing your guests to have views of the well-known Blue Monster golf course. Tall, majestic and opulent décor details set the stage for a show-stopping event. Your guests will never forget dancing the night away under shimmering chandeliers in this 800-acre tropical resort.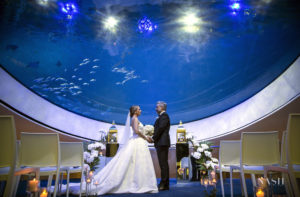 • Avant Garde: Stylish, posh and bursting with city views of Miami, the Pérez Art Museum Miami (1103 Biscayne Blvd.) and Phillip and Patricia Frost Museum of Science (1101 Biscayne Blvd.) both offer something different when it comes to South Florida weddings. The hanging gardens at PAMM create amazing visual décor and are a museum staple. The ability to use just about any of the museum's spaces provides endless design possibilities. Meanwhile, at the Frost, not only can the wedding party have much of the museum to itself, the bride and groom can exchange vows against a backdrop of hammerhead sharks, stingrays and other sea life. Interactive show-stopping experiences are available, including your own fireworks display.
Remember: Memorable event design doesn't come with rules; in fact, it's limited only by your imagination.
Anna Noriega is a celebrity event and wedding designer, and founder of award-winning Alorè Event Firm in Miami. She also hosts a variety of educational design workshops; to sign up for the next one, visit eventsbyalore.com.